Nanjing Road
China's premier shopping street, the 5.5-km-long (3.4-mile-long) Nanjing Road, starts at the Bund in the east and ends in the west at the junction of Jing'an Temple and West Yan'an Street. Today it is a must-see metropolitan destination attracting thousands of fashion-seeking shoppers from all over the world.

As a century-old shopping street in Huangpu District, Shanghai, Nanjing Road was a witness of the city's history. Over time, it has been restructured, undergoing significant changes. Big traditional stores no longer dominate the market since modern shopping malls, specialty stores, theaters, and international hotels have mushroomed on both sides of the street. For shopping convenience, its eastern end has an all-weather pedestrian arcade.

What to Do in Nanjing Road
Exploring traditional department stores and latest fashion stores
Over 600 businesses on the road offer countless famous brands of superior quality and new fashions. Upscale stores include Tiffany, Mont Blanc, Omega, and Dunhill. Approximately a hundred traditional stores and specialty shops provide choice silk goods, jade, embroidery, wool, and clocks. Shopping lovers will immerse themselves in the joy of purchasing here.

Savoring snacks of time-horned brands
Century-old traditional food stores can be easily found on Nanjing Road. You cannot only taste the most authentic Shanghai food here, but also buy some for your friends and families as gifts.



Top 5 food stores on Nanjing Road: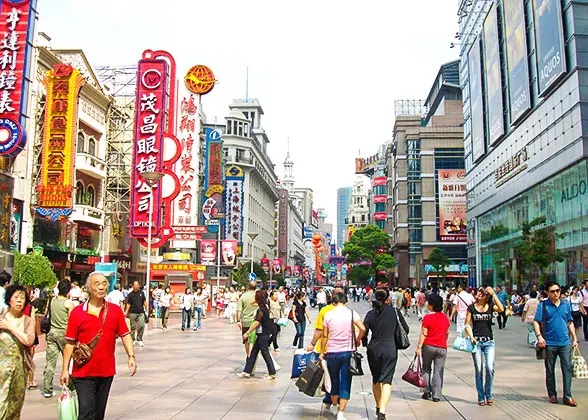 Nanjing Road is extended to the Bund.
Zhen Lao Da Fang: Selling smoked fish and moon cakes with meat fillings
Shanghai First Food Hall: Gathering various kinds of local snacks including traditional cakes
Wangjiasha Pastry Shop: Offering wontons, desserts, and special snacks for traditional Chinese festivals
Shen Da Cheng: Mainly making moon cakes with meat fillings
Shao Wan Sheng: Best for its wine cured crabs and mud snails

Taking the Dangdang sightseeing tram
It's an unforgettable experience to take a ride on the old-style Dangdang tram which operates from 8:30 to 22:00 daily. On the slow bus, you can see various stores out of the window, old or new, leaving your view one by one, like the history. A single trip takes about 10 minutes and you need to pay CNY 5 for it.

Appreciating the night view
Flashing neon signs illuminate the magnificent buildings and spangle the night skyline of this lively city. Open-air bars, abstract sculptures, and lingering sounds from street musicians enhance night strolls.

Visiting Tips
Shanghai Nanjing Road consists of the East Nanjing Road and West Nanjing Road, divided by the Middle Tibet Road. Comparatively speaking, East Nanjing Road is busier because of its advantageous location adjacent to the Bund, Shanghai's landmark. Visitors can choose to wander along the whole road or just part of it according to physical strength and time
| | |
| --- | --- |
| Bustling Crowd on the Pedestrian Street | Charming Night Piece |
How to get to Nanjing Road, Shanghai

To the middle of Nanjing Road
1. Take Metro Line 1, Line 2 or Line 8 and get off at People's Square.
2. Take City Sightseeing Bus Line 1 and get off at Madame Tussauds.



To East Nanjing Road:
Take Metro Line 2, Line 10, or City Sightseeing Bus Line 1 and get off at East Nanjing Rd. Station.



To West Nanjing Road:
1. Take Metro Line 2, Line 12 or Line 13 and get off at West Nanjing Rd. Station.
2. Take bus 27, 30, 330, to North Shaanxi Rd. West Nanjing Rd.
Shanghai Bus / Metro Search

See more How to Get from Shanghai Hongqiao Railway Station to People's Square & Nanjing Road


See also:

15 Free Things to Do in Shanghai

Where to Go in Shanghai in Autumn - 11 Best Destinations
Print
- Last updated on Sep. 22, 2023 by Gabby Li -
Questions & Answers on Nanjing Road
Asked by jacinda from INDONESIA | Oct. 31, 2023 23:42

Reply
Transportation from PVG to JI Hotel Shanghai Nanjing Pedestrian Street
What is my best option from: Pudong Airport to JI Hotel Shanghai The Bund Nanjing
Dong Road Pedestrian Street

Taxi or Train? If train which train(s) what exit? how?

Answers (1)
Answered by Linda | Nov. 01, 2023 00:29

0

0

Reply
You can take Metro Line 2 from Pudong Airport to People's Square and get out of the Exit 6. After that, walk north about 585m to your hotel.
Asked by jacinda from INDONESIA | Oct. 31, 2023 23:32

Reply
Which exit should i take?
Which exit should i take in people square station if i want to go to ji hotel nanjing pedestrian street?
Answers (1)
Answered by Kelly | Nov. 01, 2023 00:26

0

0

Reply
Is your hotel Ji Hotel (Shanghai the Bund East Nanjing Road Pedestrian Street)? If yes, you can get out of the Exit 6 of the People Square.
Asked by jacinda from INDONESIA | Oct. 29, 2023 21:07

Reply
what time does the shops in nanjing road close?
Answers (1)
Answered by Jeremy | Oct. 30, 2023 01:47

0

0

Reply
Shops and shopping malls on Nanjing Road generally close around 9:00 to 10:00 PM, but may be delayed until around 11:00 PM on weekends and holidays.
Asked by cynthia woo from SINGAPORE | Sep. 01, 2023 20:48

Reply
Which hotels are situated along Nanjing road?
Answers (1)
Answered by Tina | Sep. 04, 2023 01:00

0

0

Reply
There are too many... JI Hotel, Jinjiang Hotel, the Shanghai Edition, Home Inn, Hanting hotel...
There are too many choices and you can choose one according to your budget.
Asked by Arthur To from CANADAAWBTO | Oct. 25, 2019 12:24

Reply
How to get to The Bund from Rezen Hotel Shanghai Zhiwei Century 699 Xuanqiu Road, Pudong, Shanghai
Is there a subway station near Rezen Hotel Shanghai Zhiwei Century which is near the Shanghai Pudong Airport. We prefer to use subway or bus to get to The Bund area.
Thanks.
Arthur
Answers (1)
Answered by Claire from AUSTRALIA | Oct. 28, 2019 02:39

0

0

Reply
You hotel is remote so there is no subway station nearby. You can take bus 59 from Xuanqiu Rd Xuanmei Rd station to Wild Animal Zoo station, then take metro line 16 to Longyang Rd station, and transfer to metro line 2 to East Nanjing Rd station, then walk west to the Bund. It takes around 2.5 hours with CNY8.