West Nanjing Road
Nanjing Road is the most famous and flourishing commercial street in Shanghai. West Nanjing Road extends southwestwards from Middle Xizang Road (near People's Square) in Huangpu District to West Yan'an Road (near Jing'an Temple) in Jing'an District. You can easily go there by public transport including Metro Line 1 and Line 2.

Maybe you have just had a shopping expedition along East Nanjing Road, you can continue to go to Shanghai West Nanjing Road, which boasts a number of large and modern shopping malls. A stroll here will arouse your desire to purchase. You can find stylish clothes, shoes, cosmetics, jewelries, watches, glasses, food, home appliances and various souvenirs.

In recent years, more and more world famous brands throng into West Nanjing Road so as to make it one of the most popular places to buy luxuries. Dealing in products from world top brands, Westgate Mall, CITIC Square and Plaza 66 form a 'golden shopping triangle' of Jing'an District. You can pay in cash or by credit cards including Chinese cards issued by China UnionPay and some foreign cards such as Visa, MasterCard and American Express.

There are a lot of West Nanjing Road Restaurants and cafes here offering good places for you to have a rest. Quite a number of star-rated hotels gather along the road to serve you, including Radisson Hotel Shanghai New World, Pacific Hotel, Park Hotel, JW Marriott Hotel, JC Mandarin, The Portman Ritz-Carlton, Shanghai and Bailemen Hotel.
Top 10 Shopping Malls along West Nanjing Road
We list the shops and department stores along Shanghai West Nanjing Road from the east to the west. You can take the following order if you go westward after visiting attractions around People's Square including Shanghai Grand Theatre, Shanghai Museum and Art Museum. If you start from Jing'an Temple area near the west end, please read from the end.
1. Shanghai New World Co., Ltd. (New World City)
Chinese name: 上海新世界股份有限公司 (新世界城) (shàng hǎi xīn shì jiè gǔ fèn yǒu xiàn gōng sī (xīn shì jiè chéng))
Being one of the most popular West Nanjing Road Shopping Malls in Shanghai, its predecessor is the famous Shanghai New World Entertainment Center founded in 1915. Today's New World City belongs to Shanghai New World Co., Ltd. established in 1988. Located at the northwest corner of the intersection of Nanjing Road and Xizang Road, New World City connects your way from East Nanjing Road to West Nanjing Road. With one underground floor and twelve overground floors, it offers various middle and top grade commodities from Chinese and foreign famous brands. New World City provides buyers with not only a department store, but also a comprehensive consumption circle including dining, entertainment, hotel, culture and business affairs.
Floor Directory:
B: restaurants, pharmacies, travel agencies;
1F: cosmetics, jewelry, watches, clocks, glasses, clothing, women's shoes, leather goods, cigarettes, wine, tea, tonic;
2F: women's clothing, handbags, traditional Chinese ladies' clothes;
3F: ladies' clothing, underwear, handbags, accessories;
4F: men's fashion including business suits, jackets, shirts, T-shirts, neckties and leather goods;
5F: casual clothes including jeans, golf wear, sweaters and eider clothing; men's shoes, bags, suitcases;
6F: sportswear, sports shoes, fitness equipment;
7F: bedding, nightclothes, underwear, socks and stockings, electric appliances, massage equipment, tapes, videos, stationery, artwork, mobile phones, computers;
8F: children's clothing, shoes, baby carriages, stationery, toys, kids' photography, kids' play area;
9F: SEGA Player's Arena;
10F: Madame Tussauds Wax Museum;
11F: SFG Village Cinema;
12F: SFG Village Cinema; New World ZLM Restaurant
Address: No. 2-88, West Nanjing Road, Huangpu District
2. Westgate Mall (Westgate Isetan)
Chinese name: 梅龙镇广场 (méi lóng zhèn guǎng chǎng) / 梅龙镇伊势丹 (méi lóng zhèn yī shì dān)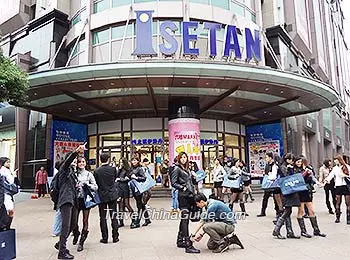 Westgate Isetan
Westgate Mall (Westgate Isetan) is a comprehensive commercial building offering shopping, dining and entertainment and business facilities. It is on the list of Top 10 West Nanjing Road Shopping Markets. The 12th to 37th floors of the main building is for office use. Many famous multinational corporations have their Chinese headquarters there. The podium building with one underground floor and ten overground floors is a huge department store. It offers quality goods from Isetan's own brand 'Voyage de Rita' and many other world well-known brands. It claims to show customers new fashion every day.
Floor Directory:
B1: Parknshop Supermarket, Megabite Restaurant, KFC;
1F: products from world famous brands such as Givenchy, Agnès b., EMPEROR and CORNELIANI;
2F: women's clothing, shoes and jewelry from Joy & Peace, Calvin Klein Underwear, PINKO and InNIU; Watsons Your Personal Store;
3F: women's clothing and shoes from T.B2, Tasidan, KAKO and Acque Demi; restaurants;
4F: men's clothing from Apoth:eosis, TASSIGNY, Thèlèbre and MONTEZE MOLO; restaurants;
5F: Sport City; hairdressing salon; Teppanyaki Kaka Tai Restaurant;
6F: stationery; Aussino bedding; Sweet Kids Photograph; hairdressing and manicure salon; restaurants;
7F: restaurants such as Yi Ren Guan, Yuan Yuan Reataurant and Crystal Jade Restaurant.
8F: beauty salon;
9F: spas; clubs, Wall Street English Training Center;
10F: Studio City Cinema
Address: No. 1038, West Nanjing Road, Jing'an District

3. OMEGA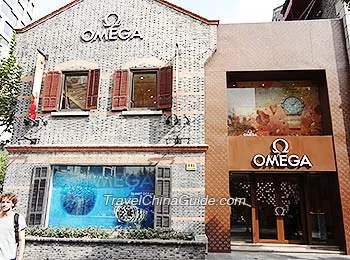 OMEGA
As one of the top 10 shopping malls in Shanghai, OMEGA was established in Switzerland in 1848. Owning to its long history and advanced technology, OMEGA makes watches boasting perfect timekeeping performance and excellent design. Its watches have been used as the official timekeepers in many important international sports events. OMEGA flagship store at Shanghai West Nanjing Road offers the latest collection of various luxury OMEGA watches.
Address: No. 1618, West Nanjing Road, Jing'an District

4. CITIC Square
Chinese name: 中信泰富广场 (zhōng xìn tài fù guǎng chǎng)
CITIC Square located at the intersection of West Nanjing Road and Jiangning Road is a comprehensive commercial building including business offices, an exhibition hall and a shopping center with restaurants and recreational facilities. A great number of world famous brands shops and various Chinese and western restaurants are sure to make you satisfied.
Floor Directory:
LG: LG01A: Hersun Diamond; LG02-03: Piombo; LG06-08: Tru Trussardi; LG09-10: Armani Exchange; LG10B: VIP Service Center; LG12A: Wagas; LG13: Mc Donald's; LG17-18: Cerruti 1881 (Blue Label); LG19-20: Calvin Klein Jeans;
1F: 101: Bally; 102: Loewe; 103: Trussardi; 105: Kenzo; 106: Max Mara; 107: Armani Collezioni; 109: Starbucks; 110: Aquascutum; 111-112: Mont Blanc; 113: Cerruti 1881; 115-116: Chloé; 117: Canali; 118/120 Esprit; 119: CITIC Bank;
2F: 201B: Esprit; 201: Red Earth; 202: Gant; 203: Cheté; 205: Lottusse; 206-208: Max & Co; 209-210: Vivienne Tam; 211-212: D'urban; 216: Amuleti J; 217: Ricci Andrist; 218: Jixiang Japanese Restaurant; 219: Dyrberg/Kern; 220: Episode; 221: Penny Black; 222: Oliver Grant; 223: Pelletteria; 225: Theory; 226: Laltramoda;
3F: 301A: South Beauty Restaurant; 301B: Salon Esprit; 302: Exception; 303-305: Jessica; 306-307: Glenfield; 308: Byford; 309: Testantin; 310: Pink & Mary; 311-312:GK; 313-315: Séfon; 316-317: China Moon Restaurant; 318: Lilana; 319: Louisa M; 320: Moiselle; 321: e +; 322: Marle Beans; 323: Azure Blu; 324: Eve. NY;
4F: 401: Golden Jaguar Restaurant; 402: Rex; 403: Lee; 405-406: heiB; 407-408: Levi's; 409: G-Star; 410-411: Nici; 412-413: Tough; 415: Wrangler; 416: ...as…; 417: Ma Boon Krong Thai Restaurant; 418: LensCrafters; 419: Adidas; 420: Fornarina; 421: Victorinox; 422: Konplott; 423: Energie; 425: Guang Ling Xing Food;
5F: 501A: SPR Coffee; 501E: Lawson; 502-503: Gatineau SPA; 505: American Optical; 506: Sanrio; 507: La Vinne; 508: Ivy Bookstore; 510: Franz; 511: L.L.M.; 512-515: restaurant; 516: MTM; 517: Salon H; 518B-C: Jiasheng Tea Shop; 519: Osim; 520: I-Nail Beauty World; 521: Beauty Heaven; 522: CNPIEC Bookstore.
Address: No. 1168, West Nanjing Road, Jing'an District

5. Plaza 66
Chinese name: 恒隆广场 (héng lóng guǎng chǎng)
Plaza 66 has a five-floor department store and two tall office buildings. The department store opened in 2001 boasts the best collection of luxuries from numerous world top brands. Want to see the latest fashion? You do not need to fly to New York, Milan, Paris or London. Plaza 66 will show you the latest masterpieces from world top brands such as Christian Dior, Chanel, Prada, Hermes, Louis Vuitton, Fendi, Cartier, Celine, Bvlgari, Loewe, Gieves & Hawkes, Lagerfeld, Hugo Boss, Escada, Versace, Lanvin, Piaget, Just Cavalli and Blumarine. There are many fashion release conferences and shows held in the atrium of Plaza 66. Besides clothing you can find delicate porcelain, crystal, bedding, fitness equipment, kitchenware and furniture.
Address: No. 1266, West Nanjing Road, Jing'an District
6. Shanghai Center
Chinese name: 上海商城 (shàng hǎi shāng chéng)
Also known as Portman, it is located opposite Shanghai Exhibition Center. With three buildings, it is a comprehensive public service center offering a shopping mall, an exhibition hall, a theater, apartments, offices, Portman Ritz-Carlton Hotel, restaurants, clubs and other personal service establishments. As one of the popular West Nanjing Road Shopping Malls, it has three floors having a number of top grade stores selling men's clothing, women's clothing, jewelry and imported food. Also it has many luxury fashion retailers such as Salvatore Ferragamo, Gucci, Marc Jacobs, Chopard, Paul & Shark and Stefano Ricci.
Address: No. 1376, West Nanjing Road, Jing'an District
7. Jiuguang Department Store
Chinese name: 久光百货 (jiǔ guāng bǎi huò)
Opened in 2004, it is located near Jing'an Temple and Jing'an Park. To provide customers with one-stop service, Jiuguang Department Store with one underground floor and nine overground floors serves as a comprehensive shopping center with dining and entertainment facilities. Over 500 China and world famous brands offer numerous quality goods. Here you can find Burberry's largest store in Asia, Tiffany's first branch in Shanghai, Dunhill's first branch in Asia and stores of many other well-know brands such as Thomas Pink, Agnes's b, Callaway and Jean Paul Gaultier. You can easily get there by subway since Jiuguang's underground floor is connected with Jing'an Temple Station of Metro Line 2.
Floor Directory:
B1: supermarket, take-away, Chinese tea shop, restaurants, cafes;
1F: cosmetics, perfume, jewelry, watches;
2F: women's clothing, handbags, shoes, accessories; cafes, restaurants, bars;
3F: women's clothing, underwear, stocking, scarves, hair accessories; traditional Chinese clothes;
4F: ladies' fashion, jeans, underwear, socks, bags, watches, shoes; teenage fashion, fashion gifts;
5F: men's casual wear, business suits, neckties, shirts, underwear, shoes, leather goods; golf wears and goods; travel goods; smoking sets;
6F: sportswear, sports shoes, swimming goods, outdoor goods, sports accessories; toys, children's clothing, children's shoes, stationery, babies' goods;
7F: tableware, kitchenware, bedding, electric appliances, bathroom accessories, gifts; Event Hall;
8F: restaurants and cafes;
9F: beauty salon
Address: No. 1618, West Nanjing Road, Jing'an District
8. Ciros Plaza
Chinese name: 仙乐斯广场 (xiān lè sī guǎng chǎng)
Ciors Plaza is divided into two parts, the shopping mall and the office building. The B1 to 7th floors are shopping malls. The 9th to 39th floors are Class A office buildings, covering around 53,000 square meters. Its whole positioning is a highly integrated intelligent building having catering, entertainment, living facilities and office.
Address: No. 388, West Nanjing Road, Huangpu District
9. Reel Department Store
Chinese name: 芮欧百货 (ruì ōu bǎi huò)
There are five floors of Reel Department Store. B1 combines the international popular cosmetics brands with international fashion trend brands. 1F & 2F brings together the famous luxury here. Personalized brands make up 3F's unique personality trend fashion, where customers will fully enjoy the fashion elements. 4F highlights the fashionable lifestyle and attitude, and has the most complete children's wear brands on the market. There is a sky garden and several specialty restaurants on the 5F.
Address: No. 1601, West Nanjing Road
10. Shimao Department Store
Chinese name: 世茂商都 (shì mào shāng dū)
Address: No. 258, West Nanjing Road, Huangpu District
Popular Restaurants & Dessert Shops
Pintxos Restaurant
Special dishes: Seafood Pasta with Cuttlefish Ink, Paella, Cheese Baked Scallops, Frying Lamb Rack
Average cost per person: CNY150
Address: B1-10, South Zone of Jiali Center, Jing'an, No. 1515, West Nanjing Road
Dadong Roast Duck Restaurant
Chinese name: 大董烤鸭 (dà dǒng kǎo yā)
Average cost per person: CNY400
Address: 5F, Yueyang Square, No. 1601, West Nanjing Road
Fu's All Day Restaurant
Chinese name: 朱姐福记全日茶餐厅 (zhū jiě fú jì quán rì chá cān tīng)
Average cost per person: CNY100
Address: 3F, No. 1038, West Nanjing Road
Shanghai West Nanjing Road Starbucks
Average cost per person: CNY110
Address: No. 789, West Nanjing Road
HeyTea
Chinese name: 喜茶 (xǐ chá)
Average cost per person: CNY30
Address: L377, Xingye Taiguhui, No. 789, West Nanjing Road