Shanghai Weather
Shanghai weather is generally mild and moist, with four distinctive seasons - a pleasant warm spring, a hot rainy summer, a comfortable cool autumn, and an overcast cold winter. The weather of Shanghai in July and August is the hottest, with more than 10 days' high temperatures above 35

C (95

F). The coldest period is from late January to early February. The location at the estuary of the Yangtze River to the East China Sea makes the city so wet that it rains for about one third of the year.



Best Time to Visit Shanghai
The springtime from March to May is recommended as the best time to pay a visit, while October to November, with pleasant autumn climate, is also a wise choice. If possible, avoid June, July and August with travel crowds, scorching hot weather, and frequent summer showers.
7-Day Shanghai Weather Forecast
Shanghai Weather by Month
Averages for Shanghai Weather
High/Low Temperatures of Shanghai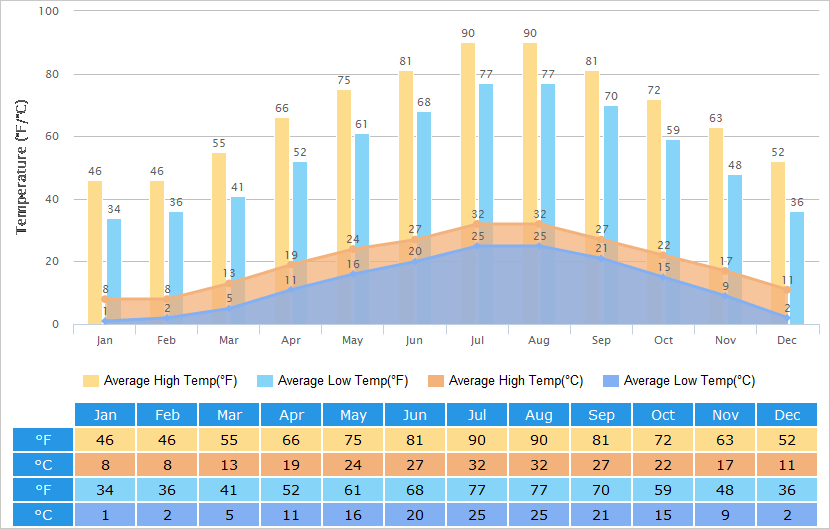 Average Temperatures of Shanghai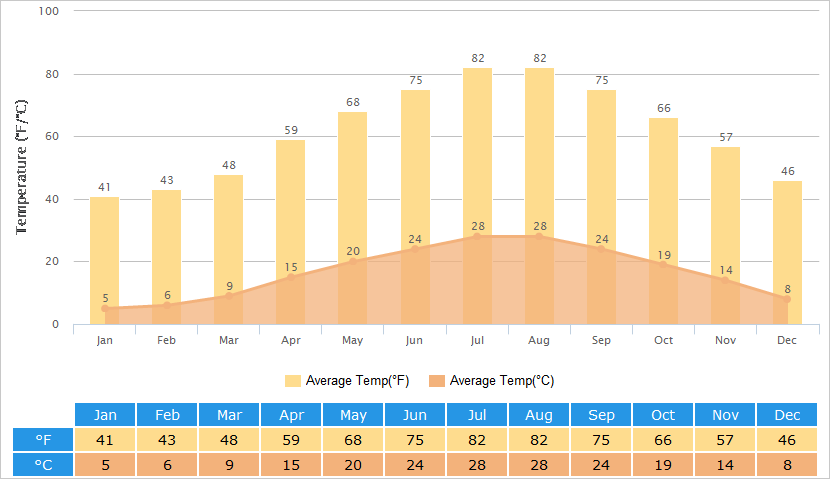 Humidity Graph of Shanghai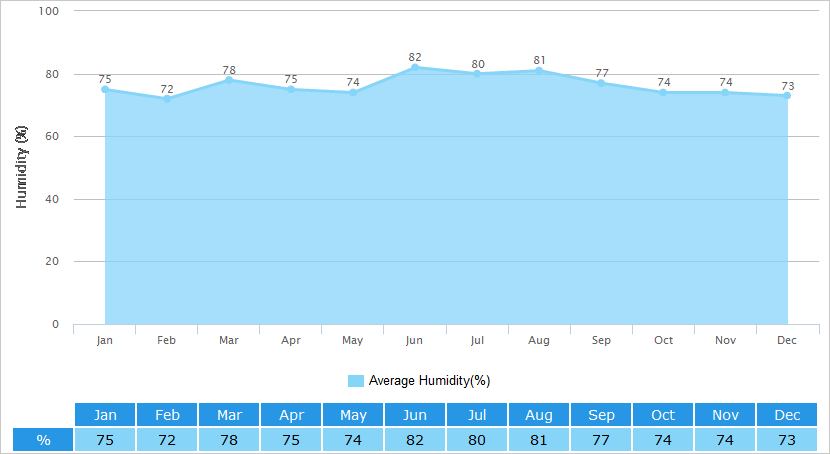 Average Rainfall of Shanghai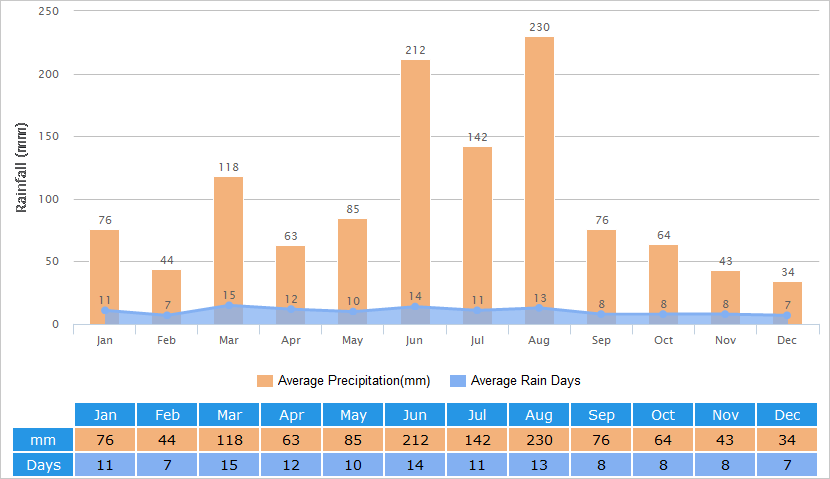 Air Quality of Shanghai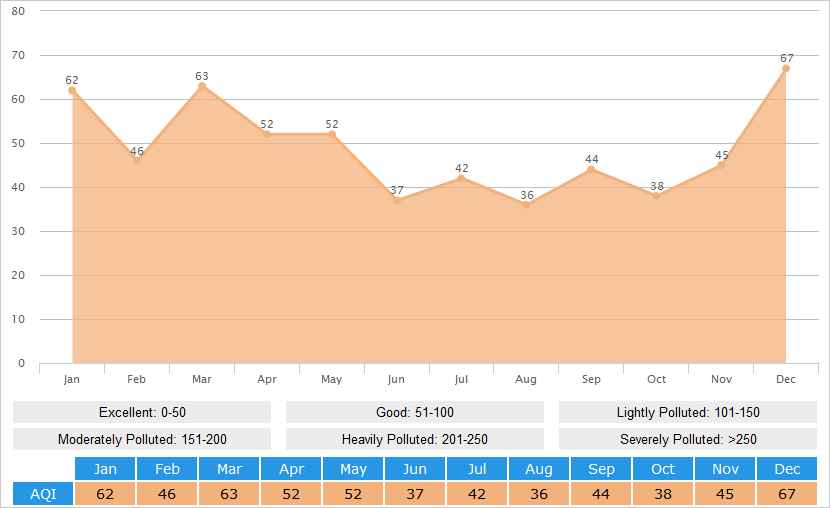 Shanghai Climate - Seasons & Travel Advice
With a subtropical maritime monsoon climate, Shanghai weather is generally mild and moist. Although situated in the southern part of China, it still has four distinct seasons. The warm spring and the cool autumn are comfortable for travel, while the sweltering summer and the chilly winter are less pleasant.

Spring in Shanghai is from March to May. This is the best season in a year for traveling. Spring flowers in bloom make the city lively and attractive. The temperature is comfortable around 20

C (68

F). Light rain happens however will not disturb your trip. Long-sleeved shirts, thin sweaters or coats are suitable for this season.

​ See also: 15 Most Beautiful Places in Shanghai in Spring

Summer here is long from June to September. With high temperature and abundant rainfall, the city can be very hot and wet at this time. The highest temperature occurs in July or August. The temperature can be above 35

C (95

F) for more than 10 days. You'd better avoid the hottest time around 14:00. Wear cool clothes such as T-shirts and shorts and drink more water to prevent heatstroke or dehydration.

There is a 'Plum Rain Season', aka Meiyu Season, from mid-June to early July. This lasts for nearly one month along the middle and lower reaches of the Yangtze River, commencing in early summer when the plums ripen. During this period, the rainfall often equals 25% of the city's annual total! Showers alternate with sunshine and the weather is really hard to predict. The frequent rain may spoil your travel plan. From late August to mid-September, typhoons can bring heavy rain in their wake. These two periods are best avoided by travelers but should you decide to visit be sure to bring an umbrella. Of course, the umbrella can also be used as a protection from the strong ultraviolet radiation on the sunny summer days.



​ See also: 12 Popular Shanghai Activities to Survive Summer

The short autumn comes in October and November. The temperate weather makes this season good for travel. It rains often in autumn except in late November. Long-sleeved shirts, sweaters and coats are appropriate.



​ See also: Where to Go in Shanghai in Autumn - 11 Best Destinations

The city's winter is from December to the next February. The coldest period is from the end of January to early February - usually during the Chinese Lunar New Year. The worst of the cold usually lasts for only a few days and it seldom snows. The temperature is not as low as some cities in north China like Beijing, but the humid cold wind is a torture for even the northerners. A sweater and overcoat are necessary.



See also: Top 10 Places for a Shanghai Visit in Winter

* Shanghai's urban sprawl greatly affects the climate. The urban area is usually hotter and drier than the suburbs and this effect aggravates the rainfall and pollution, calling for people's attention to protect and improve the environment.
- Last updated on Nov. 25, 2020 -
Questions & Answers on Shanghai Weather
Asked by Buddy from CHINA | Dec. 11, 2019 00:16

Reply
Agricultural Bank of China Branch
May I know which branch is most close to me if I am coming from Kunshan City? Whish more convenient to travel; by bus or by train?
Answers (3)
Answered by Tyler from SINGAPORE | Dec. 11, 2019 19:13

0

0

Reply
Can you provide more detailed address in Kunshan? Then I can find the nearest ABC for you.
Answered by Buddy from CHINA | Dec. 12, 2019 02:51

0

0

Reply
I apologize for my fault, i am supposed to go to Shanghai and off board in shanghai south terminal.
Answered by Tyler from SINGAPORE | Dec. 12, 2019 18:22

0

0

Reply
Do you refer to SH South Railway Station? Then the nearest ABC branch is located at No.969, Shilong Road.
Asked by Marie-Yanick Charles from UNITED STATES | Nov. 29, 2019 12:47

Reply
I am going to China with my family in Feb 25 to March 10 what kind of clothes we should bring with
Answers (1)
Answered by Theo from SINGAPORE | Dec. 02, 2019 18:55

0

0

Reply
Which city in China are you going to visit? The temperature could be very different in different places. If you go to Shanghai, you need to bring sewater, down jacket, padded pant, etc.
Asked by Amy from AUSTRALIA | Oct. 20, 2019 17:10

Reply
what clothes and other things are recommended to pack when travelling to Shanghai?
hi i am travelling there early November and not sure what the climate will be and what clothes will be appropriate for it?
Answers (1)
Answered by Henry from CANADA | Oct. 22, 2019 20:57

0

0

Reply
The temperature could be around 10C-20C based on history weather. You can bring some shirts and thin coats.
Asked by L Koh from SINGAPORE | Sep. 28, 2019 19:15

Reply
I am coming Shanghai in late Nov, can i still view the maple leaves ?
Answers (1)
Answered by Theo from UNITED KINGDOM | Sep. 30, 2019 01:49

0

0

Reply
Yes, November is a good month to watch maple.
Asked by joyce dalit from PHILIPPINES | Mar. 11, 2019 22:13

Reply
we are planning to visit Shanghai by dec. 26 to 30 and visit places like Disneyland.
The cold weather is fine but hesitant if there are rain showers during those date that can make our walking reduce the enjoyment.
Answers (4)
Answered by Nora from CANADA | Mar. 15, 2019 00:38

0

0

Reply
Well, to be honest, it is hard to say. There are several rainy days in December based on the previous weather statistics. You are suggested to check the weather again before going there.
Answered by joyce dalit from PHILIPPINES | Mar. 17, 2019 18:13

0

0

Reply
thanks alot, that really help, we will schedule another month, but what month is best? Thanks

Answered by Nora | Mar. 17, 2019 23:53

0

0

Reply
Generally speaking, February, March, October, November would have fewer rainy days based on the previous weather statistics.
Answered by joyce dalit from PHILIPPINES | Mar. 18, 2019 18:16

0

0

Reply
hi, thanks a lot, your reply is really helpful.