Shanghai Weather in May
Shanghai weather in May is warm, sometimes even hot.
Pleasant sunny days are the majority. The temperature difference is big during the day.
May Day Holiday (May 1 - 3) is the traditional tourist peak season, when tourist fares are higher than usual and the transportation becomes somewhat chaotic.
Data of Shanghai Weather in May

Average Temperature: 20°C / 68°F
Average High Temperature: 24°C / 75°F
Average Low Temperature: 16°C / 61°F
Average Humidity: 74%
Average Rainfall: 85 mm
Average Rainy Days: 10 days
Time of Sunrise: 04:51 ~ 05:10
Time of Sunset: 18:33 ~ 18:53

Air Quality in May
Average AQI:81


Clothing Advice: Generally speaking, summer clothes can be taken out. Because of the temperature gap between day and night, attention should be paid to wearing comfortable clothes. Don't wear leather shoes, especially new shoes, which are not suitable for long walking. Loose and casual clothes and shoes are recommended for outings. Wear light-colored clothes, which absorb heat slower and dissipate heat faster than dark-colored ones.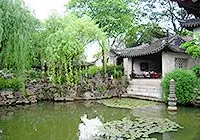 Pleasant Spring Weather in Shanghai

Travel Advice: To avoid the hustle and rush, attractions at a distance from the urban area are strongly recommended. You can watch all kinds of animals at the
Shanghai Wild Animal Park
. Dongping National Forest Park and Wetlands of Chongming Island are two great places to enjoy the natural beauty and get totally refreshed. You can go for a picnic or go camping there. In addition, you can choose a farmhouse to experience the folk life and taste delicious home-made food.

Other Tips: Pay attention to water and food hygiene. When going on an outing, don't sit directly on cool and wet places. When you are going for a picnic, pay great attention to the wind direction. Put out the fire when you intend to leave for fear of causing a fire. If you have allergy history, try to avoid places with flowers or you need to take in Chlorpheniramine maleate. Prepare some other commonly used medicines.
When the sunlight is strong, do not forget to wear sun-blocking cream, sunglasses and hat. Always bring an umbrella to cope with unexpected rains.

Historical Shanghai Weather in May
May
Temperature
Sunrise / Sunset
Humi-
dity
(%)
High
Low
1
26.6°C / 79.9°F
18.3°C / 64.9°F
05:10 / 18:33
48
2
21.2°C / 70.2°F
15.4°C / 59.7°F
05:09 / 18:34
43
3
20.2°C / 68.4°F
14.4°C / 57.9°F
05:08 / 18:35
62
4
20.0°C / 68.0°F
12.4°C / 54.3°F
05:07 / 18:35
60
5
22.6°C / 72.7°F
13.4°C / 56.1°F
05:06 / 18:36
61
6
28.5°C / 83.3°F
16.5°C / 61.7°F
05:05 / 18:37
64
7
31.6°C / 88.9°F
18.6°C / 65.5°F
05:04 / 18:37
68
8
27.9°C / 82.2°F
20.6°C / 69.1°F
05:04 / 18:38
70
9
32.0°C / 89.6°F
25.1°C / 77.2°F
05:03 / 18:39
66
10
35.2°C / 95.4°F
25.1°C / 77.2°F
05:02 / 18:39
60
11
29.6°C / 85.3°F
15.9°C / 60.6°F
05:01 / 18:40
84
12
26.0°C / 78.8°F
16.0°C / 60.8°F
05:00 / 18:41
64
13
26.9°C / 80.4°F
17.1°C / 62.8°F
05:00 / 18:41
33
14
27.5°C / 81.5°F
19.1°C / 66.4°F
04:59 / 18:42
41
15
27.9°C / 82.2°F
15.5°C / 59.9°F
04:58 / 18:43
44
16
28.7°C / 83.7°F
17.9°C / 64.2°F
04:58 / 18:44
53
17
30.1°C / 86.2°F
18.6°C / 65.5°F
04:57 / 18:44
58
18
30.4°C / 86.7°F
20.3°C / 68.5°F
04:57 / 18:45
47
19
33.0°C / 91.4°F
21.1°C / 70.0°F
04:56 / 18:46
57
20
34.4°C / 93.9°F
22.1°C / 71.8°F
04:55 / 18:46
58
21
28.2°C / 82.8°F
16.6°C / 61.9°F
04:55 / 18:47
89
22
17.4°C / 63.3°F
15.4°C / 59.7°F
04:54 / 18:47
81
23
16.7°C / 62.1°F
14.7°C / 58.5°F
04:54 / 18:48
88
24
22.4°C / 72.3°F
15.6°C / 60.1°F
04:53 / 18:49
57
25
24.2°C / 75.6°F
16.7°C / 62.1°F
04:53 / 18:49
67
26
22.7°C / 72.9°F
18.2°C / 64.8°F
04:53 / 18:50
77
27
21.7°C / 71.1°F
16.9°C / 62.4°F
04:52 / 18:51
75
28
20.2°C / 68.4°F
17.2°C / 63.0°F
04:52 / 18:51
78
29
27.1°C / 80.8°F
15.2°C / 59.4°F
04:51 / 18:52
58
30
29.8°C / 85.6°F
17.1°C / 62.8°F
04:51 / 18:52
43
31
27.4°C / 81.3°F
20.8°C / 69.4°F
04:51 / 18:53
60
AQI(Air Quality Index) Graph for Shanghai, China (May 2016)