Shanghai Weather in December
Rainy, windy, and cloudy days are the major weather of December in Shanghai. It seldom snows and is not as cold as some cities in northern China, but because of the strong wind and dampness, it is really freezing, especially at night.
The awful weather diminishes the number of people traveling to Shanghai. Many attractions, hotels, restaurants and shops offer big discounts, making Shanghai a great Christmas destination.
The locals especially young people hold rich activities to celebrate Christmas.
Averages for Shanghai Weather in December
Temperature: 8°C / 46°F
High Temperature: 11°C / 52°F
Low Temperature: 2°C / 36°F
Humidity: 73%
Rainfall: 34 mm
Rainy Days:7 days
Sunrise: 06:35 ~ 06:53
Sunset: 16:51 ~ 17:02
Air Quality in December
Average AQI:78

Thin sweater, thick coat, and warm trousers are appropriate for December. Sometimes when a cold snap hits Shanghai, down jacket needs to be put on. Do not wear too much in a house equipped with air conditioner, because you be less adaptable to obvious temperature variation outside.


Where to Go / Things to Do
Shanghai seldom snows, and the climate is not cold enough in winter to have outdoor ski resorts. Silver Seven Star Ski Site is the largest indoor skiing site in the city. Enjoy the fun of ice and snow there! You can enjoy international acrobatic performances and circus shows at the Circus World. There are many churches in Shanghai, such as the Shanghai International Protestant Church, Shanghai Holy Trinity Church commonly known as the "Red Chapel", and Shanghai Jingling Church. On Christmas Day, many religious activities are held there. You are welcome to visit and experience the festivities. Wandering and appreciating the moonlight on the Bund is also a romantic choice, isn't it?
Top 10 Things to Do in Shanghai
Try to avoid going to the chilly outside in the early morning and the late night. 9:00am to 4:00pm is comparatively warmer. It is easy to get chilblains in such wet and cold weather, so bring Umguentum Acid with you. If you go to the Bund in the evening, you had better wear a down jacket and a muffle to cope with cold wind.
What is the temperature in Shanghai in December?
High/Low Temperatures of Shanghai in December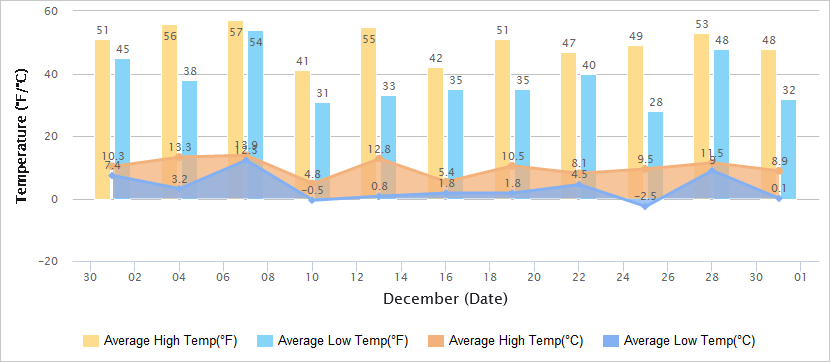 Air Quality of Shanghai in December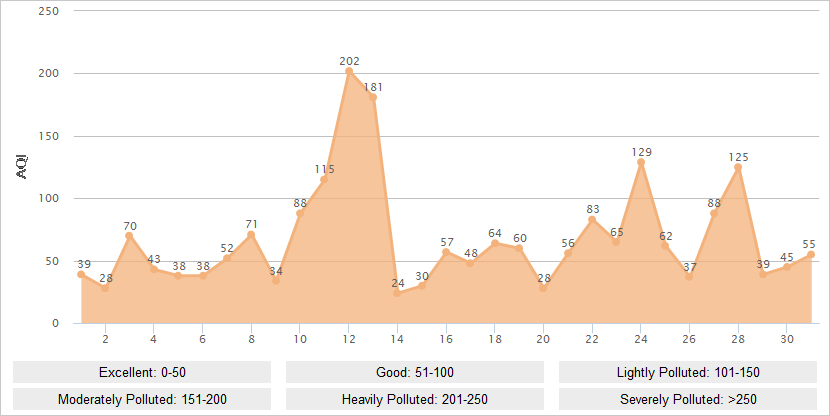 Historical Shanghai Weather in December
Dec
Temperature
Sunrise / Sunset
Humi-
dity
(%)
High
Low
1
10.3°C / 50.5°F
7.4°C / 45.3°F
06:35 / 16:51
70
2
8.7°C / 47.7°F
3.9°C / 39.0°F
06:36 / 16:51
64
3
9.9°C / 49.8°F
3.0°C / 37.4°F
06:36 / 16:51
64
4
13.3°C / 55.9°F
3.2°C / 37.8°F
06:37 / 16:51
71
5
14.4°C / 57.9°F
10.4°C / 50.7°F
06:38 / 16:51
69
6
15.3°C / 59.5°F
12.8°C / 55.0°F
06:39 / 16:51
80
7
13.9°C / 57.0°F
12.3°C / 54.1°F
06:40 / 16:51
93
8
12.4°C / 54.3°F
5.7°C / 42.3°F
06:40 / 16:51
78
9
6.0°C / 42.8°F
2.6°C / 36.7°F
06:41 / 16:52
64
10
4.8°C / 40.6°F
-0.5°C / 31.1°F
06:42 / 16:52
58
11
7.4°C / 45.3°F
-2.0°C / 28.4°F
06:42 / 16:52
72
12
9.1°C / 48.4°F
-1.4°C / 29.5°F
06:43 / 16:52
69
13
12.8°C / 55.0°F
0.8°C / 33.4°F
06:44 / 16:53
80
14
11.7°C / 53.1°F
3.2°C / 37.8°F
06:45 / 16:53
78
15
9.4°C / 48.9°F
5.2°C / 41.4°F
06:45 / 16:53
64
16
5.4°C / 41.7°F
1.8°C / 35.2°F
06:46 / 16:54
49
17
5.4°C / 41.7°F
-1.5°C / 29.3°F
06:46 / 16:54
55
18
7.4°C / 45.3°F
0°C / 32.0°F
06:47 / 16:54
70
19
10.5°C / 50.9°F
1.8°C / 35.2°F
06:48 / 16:55
71
20
11.8°C / 53.2°F
3.4°C / 38.1°F
06:48 / 16:55
78
21
9.4°C / 48.9°F
8.1°C / 46.6°F
06:49 / 16:56
86
22
8.1°C / 46.6°F
4.5°C / 40.1°F
06:49 / 16:56
59
23
6.9°C / 44.4°F
2.1°C / 35.8°F
06:50 / 16:57
54
24
7.4°C / 45.3°F
-0.9°C / 30.4°F
06:50 / 16:57
53
25
9.5°C / 49.1°F
-2.5°C / 27.5°F
06:51 / 16:58
63
26
9.6°C / 49.3°F
-1.2°C / 29.8°F
06:51 / 16:59
68
27
9.9°C / 49.8°F
6.7°C / 44.1°F
06:51 / 16:59
63
28
11.5°C / 52.7°F
9.0°C / 48.2°F
06:52 / 17:00
72
29
11.7°C / 53.1°F
7.1°C / 44.8°F
06:52 / 17:00
73
30
7.7°C / 45.9°F
4.5°C / 40.1°F
06:52 / 17:01
64
31
8.9°C / 48.0°F
0.1°C / 32.2°F
06:53 / 17:02
72
- Last modified on Sep. 26, 2018 -