Will Shanghai Snow in Winter? 8 Places to See Snow
Does Shanghai have snow? Snowfall rarely occurs.
Located in subtropical monsoon climate zone, the weather in Shanghai winter is not very cold with the average temperature ranging from -1 to 8℃ (30 to 46 F). Nevertheless, it still snows one or two times in winter almost every year. They are mainly small to moderate snow or sleet. Generally speaking, Shanghai snow season occurs between the late December and February, especially around the
Chinese New Year
(Spring Festival).
6 Places to See Snow in Shanghai
With dense trees and plants, Shanghai Century Park is definitely a recommended place to appreciate snow in Shanghai in the wild environment. Being the largest natural ecological park in the city, it also has a Mirror Lake - the largest artificial lake inside where you can boating on the lake to find the beauty of snow on the lakeshore trees. Late December to early January is the blooming season for the more than 100 ancient Calyx Canthus in the park. If it snows during this time, the white snowflakes and the blooming plum blossoms set each other off more beautifully.
If you want to appreciate the snowfall in Shanghai, Guyi Garden is a recommended choice to avoid crowded people. It is known as one of the five classical gardens in Shanghai. The elegant atmosphere, plum blossom fragrance and fresh air here make you feel comfortable and take your mind off trouble in winter. After the snow, Guyi Garden seems to become more mysterious and elegant, which is waiting for people to discover.
4. Pujiang Countryside Park
The forest covers about 80% part of the Pujiang Countryside Park. Inside it, there is also a European style castle and a white church. When you go there in Shanghai snow weather, you will have the feeling of going to a northern European country. You can go there with your lover for a romantic walk hand in hand far from the hustle and bustle of the city life. For those who like to be close to nature, Pujiang Country Park should be on the list of 'Top Popular Places to See Shanghai Snow'.
6. Huakai Haishang Ecological Park
Located about 75 kilometers (47 miles) away from Shanghai city center, Huakai Haishang Ecological Park has more than 30,000 plum blossom trees inside, of which over 5,000 good-quality plum trees are planted in Plum Blossom Garden, including 60 varieties. The flower season is generally from late December to February, which coincides with the snow season in Shanghai. Therefore, this ecological park is not only a good place to see snowing in Shanghai, but also a suitable choice to appreciate plum blossom and snow adding beauty to each other.
Where can I see snow around Shanghai?
Because of the climatic characteristics, there are only a few chances to see Shanghai snowing. If you have enough time, you are strongly recommended to visit the nearby places where there is a higher possibility of snow, such as Huangshan Mountain in Anhui Province and Tianmu Mountain in Lin'an City.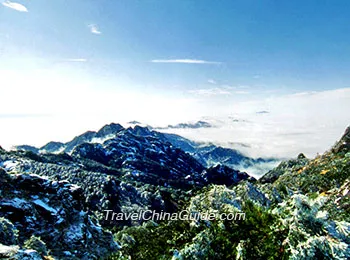 Snow-covered Huangshan Mountain
If you haven't seen the snow-covered Huangshan Mountain, you won't find its real beauty. From December to March every year, Yellow Mountain has the most frequent snowy days. After snow, the strange mountain peaks, winding steps, and emerald green pines are all covered with a white coat, like a traditional Chinese ink painting. Other wonderful winter scenery on Huangshan Mountain includes the magnificent rime, sea of clouds, and amazing sunrise.
2. Tianmu Mountain
Tianmu Mountain is about 260 kilometers (162 miles) away from Shanghai city center, with an altitude of 1,506 meters (4,940 feet), so endowed with more snowfalls. Besides, its spectacular scenery of glaze and rime attracts countless tourists every winter. When the temperature is low in sleet weather, the rain and mist will condense on the trees, forming white ice crystals. At that time, Tianmu Mountain is like an ice sculptures world. In general, you can always see glaze and rime every year from December to March next year on Tianmu Mountain.

Read more:


​ Shanghai Winter – Weather, Temperature & Wear


Top 10 Places for a Shanghai Visit in Winter
- Last modified on Jan. 05, 2021 -