Wuzhen Water Town
Wuzhen Water Town, lying in the northern part of Tongxiang City, Zhejiang Province, is a typical ancient town in southern China. It is about 80 kilometers (50 miles) from both Hangzhou and Suzhou, and 140 kilometers (87 miles) from Shanghai.

As one of the top six ancient towns in the southern region of the Yangtze River, Wuzhen Water Town boasts more than six thousand years of history and has always been a fertile land with abundant rice, fish and silk. It preserves the ancient appearance well and oozes charm of the water town itself. The small town, with houses made of black bricks and gray tiles contrasting sharply with the white walls, making it appear like a Chinese ink wash drawing. Stone bridges are seen here and there. Small boats with black awnings are floating on the murmuring rivers. Whether wandering along the riverside or strolling in the lanes paved with blue flagstones, you will be deeply impressed by the picturesque scenery and slow lifestyle.

A crisscrossing river divides the whole Wuzhen Water Town into four scenic sections, which are respectively called as Dongzha, Nanzha, Xizha, and Beizha by local people. Since Nanzha and Beizha are less developed, tourists often prefer to visit Dongzha and Xizha. Dongzha maintains the basic original layout while Xizha has been reconstructed to reproduce the ancient appearance of the water town. Compared with Dongzha, Xizha is more bustling with numerous shops.
| | |
| --- | --- |
| | Have a rest on sheltered lane |
Xizha in Wuzhen Water Town
In this area, there is a museum which may arouse your interest, the Chinese Foot Binding Culture Museum. In ancient China, women's feet are called 'golden lotus'. To make their feet more beautiful, young girls were forced to bind their feet with cloths. Consequently, their feet got distorted, sometimes even could not support them firmly. Many pictures and models showing the scenes are on exhibit in the museum. In addition, the more than 500 hundred shoes in the museum are worth seeing, as they represent the evolution of ancient Chinese shoes.
In Wuzhen Xizha, one may be amazed at the extraordinary scene of Bridge in Bridge created by two ancient bridges, one of which is Tongji Bridge crossing the river from east to west and the other is called Renji Bridge running from south to north and joining the former at one end. Either of two bridges can be seen through the arch of the other. Having been rebuilt five times, Tongji Bridge is a 28.4-meter-long (93.1 feet) and 3.5-meter-wide (11.4 feet) one-curvature arch bridge, with a span of 11.8 meters (38.7 ft). Renji Bridge, which has also experienced historical repairs, has a length of 22.6 meters (74.1 ft), a width of 2.8 meters (9.2 ft) and a span of 8.5 meters (27.9 ft).
There are also other interesting hot spots in Xizha, such as the Xuchang Sauce and Pickle Workshop, a shop selling sauce and pickles produced using traditional techniques, Zhaoming Academy, Temple of General Wu (a heroic general who died there in a battle), and Matchmaker's Temple.
| | |
| --- | --- |
| Every stone bridge tells a story | One of Many Stone Bridges in Town |
Dongzha in Wuzhen Water Town
Covering an area of 900,000 square meters (9,687,519 square feet), Dongzha scenic section has many tourism attractions. Walking along the ancient street, you will see a museum housing dozens of ancient beds. As the first museum collecting and exhibiting ancient beds in China, its most exquisite collection is the Bed Made by Thousands of Craftsmen. It took more than a thousand of craftsmen three years to make the bed, hence the name.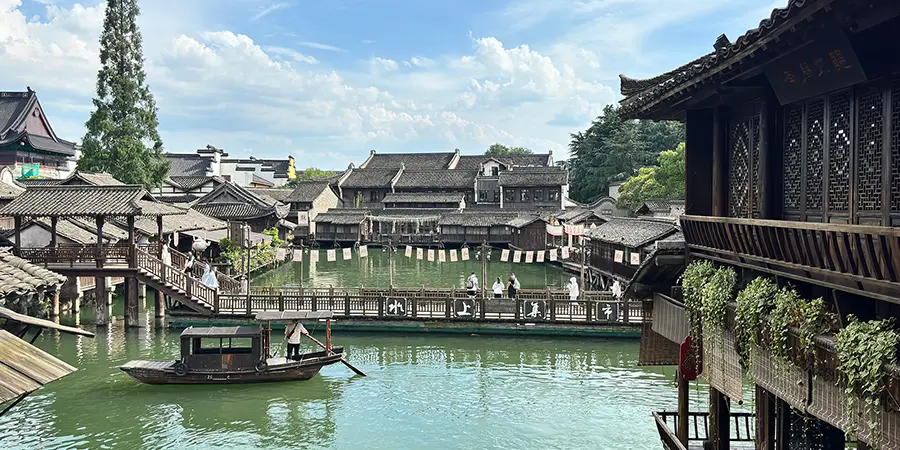 Tea house keeps its original aroma

Another museum which may catch your eyes is the Museum of Folk Customs in Southern Yangtze River Region. It displays local unique birthday ceremony, wedding customs, and folk customs on various festivals. You can learn the interesting life style of local people here. Yu Liuliang Coin Museum, a museum used to display over 26,000 kinds of coins in the past dynasties from about 230 countries and regions is also worth visiting.

Originally built in the central 19th century covering a total area of 650 sq. meters (7,020 square feet), the former residence of Mao Dun, a well-known Chinese revolutionary writer, was the Mao family home for many generations and witnessed the growth of this great revolutionist and writer. In 1984, the former residence of Mao Dun was renovated and extended to cover a total area of 1,731.5 square meters (18,700 sq. ft) - it opened to the public one year later. In 1988, it was listed as one of the Key State Preserved Relic Units and in 1994 was renamed the Mao Dun Museum of the City of Tongxiang. The house has three exhibition areas: 'Wuzhen, the Hometown of Mao Dun', 'the Way of Mao Dun', and 'the Former Residence of Mao Dun (renovated)'. The present Mao Dun Museum can be found to the east of the residence, which used to be Lizhi Shuyuan (Aspiration Academy) where Mao Dun spent his early school years.

Enjoying a well-deserved reputation as the best teahouse in the Wuzhen Water Town, the Fanglu Pavilion obtained its name from an accidental meeting between Lu Tong, the owner, and Lu Yu, the Patron Saint of Tea during the Tang Dynasty (618-907). It is said that Lu Yu once mistakenly ate some poisonous leaves and was rescued by Lu Tong, who happened to collect tea leaves at that time. In return, Lu Yun taught Lu Tong knowledge of tea and tea-making skills, which resulted in the prosperity of Lu Tong's teahouse. Suggested by one guest, Lu Tong changed the house's name to Pavilion of Visits to Lu (Fanglu Pavilion in Chinese), to memorize this respectable scholar. Located to the south of Ying Bridge and backing onto the city river, the teahouse enjoys a broad view of Guanqian Street and provides visitors with pleasant relaxation.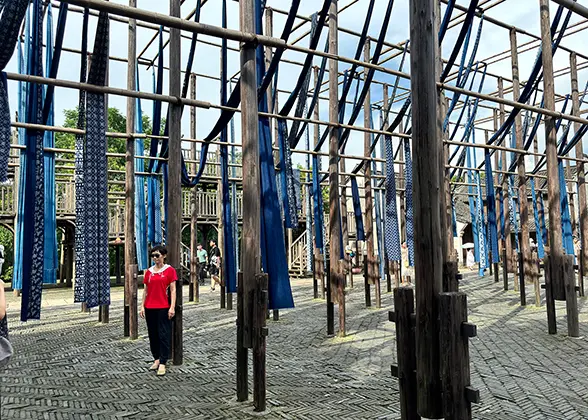 Making printed blue calico

Blue printed cloth of China is very famous all around the world and Wuzhen is one of its original manufacturing places. Hong Yuan Tai Dye House, first constructed in Nanzha section during Song Dynasty (960-1127) and Yuan Dynasty (1127-1368) and relocated to Dongzha in the reign of Qing Emperor Guangxu (1871-1908), enjoys a good reputation for its blue printed cloth. Watching the process of making blue printed cloth will remind you of the sophisticated craftsmanship of ancient China.

Things to Do in Wuzhen Water Town
Lying on the river banks, the most famous food in the antique town are undoubtedly fish dishes. However, it is also famous for other delicacies, such as Qing Tuan (sweet green glutinous rice balls), mutton braised in soy sauce and Gusao Cake. As the old saying goes, when in Rome, do as the Romans do. You can taste the snacks, wear a dress made of blue printed cloth, and walk on the age-old paths holding an oiled paper umbrella. It must be an unforgettable experience in your life.
In addition, you can participate in a lot of folk activities and have great fun, for example, the 'feast on the long street'. Often held in winter, the feast provides an opportunity for people from different places to sit around a long table and chat with each other. In summer days, villagers sell fresh seasonal vegetables and fruits on boats, forming a booming water market.
Though endowed with profound traditional Chinese culture, Wuzhen is very modern in some aspects. Visitors can access free WiFi at every corner of Wuzhen Water Village. What is more, all the shops, restaurants and hotels accept payment by Alipay Wallet, benefitting tourists greatly. Since the first World Internet Conference has been held there on November 19, 2014, it has become the permanent venue of this summit.
How to Get to Wuzhen Water Town from Shanghai
1. Take a bus from Shanghai South Long-Distance Bus Station. The route operates from 07:17 to 18:37 with an interval of less than an hour, and a fare of CNY 55. After arrival, tourists can take local bus K350 to reach Xizha. The bus K350 is available from 06:10 to 17:30 with an interval of 5-10 minutes.
2. Take a train from Hongqiao Railway Station to Tongxiang Railway Station. Upon arrival, tourists can take bus K282 to Wuzhen Bus Station and then get on bus K350 from there to the scenic area. The bus K282 is available between 07:30 to 18:20 every 20-25 minutes in peak time and 35-40 minutes in low time.
See more Shanghai - Tongxiang Train

How to Get to Wuzhen Water Town from Hangzhou
1. Take a bus from Hangzhou Passenger Transport Central Station (Jiubao Passenger Transport Center). The bus departs about every 25 minutes from 7:00 to 18:20, with a fare of CNY 31.
2. Take a train from Hangzhou Railway Station or Hangzhou East Railway Station to Tongxiang Railway Station. Then change to local city bus K282 going to the site.
3. Travel by bus from Hangzhou Xiaoshan International Airport. The bus departs at 9:10, 10:00, 10:40, 11:10, 12:10, 13:00, 13:50, 14:40, 15:20, 16:10, 17:00, 18:00, 18:40, 19:10, 20:10 and 21:10. Ticket fare is CNY 42 and duration is about 110 minutes. Upon arrival, take a local city bus to reach the scenic site.

How to Get to Wuzhen Water Town from Suzhou
1. Take a bus from Suzhou South Bus Station. The route operates at 08:40, 09:55, 10:55, 11:55, 15:25, and 16:20, with a fare of CNY 35.
2. Take a bus from Suzhou North Bus Station (neighboring North Square of Suzhou Railway Station). The route operates at 08:15, 09:30, 10:30, 11:30, 13:45, 15:00, 15:55 and 17:10, with a fare of CNY 35.
3. Take a train from Suzhou, Suzhou North, or Suzhou Industrial Park Station to Tongxiang Railway Station. Then get to the scenic site using local buses.
China Train Schedule Search

How to travel between Dongzha and Xizha in Wuzhen Water Town
There are free shuttle buses between Dongzha and Xizha.
Service hours:
Xizha to Dongzha: 07:30 - 17:30
Dongzha to Xizha: Mon. - Thu.: 07:40 - 17:20; Fri. - Sun.: 07:40 - 17:35.
Dongzha
Xizha
Entrance Fee
CNY 110
CNY 150
CNY 190 for a combo ticket.
Notice:
Free of charge for children below 1.2 meters (3.9 feet).
For children between 1.2 - 1.5 meters (4.9 feet): CNY 55 for Dongzha; CNY 75 for Xizha.
Opening Hours
May - Oct. 8: 07:00 - 18:00
Oct. 9 to Apr.: 07:00 - 17:30
9:00 to 22:00
Boat Rental Service
Dongzha
Xizha
Routes
1. Parking Lot – Xinhua Bridge
2. Caishen (God of Wealth) Bay - Xinhua Bridge
1. Tourist Center (An Du Fang) - Ruyi Bridge
2. Tourist Center (An Du Fang) – Wang Jin Li
3. Ling Shui Ju - Ruyi Bridge
4. Zhen Shui Xi – Tourist Center (An Du Fang)
Zhen Shui Xi - Ruyi Bridge
5. Temple of General Wu - Tourist Center
6. Long Xing Tian –Ling Shui Ju
Long Xing Tian - Tourist Center (An Du Fang)
Available hours
May - Oct. 8: 08:00 - 17:30
Oct. 9 to Apr.: 08:00 - 17:00
07:30 to 21:30 (Tourist Center Wharf, An Du Fang Wharf, Wang Jin Li Wharf, Ruyi Bridge Wharf, and Temple of General Wu Wharf)
08:00 to 17:00 (Ling Shui Ju Wharf, Zhen Shui Xi Wharf, and Long Xing Tian Wharf)
Fees for a single trip
1. Individual travelers: CNY 30 for adults, CNY 15 for children below 1.5m. The boat departs only when all the eight seats are taken.
2. A chartered boat: CNY 160 if the total passengers are not more than 4, CNY 240 if the total number is greater than 4 but not more than 8.
1. Individual travelers: CNY 60 for adults, CNY 30 for children below 1.5m. The boat departs only when all the six seats are taken.
2. A chartered boat: CNY 200 if the total passengers are not more than 2, CNY 360 if the total number is greater than 3 but not more than 6.
Sight-seeing bus in Xizha
Fee: CNY 5
Note: Visitors lodging in the scenic area can take sight-seeing bus for free by presenting a room card or hotel registration form.

Furthur Reading:

8 Best Water Towns near Shanghai

A Complete Guide to 15 Shanghai Old Towns

Top 10 Water Towns in China

Top 5 Shanghai Tourist Sites in August

10 Famous Places in China with Rising Popularity over the Web
- Last updated on Jul. 26, 2023 -
Questions & Answers on Wuzhen Water Town
Asked by Lee from MALAYSIA | Jul. 25, 2023 19:05

Reply
Where to buy bus ticket from Wuzhen Water Town to Shanghai ?
Answers (1)
Answered by Selina | Jul. 26, 2023 00:22

0

0

Reply
You can buy the ticket at the bus station before departure. There are many departures each day, so there is no need to worry about that.
Asked by Tam Dang from VIETNAM | Apr. 09, 2023 18:22

Reply
Can I buy bus ticket online for Wuzhen Water Town from Suzhou?
Can I buy online bus ticket for Suzhou to Wuzhen? Or I have go to bus station to buy ticket?
Answers (1)
Answered by Mike | Apr. 09, 2023 22:37

0

0

Reply
You can buy the ticket either online or at the bus station. There are many websites selling the bus tickets, but almost all of them are in Chinese. You'd better ask help from someone who can read Chinese.
Asked by WINDY_13 | May. 25, 2020 10:44

Reply
Travel from Wuzhen to Xitang
I would like to visit both Wuzhen and Xitang in Nov. There is any easy way to travel from Wuzhen to Xitang? How long it will take?
Answers (1)
Answered by Jocelyn from FINLAND | May. 31, 2020 23:37

0

0

Reply
There are several direct coach from Wuzhen to Xitang. I remember that the bus schedules are 09:15, 10:30, 14:20, 15:35, 16:40 and 18:00. It costs CNY 25 per person. And the duration is around an hour.
Asked by Eugene from MALAYSIA | Dec. 10, 2019 00:02

Reply
What is the entrace ticket fee if staying overnight at Xizha Guest House?
Understand that there is discounted admission ticket fee
Answers (1)
Answered by Swan from UKRAINE | Dec. 12, 2019 00:30

0

0

Reply
As I know, there is a 2 days discounted combo tickets if you staying overnight at hotels in Xizha Scenic Area. You need to consult the hotel staff when you arriving there. They will help you buy the tickets. :)
Asked by Boon | Nov. 17, 2019 06:00

Reply
How far from Russian station to Wuzhen?
I want to know how from tongxiang rail way station to Wuzhen? How much it cost by taxi.?
Thanks for all comments.
Answers (2)
Answered by Jennie from MALAYSIA | Nov. 19, 2019 19:16

0

0

Reply
The distance is around 30km. The estimated cab fare is CNY110 but I'm not sure whether there is taxi driver would like take you to Wuzhen.
Answered by Ilse Du Plooy from SOUTH AFRICA | Nov. 25, 2019 05:01

0

0

Reply
I took a taxi from Tongxian to Xiatang (another water town,after Wuzchen was closed due to an international IT conference) and paid 134¥.