Hangzhou East Railway Station
Hangzhou East Railway Station is one of the largest railway hubs in China. Put into use on 1st July, 2013, it is about 5 miles (8 km) to Hangzhou Railway Station, 5 miles (8 km) from West Lake (Broken Bridge), 13 miles (21 km) to South Railway Station and 17 miles (27 km) to Xiaoshan International Airport.

Address: Tiancheng Road of Jianggan District


Hangzhou East Railway Station See-off Service
Schedule and Ticket Booking
The east train station specializes in high speed trains, including those to/from Beijing, Nanjing, Guangzhou, Changsha, Xiamen, Kunming, Fuzhou and Hong Kong.



Major Rail Lines from this station to:
(Last Update on Sep 22, 2020)
To
Trains
Duration
Ticket Fare (CNY)
First/ Second Class Seat

Shanghai Hongqiao

G7358, G7556, G7558, G7400...
150 departures from 06:10 to 23:17
0h45m - 1h46m
CNY 74/ 35
USD 11/ 5

Suzhou

G1866, G7492, G7372, G7564...
31 departures from 07:33 to 20:43
1h21m - 2h40m
CNY 142/ 52
USD 21/ 8

Hong Kong

G99 at 15:01
7h29m
CNY 1,529.5/ 935
USD 223/ 136

Xi'an North

G1874, G2389, G1882, G1894...
5 departures from 07:08 to 16:34
6h37m - 11h51m
CNY 1,067.5/ 653.5
USD 155/ 95

Guangzhou South

G1403, G85, G1301, G99...
8 departures from 07:53 to 21:05
6h4m - 10h17m
CNY 1,185.5/ 479
USD 173/ 70

Nanjing South

G254, G34, G1874, G1862...
129 departures from 06:30 to 21:48
1h2m - 4h40m
CNY 152/ 94
USD 22/ 14

Beijing South

G34, G36, G42, G420...
18 departures from 06:55 to 20:05
4h23m - 13h35m
CNY 907/ 328
USD 132/ 48

Qingdao

G254, G282, D782 from 06:30 to 19:49
7h31m - 13h17m
CNY 854.5/ 265
USD 124/ 39

Guilin

G1503, G1505, G1501 from 09:19 to 11:03
7h51m - 7h58m
CNY 968.5/ 584.5
USD 141/ 85

Huangshan North

G2389, G2385, D5577, G1509...
28 departures from 06:52 to 21:29
1h25m - 2h24m
CNY 141/ 88
USD 21/ 13

Shenzhen North

D3111, D2287, D3307, D377...
16 departures from 07:33 to 21:10
7h7m - 10h42m
CNY 867/ 432
USD 126/ 63

The above schedule is for reference only. For real-time schedule and ticket booking, please click the arrival stations.

See more
Hangzhou Train Schedule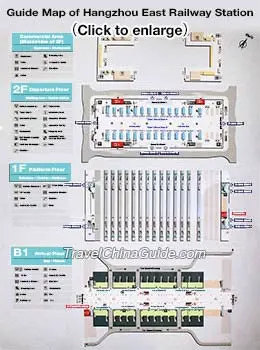 Hangzhou East Train Station Map
(Click to enlarge)
Station Plan
Hangzhou East Railway Station consists of two squares and a station building. On both squares there are city buses and parking lots for private cars.


2F: waiting hall, information desk, left luggage, hot drinking water, restaurants, elevated drop-off area for taxis and private vehicles


1F: platforms, ticket office


-1F: ticket office, taxi stands (pick-up), transfer hall, subway entrances/ exits, coffee, shopping area, restaurants


-2F: subway platforms, parking lot, ATM, inquiry
How to get to East Station from downtown area?

Arrival by bus:
At the station west: 20, 28, 31, 31(inter-zone line), 33, 43, 105, 106, 179, 200, 215, 224, 227, 228, 297, B4, B4 (Zhongtai Line), B3 (branch line), B3 (branch inter-zone line), B5 (branch line)
At the station east: 9, 48, 93, 107, 108, 123, 320, or 391
At Dongning Road of the Station: 48, 93, 107, 123, 304
Passengers taking the bus to the station arrive at the west or east square, and then take escalators to the waiting hall to find a seat and wait for the departure if a ticket has been booked already. If not, buy a ticket in the ticket office on 1F. Afterwards, go to the waiting hall.

Arrival by subway
Line 1
and
Line 4
:
Passengers arriving by subway will get off on -2F and exit to -1F of the station building.

Arrival by taxi:
If arriving by taxi, passengers will be dropped off at elevated drop-off area on 2F right outside the entrances. For overseas passengers who are going to buy/ collect tickets upon arrival, they need to go down to ticket office on 1F.
To
Travel Time (Minutes)
Cost (CNY)
Hangzhou Railway Station
30
30
Xiaoshan International Airport
40
90
West Lake (Broken Bridge)
35
35
Temple of Soul's Retreat (Lingyin Temple)
40
45
Ticket Check and Boarding
Before checking in, passengers should read their tickets information carefully to confirm where they should go to have their IDcertificates bearing tickets checked. After checking in, passengers take escalators to 1F to get onboard. Please note that overseas ID certificates should be handled manually.
How to exit and leave the station?
Upon arriving, all passengers will be led to transfer hall on -1F to exit. Passengers can follow the direction boards to find buses, taxis or the subway to leave the station according to their routes.



Leave by subway:
Subway entrances are located on -1F. Passengers can find them easily after exiting.



Leave by bus: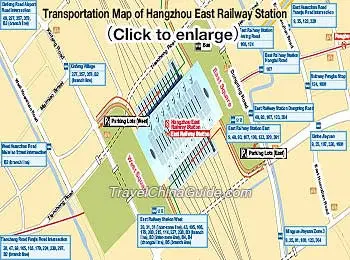 Transportation Map of the Station
(Click to enlarge)
Passengers want to leave by bus can take bus at the east or west squares. Passengers can first take escalators to where the buses are located and then leave for their destinations.



Leave by taxi:
Taxi stands are available at both east and west sides of the transfer hall. Passengers can take a taxi without getting out of the station building. It is very convenient.

Hangzhou East Train Station to other places

Hangzhou Railway Station:
Take subway line 1 to get there directly. Upon arrival, get out from exit A2, and walk northward to the destination.



Xiaoshan International Airport:
Take airport shuttle bus at the east square of the station to Xiaoshan Airport directly. The bus is available from 05:30 to 09:00 every 30 minutes and from 09:00 to 21:00 every 15 minutes. It usually takes 30 minutes and the ticket fare is CNY20 per person.



West Lake:
Take subway line 1 and get off at Longxiangqiao Station, exit C4. After, walk to the scenic spot.



Temple of Soul's Retreat (Lingyin Temple)
Take subway line 1 at the station and get off at Longxiangqiao Station, exit B3. Then walk to Dongpo Road Pinghai Road Intersection to take bus no.7 to Lingyin station, and then walk 480 yards southwestward to the temple.
Facilities and Services

Ticket Office:
Four ticket offices are available, with the biggest one on 1F close to the East Entrance.
Location
Facilities and Services
Opening Time
East, 1F
35 ticket windows;
passengers can purchase, collect, change, or refund tickets here.
00:00-24:00
West, -1F
4 ticket windows;
passengers can purchase and collect tickets.
08:00-19:00
South, 2F
Automatic Ticket Vending Machines;
ticket windows for refunding and changing tickets only
08:00-19:00
North, 2F
Automatic Ticket Vending Machines only;
only those holding Chinese ID cards can collect or purchase tickets on them
00:00-24:00

Waiting Hall:
Waiting hall is located on 2F. Passengers can find a seat in the correct waiting area according to the ticket information to wait for the departure. Hot water and toilets are available around the waiting hall for passengers' convenience. 28 check points are provided inside the waiting hall and they are symmetrically located on north and south two sides and numbered as 1, 2A, 2B, 3A, 3B… Around the waiting hall, other facilities including books and newspapers stand, restaurants, shopping area as well as barrier-free facilities are available.



Luggage Service:
There are luggage lockers behind the check-in pointes 2A-3A, 8A-9A, 10A-11A, 26A-27A, 2B-3B, 8B-9B, 10B-11B, and 26B-27B in the waiting hall on 2F. The charge is CNY 5 for a small locker and CNY 8 for a large one per 12 hours. At the passenger service center, luggage porters can help to carry luggage to the carriages. Each piece of luggage is charged at CNY 10.



Information Desk:
Information desk is located in the center of the waiting hall. Passengers can seek advice about ticket refund, ticket loss or search information about schedule, departure time, arrival time or left luggage service and so on.
Print

- Last modified on Sep. 22, 2020 -