China High Speed Train (Bullet Train)
High speed trains, which are also called bullet or CRH trains, are identified as G, D and C trains in China.

Painted in white or grey with a 'bullet' locomotive, they can be easily recognized. Their top speed is 186 mi/h (300 km/h), which is planned to increase to 217 mi/h (350 km/h) in the near future.

Currently, there are about 2,000 pairs of high speed trains running daily to/from almost every large city and most tourism destinations, along the high speed rail with a length of over 12,500 mi (20,000 km).

Major High Speed Railway Routes:

Ticket Types
Tickets on bullet trains are generally divided into second class seat, first class seat, business class seat, VIP class seat. On a few overnight D ones, soft sleeper and luxury soft sleeper are provided. Also on some D ones, standing room tickets will be issued when all seats are sold out.

China Rail Pass
China Rail Pass is a prepaid card with which passenger can check into high speed rail by swiping the card on a self-service check-in machine without paper tickets. Currently, the pass can be used on CRH trains from Beijing to Tianjin, Shanghai to Hangzhou and Nanjing, Guangzhou to Zhuhai, and Haikou to Sanya.

Facilities
Facilities on these highballs are of high standard, similar to those on an airplane. The seats can be rotated towards the moving direction; the seatback can be adjusted to a wanted angle; each passenger is offered a foldable small table; and electrical sockets are available in each row or compartment. It is even possible to use Wi-Fi. In addition, dining and toilets will never be problems.

Why travel by high speed trains?
1. Fast: Their present operational speed of China trains high speed type is 155-186 mi/h (250-300 km/h), greatly shortening the journey time. For instance, the duration from Beijing to Shanghai has been shortened from 15 hours to about 5 hours.
2. Punctual: Being different from flights, they are less influenced by weather or traffic control, hence able to arrive at their destinations on time.
3. Convenient: CRH trains are scheduled more frequently than normal ones and many of the high speed railway stations are reachable by subway, making rail journey much more convenient than before.
4. Reasonablely priced: Although the ticket may cost a little more than a normal train ticket, it is much cheaper than a flight. Take the journey from Beijing to Shanghai for instance, a soft sleeper on a normal train costs CNY476.5, a second class seat on a bullet one costs CNY553, while the full fare of an economy class seat on an airplane is over CNY 1,000.
5. Comfortable: The carriages are much better equipped than the old-generation carriages, and can rival airplanes. Seats are wider and softer, windows are bigger, and washrooms are cleaner… All these ensure passengers a comfortable and pleasant journey.
6. Safe: The bullet trains are operated by advanced technological communication systems to ensure passengers' safety.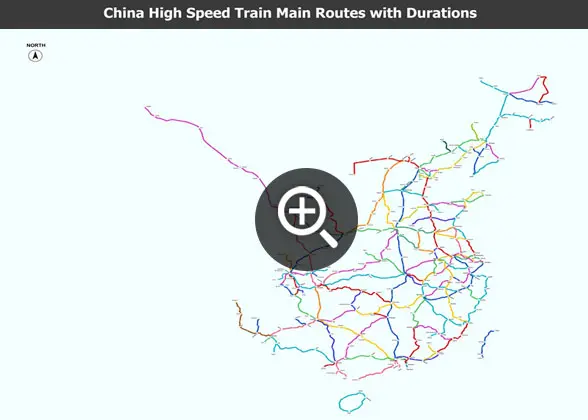 High Speed Railway Map (Click to enlarge)

Development and Current Railway Network
Since the earliest high speed rail line - Qinhuangdao-Shenyang High Speed Rail Line was constructed in 1999, China has developed a widelyused railway network.

By the end of 2012, China had achieved the "Four North-South and Four East-West Network". Lots of the intercity high speed railways connecting two nearby cities or urban and suburban areas of a same city also put into service. According to the long-term extension plan, China will own about 31,068 mi (50,000 km) high speed railway by 2020.


High Speed Railway Network
Line
Open Date
Length (km)
Speed (km/h)

Four North-South High Speed Rail Lines

Beijing-Shanghai (Jinghu) Passenger Transport Special Line

--

1318

--

Beijing-Shanghai High Speed Railway (Jinghu Line)

2011/06/30

1318

300

Hefei-Bengbu (Hebeng) Line

2012/10/16

131

350

Beijing-Hong Kong (Jinggang) Passenger Transport Special Line

(Beijing-Guangzhou High Speed Railway in operation since 2012)

--

2360

--

Beijing-Shijiazhuang (Jingshi) Line

2012/12/26

281

350

Shijiazhuang-Wuhan (Shiwu) Line

2012/12/26

841

350

Wuhan-Guangzhou (Wuguang) Line

2009/12/26

1069

300

Guangzhou-Shenzhen-Hong Kong Railway
(Guangshengang Line)

Guangzhou – Shenzhen: 2011/12/26;
Shenzhen – Kowloon: 2018

142

350;
Shenzhen – Kowloon: 200

Beijing-Harbin (Jingha) Passenger Transport Special Line

--

1700

--

Beijing-Shenyang (Jingshen) Line

2014

709

350

Harbin-Dalian (Hada) Line

2012/12/01

921

300

Panjin-Yingkou (Panying) Line

2013/09/12

89

350

Hangzhou-Fuzhou-Shenzhen (Hangfushen) Passenger Transport Special Line

--

1450

--

Hangzhou-Ningbo (Hangyong) Line

2013/07/01

150

350

Ningbo-Taizhou-Wenzhou (Yongtaiwen) Line

2009/09/28

268

200

Wenzhou-Fuzhou (Wenfu) Line

2009/06/30

298

200

Fuzhou-Xiamen (Fuxia) Line

2010/04/26

273

250

Xiamen-Shenzhen (Xiashen) Line

2013/12/28

502

200

Four East-West High Speed Rail Lines

Xuzhou-Lanzhou (Xulan) Passenger Transport Special Line

--

1400

--

Zhengzhou-Xuzhou (Zhengxu) Line

2016

361

350

Zhengzhou-Xian (Zhengxi) Line

2010/02/06

505

300

Xian-Baoji (Xibao) Line

2013/12/28

138

250

Baoji-Lanzhou (Baolan) Line

2017

403

250

Shanghai-Kunming (Hukun) Passenger Transport Special Line

--

2264

--

Shanghai-Hangzhou (Huhang) Intercity Line

2010/10/26

159

350

Hangzhou-Changsha (Hangchang) Line

2014

927

350

Changsha-Kunming (Changkun) Line

2016

1175

350

Qingdao-Taiyuan (Qingtai) Passenger Transport Special Line

--

770

--

Qingdao-Jinan (Jiaoji) Line

2008/12/20

362

250

Shijiazhuang-Taiyuan (Shitai) Line

2009/04/01

225

250

Shijiazhuang-Jinan (Shiji) Line

2015/12

319

250

Shanghai-Wuhan-Chengdu (Huhanrong) Passenger Transport Special Line

--

2078

--

Shanghai-Nanjing (Huning) Line

2010/07/01

301

300

Hefei-Nanjing (Hening) Line

2008/04/18

166

250

Hefei-Wuhan (Hewu) Line

2009/04/01

359

250

Wuhan-Yichang (Hanyi) Line

2012/07/01

291

200

Yichang-Wanzhou (Yiwan) Line

2010/12/22

377

160

Chongqing-Lichuan (Yuli) Line

2013/12/28

264

200

Suining-Chongqing (Suiyu) Line

2012

131

200

Dazhou-Chengdu (Dacheng) Line

2009/07/07

374

160

Intercity High Speed Trains
| Line | Open Date | Length (km) | Designed Speed (km/h) |
| --- | --- | --- | --- |
| Qinhuangdao-Shenyang (Qinshen) | 2003/10/12 | 404 | 200 |
| Beijing-Tianjin (Jingjin) | 2008/08/01 | 119 | 350 |
| Chengdu-Dujiangyan (Chengguan) | 2010/05/10 | 68 | 200 |
| Nanchang-Jiujiang (Changjiu) | 2010/09/20 | 135 | 250 |
| Changchun-Jilin (Changji) | 2011/01/11 | 108 | 250 |
| Hainan Eastern Ring Railway | 2010/12/30 | 308 | 250 |
| Guangzhou-Zhuhai (Guangzhu) | 2012/12/31 | 117 | 200 |
| Guangzhou-Shenzhen (Guangshen) | 2011/12/26 | 116 | 350 |
| Shanghai-Nanjing (Huning) | 2010/07/01 | 301 | 350 |
| Nanjing-Hangzhou (Ninghang) | 2013/07/01 | 249 | 350 |
| Tianjin-Qinhuangdao (Jinqin) | 2013/12/01 | 261 | 300 |

Further Reading:
China Railway Infrastructures