Guangzhou-Hong Kong Train

Guangzhou-Hong Kong train tickets will be under great demand during the 2017 Autumn Canton Fair from October 15 to November 4. Passengers to travel during the period please make the bookings as early as possible.
Guangzhou-Hong Kong Train, runs between
Guangzhou East Railway Station
and
Hong Kong Hung Hom Railway Station
with a total length of 114 mi (183 km). Currently, 12 pairs of trains running daily with the duration of about two hours. It makes it pretty convenient for passengers to travel between the two cities.
It is advisable for passengers to get to the departure stations 45 minutes ahead of the scheduled departure time to settle relevant exit procedures. The boarding gates are closed 10 minutes before departure. In Guangzhou East, passengers can find the waiting room and ticket check points on the fourth floor. In Hung Hom, passengers can find the waiting area on the ground floor, where immigration office and ticket check points are reachable.
Guangzhou-Hong Kong Through Train Map
Schedule
(Last update on April 25, 2017)
Guangzhou to Hong Kong (Southbound)
Timetable
Hong Kong to Guangzhou (Northbound)
Timetable
Nos.
Departure
Arrival
Nos.
Departure
Arrival
Z801
08:19
10:17
Z812
07:25
09:24
Z807
09:04
11:02
Z824 (Ktt)
08:15
10:12
Z813
09:55
11:53
Z820
09:24
11:23
Z823 (Ktt)
10:37
12:33
Z804
10:52
12:51
Z817
12:03
13:56
Z808
11:32
13:26
Z809
14:04
16:02
Z814
12:23
14:17
Z825 (Ktt)
15:38
17:34
Z826 (Ktt)
13:11
15:08
Z815
16:14
18:12
Z818
14:32
16:31
Z803
17:33
19:31
Z810
16:35
18:34
Z819
18:20
20:18
Z828 (Ktt)
18:00
19:57
Z827 (Ktt)
20:30
22:26
Z816
18:44
20:43
Z811
21:32
23:25
Z802
20:01
22:00
Note:
1. In addition to Ktt, the other carriages are all 25T type.
2. Timetable here is for reference only. For the most up-to-date schedule, you can search for it by the tool on the page top.

Guangzhou Train Schedule
Ticket Fare (CNY)
From/To
To/From
VIP Class
First Class
Adult
Child
Adult
Child
Guangzhou East
Hung Hom
239
120
203
102
Note:
1. A child under 5 years old and accompanied by an adult with a valid ticket can enjoy free travel, supposing that the child share a seat with the adult.
2. Children between 5 and 9 years old can purchase child tickets.
3. Passengers aged 10 or above should purchase adult tickets.
How to Buy Tickets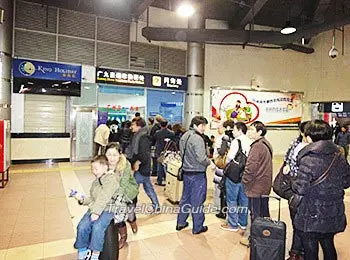 Guangzhou East Through Train Ticket Counter
Passengers are required to present the valid passports or ID cards when purchasing tickets.
In Guangzhou: Tickets from Guangzhou to Hung Hom can be purchased 30 days earlier before departure. Passengers can buy tickets on the first floor of Guangzhou East Railway Station.
In Hong Kong:
In Hung Hom Railway Station, tickets are available 30 days prior to departure at the Intercity Through Train Customer Service Center or ticket offices and agents.

In HK, tickets can also be booked on eInstant Bonus terminals found inside some MTR stations. However, the payment can only be done with an Octopus Card. If booking is completed successfully, one will get a "Booking Bill" and it can be changed into a ticket only at the Intercity Through Train Customer Service Centre at Hung Hom Station.

Ticket Change and Refund
As for ticket change, the destination and class cannot be changed and it should be dealt with at the issuing office. Northbound ticket change should be done at least 30 minutes before the departure and southbound one should be handled 6 hours before the departure time. A ticket can only be changed for once and the changed tickets are non-refundable.
Ticket refund should be handled at where passengers purchase the tickets. Ticket refund procedure should be completed at least 2 hours prior to the departure time. The earlier the ticket is refunded, the more passengers will get back.
Ticket Type
Time before Departure
% of Refund
Northbound Ones
2 hours - 2 days
50%
3 days - 14 days
70%
15 days or more
100%, but a certain amount of handing fee will be charged.
Southbound Ones
6 hours - 2 days
50%
3 days - 14 days
70%
15 days or more
100%, but a certain amount of handing fee will be charged.
The refund and changing policy for tickets booked via agancies may be different from one agency to another. For the details, you are advised to contact that agency.
Seat Arrangement
Currently, there are two types of railway carriages servicing the line: 25T and Ktt.

25T (Operated by Guangzhou Railway Bureau)
| Carriage Number | 1 | 2-4 | 5 | 6-10 |
| --- | --- | --- | --- | --- |
| Type | Luggage + Soft Seat | Soft Seat | Dining Carriage | Soft Seat |

Ktt (Operated by Hong Kong MTR Corporation Limited)
| Carriage Number | 1-2 | 3-7 |
| --- | --- | --- |
| Type | Premium Class | First Class |

Differences between 25T and Ktt
| | Ktt | 25T |
| --- | --- | --- |
| Decks | Double-decked | Single-decked |
| Seat Selection | Yes | No |
| Wi-Fi | Yes (at certain expense) | No |
| Free gifts | Watson distilled water, napkin | Tibet Spring |
| Dining Carriage | No | Yes |
| Foods | Snacks like egg tart, almond paste and butterfly cookies | Box meal, Haagen Dazs ice cream, marinated chicken drumsticks |
| Souvenir | Hong Kong tourism souvenir and MTR souvenir | No |
| Toilet | One eastern style and one western style on two sides of each carriage | One in each carriage |
| Electricity | Free power bank lending service | Chinese style tripod socket |
| Broadcast | In standard Chinese, Cantonese and English | In standard Chinese and English |
---
Guangzhou-Shenzhen
section has been put into service while the Shenzhen-Hong Kong section is still under construction. When fully completed in 2017, it will greatly shorten the travel time between Guangzhou and Hong Kong to about 45 minutes, and dense schedules are planned for the convenience of passengers.