Hong Kong International Airport
Airport Code: IATA: HKG; ICAO: VHHH
With an area of 1, 255 hectares, Hong Kong International Airport (HKIA) is located in Chek Lap Kok, north of
Lantau Island
,
New Territories
, 34 kilometers (21 miles) from Downtown. It is also called Chek Lap Kok Airport due to its location. HK Airport has two terminal buildings within walking distance which are opposite to each other. About 90 airlines operate flights to around 150 destinations worldwide, including about 40 Chinese mainland cities.

Enquiry Hotline: (852) 2181 8888

Hong Kong Flights
:
Beijing - Hong Kong Flights
Shanghai - Hong Kong Flights
Hong Kong - Guangzhou Flights
| | |
| --- | --- |
| Hong Kong International Airport | Terminal in HKIA |
Passengers Guide
Time for taking flight:
Arrive at the airport at least about 2 hours earlier before the departure time and at least 30 minutes earlier arrive at the boarding gate.


Close Time for Check-in and Boarding: It varies according to the airlines, please check it on the airlines websites.

In-town Check-in:

Hong Kong MTR Station and Kowloon MTR Station: For passengers taking Airport Express, some airlines are allowed to check-in in advance at the stations.


Arrival Hall of Hong Kong Port of Hong Kong-Zhuhai-Macau Bridge: From 07:00 to 22:30. Passengers taking Cathy Pacific, Cathy Dragon, Hong Kong Airlines and HK Express should finish the check-in and baggage drop-off at least 120 minutes earlier. For those do not need to check in baggage, at least 90 minutes earlier. Cathy Pacific, Cathy Dragon, Hong Kong Airlines can check in one day in advance, while HK Express provide service only the same day for departure.


B2 of West Kowloon Railway Station: From 07:00 to 21:00. Cathy Pacific and Cathy Dragon provide check-in and baggage drop-off, while Hong Kong Airlines provides check-in only. Passengers need to drop off the baggage need to finish the procedures 240 minutes earlier and if not, 90 minutes earlier. The service fee of baggage drop-off is HKD 80 per piece.

Terminal Building
Terminal 1:

Departure Level: L4, L5, L6


Check-in Aisle: L7


Arrival Level: L4, L5


Airlines:
1. Domestic Airlines: Air China (CA), Cathay Pacific (CX), Cathay Dragon (KA), China Airlines (CI), China Eastern Airlines (MU), China Southern (CZ), EVA Air (BR), Hong Kong Airlines (HX), Juneyao Airlines (HO), Mandarin Airlines (AE), MIAT Mongolian Airlines (OM), Shandong Airlines (SC), Shanghai Airlines (FM), Sichuan Airlines (3U), Spring Airlines (9C), Xiamen Airlines (MF)
2. International Airlines: Aeroflot Russian Airlines (SU), AIR BUSAN (BX), Air Canada (AC), Air France (AF), Air India (AI), Air Mauritius (MK), AIR NEW ZEALAND (NZ), Air Niugini (PX), AIR SEOUL (RS), All Nippon Airways (NH), American Airlines (AA), Asiana Airlines (OZ), British Airways (BA), Cebu Pacific Air (5J), Eastar Jet (ZE), EGYPTAIR (MS), EL AL Israel Airlines (LY), Emirates (EK), Ethiopian Airlines (ET), ETIHAD AIRWAYS (EY), Eznis Airways (MG), FIJI AIRWAYS (FJ), FINNAIR (AY), Garuda Indonesia (GA), IndiGo (6E), Japan Airlines (JL), Jin Air (LJ), Kenya Airways (KQ), KLM Royal Dutch Airlines (KL), Korean Air (KE), Lanmei Airlines (LQ), Lufthansa German Airlines (LH), Malaysia Airlines (MH), Nepal Airlines (RA), Peach Aviation (MM), Qantas Airways (QF), QATAR AIRWAYS (QR), Royal Brunei Airlines (BI), Royal Jordanian (RJ), S7 Airlines (S7), SCANDINAVIAN AIRLINES (SK), Singapore Airlines (SQ), South African Airways (SA), SpiceJet (SG), SWISS International Air Lines (LX), T'way Air (TW), TURKISH AIRLINES (TK), United Airlines (UA), Vietnam Airlines (VN), Virgin Atlantic Airways (VS), VIRGIN AUSTRALIA (VA)

Terminal 2:
This terminal is built to handle the overflow of terminal 1 and also function as GTC, airport administration office and business district.


Check-in Aisle & Departures Level: L5


Arrivals Level: L3


Airlines:
1. Domestic Airlines: HK Express (UO), JEJU Air (7C), Shenzhen Airlines (ZH)
2. International Airlines: Air Astana (KC), AIR EXPLORE (ED), AirAsia (AK), Bangkok Airways (PG), EASTAR JET (ZE), EZNIS AIRWAYS (MG), Jetstar Asia Airways (3K), Jetstar Japan(GK), Jetstar Pacific (BL), MALINDO AIR (OD), Myanmar National Airlines (UB), Philippine Airlines (PR), Philippines AirAsia Inc (Z2), SCOOT (TR), Thai AirAsia (FD), Thai Airways (TG), THAI Smile Airways (WE), Tigerair (TR), VietJet Air (VJ)

Airport Express is one of the world's leading airport railway systems, offering swift transportation between HKIA and the vibrant city center. The 35.3km long journey from the airport to Central downtown takes as little as 24 minutes. It takes only 1 minute from the airport to AsiaWorld-Expo. Airport Express boasts five stations: AsiaWorld-Expo Station, Airport Station, Tsing Yi Station, Kowloon Station, and Hong Kong Station. Moreover, passengers can enjoy exclusive free services.


Special Services of Airport Express

HKIA is well served by public bus routes, transferring passengers to and from most parts of the city. Comfortable and relatively inexpensive, they offer a convenient transport option. There are altogether five routes; "A", "E", "N", "S" and "R", providing distinct services.


See Airport Bus A21
| | |
| --- | --- |
| Airport Transfer Map (Click to enlarge) | Airport Tansportation Map (Click to enlarge) |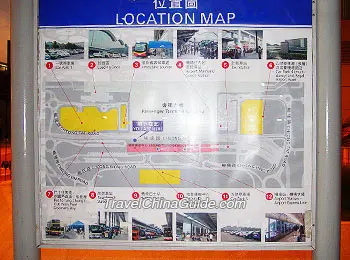 Taxis offer a fast and flexible service to and from the airport. Arriving passengers intending to use this service should proceed to the Taxi Station on the left-hand ramp outside the Arrivals Hall. Taxis in the city come in 3 colors, distinguishing the areas they serve. They are the red urban taxis, the green New Territories taxis, and the blue Lantau taxis. Whilst all taxis serve the airport, none gets access to Discovery Bay.

Limousines provide a more luxurious mode of transport, but hotel coaches are also available. There are in total 3 service providers, namely SkyeXpress, Airport Hotelink Limo Services Ltd. and Parklane Limousine Services Ltd.

Residents' Shuttles
Residents of nearby Discovery Bay and Park Island can travel to the airport swiftly and easily by residents' shuttles.
| Routes | Destination | Service Hours | Fare (HK$) | Remarks |
| --- | --- | --- | --- | --- |
| DB02R | Discovery Bay | 24 hours | 32 | Pick up at bus stop outside Car Park 1 |
| NR334 | Park Island | 06:30 - 00:30 | 24 | Pick up at T2 Coach Station |
How to Transport to Major Attractions in Hong Kong
1. Take bus A11 to Wan Chai Fire Station, Hennessy Road
2. Take Airport Express to Hong Kong Station then transfer to Island Line, travel from Central to Causeway Bay.
3. Take red urban taxi to the place.

1. First, take the Airport Express to Hong Kong Station, then go to Repulse Bay Beach, Repulse Bay Road by bus 6/6A/6X.
2. Take an urban taxi to the attraction.

1. Take the bus A26 to Yau Tong.
2. Take Airport Express to Hong Kong Station then take Island Line to North Point and transfer to Tseung Kwan O Line to Yau Tong.



See Also:
How to Get from Hong Kong Airport to Kowloon
How to Travel from Hong Kong Airport to Tsim Sha Tsui


Mainland / Macau Coaches: The coaches connect it with 90 Pearl River Delta (PRD) cities and towns. Passengers can use cross-boundary limousine to get to their PRD destinations directly.

Ferry: With the SkyPier cross-boundary ferry services, passengers from Pearl River Delta cities going overseas will have a comfortable trip as they do not have to go through the usual immigration and customs formalities in Hong Kong. At present, speedy cross-boundary arrangements are available at nine Pearl River Delta ports: Humen port of Dongguan, Lianhuashan port and Nansha port of Guangzhou, Maritime Ferry Terminal and Taipa Ferry Terminal of Macau, Fuyong and Shekou port of Shenzhen, Zhongshan port and Jiuzhou port of Zhuhai. At Shekou, Macau, Fuyong and Humen ports, passengers can even pre-check-in their baggage and obtain their boarding passes.

Limo: Passengers looking for point-to-point transport can hire a limousine to enjoy more privacy and comfort.

See Also:
Hong Kong Airport to Guangzhou
: 4 Ways
Hong Kong Airport to Shenzhen
: 5 Ways
Hong Kong Airport to Shenzhen Ferry
Shenzhen to Hong Kong Airport
Shenzhen Airport Transport to Hong Kong
In Hong Kong International Airport, various services are provided to meet the demand of passengers, which can be divided into banks and currency exchanges, baggage service, facilities for passengers, family and emergency, car parks and shop & dine.
- Last modified on Oct. 14, 2019 -