Hong Kong Airport Taxi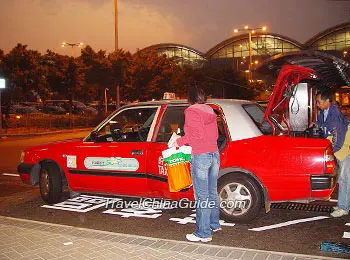 Hong Kong Airport
Taxis are divided into three kinds according to the regions they operate. In the Taxi Station, separate aisles are designated for different taxis.
Three Kinds of Airport Taxis with Different Color
There are three kinds of taxis in Hong Kong and they operate in different regions which can be distinguished by colors. So when taking a taxi, please choose carefully. But if you want to go to the Disneyland from the airport, all the taxis are available for you. The details of each taxi are as follows.



Urban taxis (red): This kind of taxis with the highest expense run to almost all the places throughout Hong Kong, including the airport and Disneyland (except Tung Chung Road and Roads in south Lantau). Passengers can take this taxi to the Central. If you want to travel to Causeway Bay and Tsim Sha Tsui from Hong Kong airport, urban taxis are the only taxis which can arrive there directly.



New Territories taxis (green): Green Taxis mainly serve some areas in New Territories, including Tuen Mun, Yuen Long, Tai Po, North District, Ma On Shan and Chinese University of Hong Kong in Sha Tin, and most part of Sai Kung(except Tseung Kwan O). Besides, they serve the airport, Disneyland and some specified roads on urban areas.



Lantau taxis (blue): With lowest cost, blue taxis go only throughout Lantau Island as well as the airport and Disneyland.

Taxi Fare
Taxi fare from the airport is HK$280 to 300 to Causeway Bay, at least HK$ 225 to Mong Kok, HK$250 to Tsim Sha Tsui and more than HK$120 to Disneyland. Specially, the taxi fare will vary according to the dimension of luggage, the tunnels on the roads and pets. For more taxi fee information, please check tables below.
TAXI FARE (Approx. Fare)
Taxi Fare (HK$) (inclusive of bridge/tunnel toll where applicable) from the Airport
To
Urban
New Territories
Lantau
Hong Kong Island
Central (City Hall)

300

-----

-----

Causeway Bay (Sogo)

285

-----

-----

Aberdeen (Aberdeen Centre)

320

-----

-----

Kowloon
Tsim Sha Tsui (Star Ferry Pier)

240

-----

-----

Kwun Tong Station

270

-----

-----

New Territories
Shatin (Shatin New Twon Plaza)

260

-----

-----

Tsuen Wan Station

190 - 205

-----

Yuen Long (Town Center)

270

260

-----

Tin Shui Wai

295

280

-----

Sheung Shui

330

315

-----

Lok Ma Chau Spur Line

310

295

-----

Shenzhen Bay Port (HK Port Area)

310

295

-----

Lantau
Tung Chung /
Skyrail's Tung Chung Terminal

55

-----

45

Mui Wo (Ferry Pier)

-----

-----

150

Po Lin Monastery /
Skyrail's Ngong Ping Terminal

-----

-----

195

AsiaWorld-Expo

25

-----

20

Disneyland

125 - 145

Notes:
1. If you are going downtown via Lantau Link by taxi, a toll of fare of HK$30 is required. Additional charges may be needed for using other toll tunnels.
2. If the dimensions of your hand baggage (length + width + height) exceed 140cm, additional fares for baggage are charged.
3. The charge for taxi booking is HK$ 5.
4. Children under 3 is not included in the number of passengers. Two or three children over 3 years old but with height under 1.3 meters will be regarded as two persons.
5. For assistance, passengers can contact duty staff on site or call the Airport Enquiry Hotline on 2181 8888.
How to Hail a Taxi in the Airport
1. Go to the Taxi Station which is opposite to Car Park 4 directly to take a taxi. To get there, please follow the signs and take the down-ramp on the left when you get out of the Arrivals Hall. The average waiting time is 5 to 10 minutes.
2. Call the 24-hour hotline (852) 81092222 to book the taxi. You may need to book 10 to15 minutes in advance and pay HKD5 for the appointment service.
3. Besides, you can book a taxi on apps like Uber or HK Taxi.

How to Pay when Taking a Taxi
Most taxis only accept cash. Only a few taxis with the logo of UnionPay accpet the card of Unionpay. Passengers can pay by MasterCard if booking a taxi on the app of HK Taxi.
- Last updated on Feb. 23, 2023 -
Questions & Answers on Hong Kong Airport Taxi
Asked by Rowena from AUSTRALIA | Feb. 21, 2023 21:36

Reply
Distance from Arrivals Area to Taxi Station
How far is it to walk to the Taxi Station from Arrivals Area, and is it easy to push a luggage trolley down the ramp?
My husband will have wheelchair assistance from the aircraft through to Baggage Claim, but we don't know if that will extend to the taxi Ramp. He can walk short distances but needs assistance with longer distances, stairs etc. I can manage the trolley.
Answers (1)
Answered by Nat | Feb. 23, 2023 17:52

0

0

Reply
It is about 400 meters between. It's not difficult to push a luggage along the ramp. It should not be a problem to use the wheelchair to the taxi stand only if it is within the airport area. BTW, there is also paid wheelchair service in the airport and you can use it as you need.
Asked by eslam from NEW ZEALAND | Jan. 23, 2020 15:32

Reply
is there a receipt after payment to the Hong Kong taxi?
Answers (1)
Answered by Fiona from UNITED KINGDOM | Feb. 01, 2020 02:33

0

0

Reply
Yes, there is. Or in order to be sure, you can confirm the information with the driver before getting on the taxi.
Asked by Tom from LONDON UK | Jan. 14, 2020 21:54

Reply
Taxi FareFrom HK airport to Hotel ease Tsuen wan
Answers (1)
Answered by Beatrice from UKRAINE | Jan. 15, 2020 23:59

0

0

Reply
Generally speaking, it takes 70 to 80 HKD.
Asked by Rj Austria from PHILIPPINES | Nov. 11, 2019 20:24

Reply
Do Hong Kong have a taxi that can accommodate 4 adults and 2 toddlers?
Answers (1)
Answered by Andrea from USA | Nov. 13, 2019 19:33

0

0

Reply
As I know, the ordinary taxi in HK can accept 5 passengers. I think it will be ok for you.