Hong Kong Airport Taxi & Rehabus
Hong Kong Airport Taxi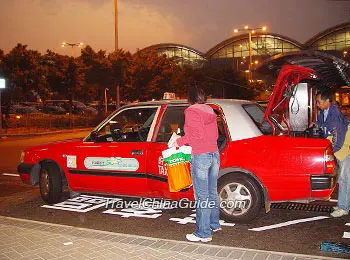 To get to the taxi stand, please follow the signs and take the down-ramp on the left when you get out of the Arrivals Hall of Hong Kong Airport. Separate aisles are designated for different taxis.
Urban taxis (red) runs to all places throughout Hong Kong including the airport (except Tung Chung Road and Roads in south Lantau).
New Territories taxis (green) serve only the New Territories and specified roads on Lantau and the airport.
Lantau taxis (blue) goes throughout Lantau as well as the airport.
Taxi fare from the airport is HK$280 to 300 to Causeway Bay, at least HK$250 to Tsim Sha Tsui and more than HK$100 to Disneyland. For more taxi fee information, please check tables below.
TAXI FARE (Approx. Fare)
Taxi Fare (HK$) (inclusive of bridge/tunnel toll where applicable) from the Airport
To
Urban
New Territories
Lantau
Hong Kong Island
Central (City Hall)

280

-----

-----

Causeway Bay (Sogo)

280

-----

-----

Aberdeen (Aberdeen Centre)

310

-----

-----

Kowloon
Tsim Sha Tsui (Star Ferry Pier)

225

-----

-----

Kwun Tong Station

260

-----

-----

New Territories
Shatin (Shatin New Twon Plaza)

250

-----

-----

Tsuen Wan Station

180 - 190

-----

Yuen Long (Town Center)

245 - 255

-----

-----

Tin Shui Wai

265 - 275

-----

-----

Sheung Shui

300 - 310

-----

-----

Lok Ma Chau Spur Line

280 - 290

-----

-----

Shenzhen Bay Port (HK Port Area)

285 - 295

-----

-----

Lantau
Tung Chung /
Skyrail's Tung Chung Terminal

45

-----

35

Mui Wo (Ferry Pier)

-----

-----

125

Po Lin Monastery /
Skyrail's Ngong Ping Terminal

-----

-----

175

AsiaWorld-Expo

18

-----

13

Disneyland

100 - 115

Note: If you are going downtown via Lantau Link by taxi, a toll of fare of HK$30 is required. Additional charges may be needed for using other toll tunnels. If the dimensions of your hand baggage (length + width + height) exceed 140cm, additional fares for baggage are charged. For assistance, passengers can contact duty staff on site or call the Airport Enquiry Hotline on 2181 8888.
Hong Kong Airport Rehabus
Buses provided by the Hong Kong Society for Rehabilitation are called Rehabuses (Or 'labeled Rehabus' if this is the name on the bus). The society helps disabled people not only have access to schools, workplaces, hospitals and clinics but also to scenic spots.
Rehabus is a mini-bus which can take no more than 12 passengers on seats at one time. However, it can only accommodate maximum 6 passengers on seats after taking maximum 4 wheelchairs. It has a power lifter at the back entrance and is equipped with lift tables, wheelchairs, handrails and many other safety facilities to make sure passengers feel empowered and comfortable. It is of a mixture of yellow, green and white color with the phoenix logo in red at the vehicle side panel.
Rehabus parks outside the Limousine to Mainland China Waiting Lounge between the Terminal 1 and Car Park 4 of the Airport. You may call 8100 0729 for emergency assistance. Or you may contact the Information Center at the Airport and ask the staff there to bring you down to Rehabus or to contact Rehabus on your behalf.

How to book the Rehabus Service?
Overseas tourists should send the completed Registration Form and fax it to Hong Kong Society for Rehabilitation. You will get a reply within five working days. In order to get better service, you ought to book the bus as early as possible. The recommended time is at least seven working days in advance.
This registration form can be downloaded from the official website of the local Society for Rehabilitation.



Service Hotline: +852-81008655 for overseas visitors


E-mail: rehabus@rehabsociety.org.hk


Office Hours: 09:00 – 17:00


Fax: (852) 28557106
In addition, if you find you need the Rehabus service after arriving at the airport, you can dial the Emergency Aid Number 8100-0729. However, service can not be assured.

Service Charge:
Half-day - HK$1,000 for 4 hours (if more than 4 hours, charge as for full day service.)
Full-day - HK$2,000 for eight hours, then HK$150 per hour (or part thereof).
plus parking charge and tunnel charge (if applicable).
1. Overseas visitors must deposit the full amount in Hong Kong and Shanghai Banking Corporation by wire transfer four working days in advance.
2. If the actual fare is more than the deposit, passengers must pay the remainder in cash.
3. The deposit is not refundable.
- Last modified on Feb. 22, 2019 -
Questions & Answers on Hong Kong Airport Taxi & Rehabus
Asked by Edmund from SINGAPORE | Feb. 22, 2019 01:14

Reply
How much for a taxi from airport to the CityView Hotel at Yau Ma Tei ?
Asked by Regina Meow from MALAYSIA | Feb. 19, 2019 21:28

Reply
How much is the Taxi fare from HK Int Airport to Hotel Holiday inn express in Kwung Tong?
Asked by Rebecca from MALAYSIA | Feb. 04, 2019 01:34

Reply
How much does it cost from Causeway Bay to AsiaWorld Expo?
Answers (1)
Answered by Harper from NEW ZEALAND | Feb. 11, 2019 00:25

0

0

Reply
The fare is HKD90 to 100.
Asked by Nolram from PHILIPPINES | Feb. 02, 2019 15:25

Reply
How much is the taxi fare from tsim sha tsui to disneyland?
Answers (1)
Answered by Abigail from FINLAND | Feb. 11, 2019 00:24

0

0

Reply
Generally speaking, it costs HKD80 to 90 in the day time.
Asked by Shirley from PHILIPPINES | Jan. 28, 2019 07:35

Reply
Can 5 passengers be allowed in 1 taxi only from HK international airport?
Answers (1)
Answered by Adrian from GERMANY | Jan. 29, 2019 23:13

0

0

Reply
Yes, you can share one taxi.