New Territories
New Territories is mostly located in the north of Hong Kong, covering 92% of the total area of Hong Kong. Together with the surrounding small islands, it's one of the three main parts of HK. It's hilly, so used to be agriculture-dominated in the past. As the economy developed, rural areas, such as Tsuen Wan and Shatin were replaced by industry.

Basic Facts of New Territories

Area: 975.23km2 (376.54 sq mi)

Population: 3340,000

Zip Code: 999077

Main attractions: Disneyland and Big Buddha on Lantau Island, Lamma Island, Sai Kung…
| | |
| --- | --- |
| Disneyland in New Territories | Performances in the Disneyland |
Top Places to Go in New Territories
Lantau Island is the biggest island in Hong Kong, and it has many points of interests including Disneyland, the Big Buddha and Po Lin Monastery, the Wisdom Path, Ngong Ping 360 and Tai O, all of which will bring you pleasure.

Hong Kong Disneyland has seven theme lands—Adventure Land, Grizzly Gulch, Fantasy Land, Tomorrow Land, Mystic Point, Toy Story Land, and Main Street, U.S.A. You could meet Donald Duck, Mickey Mouse, Minnie Mouse and Goofy and take photos with them during the parade, or watch the Broadway musicals and the firework show at night.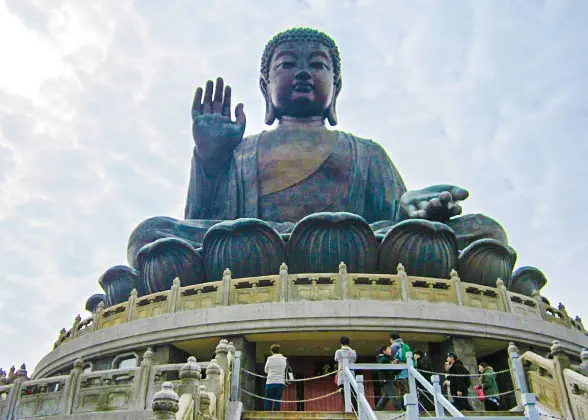 Big Buddha in Po Lin Monastery
The Po Lin Monastery and the Big Buddha, located in Ngong Ping, are popular spots and the most famous Buddhism shrine in Hong Kong. The Big Buddha is the largest outdoor bronze sitting Buddha statue in the world. Visitors can climb the 268 stairs to visit the Buddha and the Sarira collected in front of it.

The Wisdom Path is arranged as a ∞, meaning infinite in life, and has 38 woodcut pillars engraved with the classic Heart Sutra. Visitors could choose Ngong Ping 360 cable car to reach Ngong Ping Village and walk for 5 minutes to the Buddha. On the cable car you can also see the beautiful Lantau Island Country Park, Tung Chung Valley and South China Sea. The cable car trip starts from Tung Chung Station and takes about 25 minutes to reach the destination.

Tai O is known as "Venice in Hong Kong". Local fishermen in Tai O built many stilt houses on the tidal flats along the river in their village that connect with each other. They live at the front of the kits and dry the fishes at the back of it. This stilt houses community is perfect for shutterbugs.
Lamma Island is to the south west of Hong Kong Island. Cars are not allowed on this island. Visitors can wander about on foot or ride a bike to enjoy the seaside scenery and blend of Western and traditional Eastern culture in Sok Kwu Wan and Yung Shue Wan.

Sai Kung is famous for being the back Garden of Hong Kong. It's a perfect place for outdoor activities like hiking, diving and boating and it has the original and distinctive style of natural scenery. Seafood in Sai Kung is also inviting. You can buy fresh seafood from vendors on small boats mooring at the harbor and take it to the restaurants on Seafood Street to cook.
With a total length of 2.16 km (about 1.34mi), Tsing Ma Bridge is the longest suspension bridge used by both vehicles and trains. It's an engineering wonder and has been listed as Top 10 Constructions of 20th century along with the Panama Canal, Channel Tunnel, and Golden Gate Bridge. It's a popular sightseeing spot for visitors to Hong Kong.
Kwun Tong
Since Hong Kong became more service-oriented at the end of 20th century, the industrial areas in Kwun Tong became deserted. However, if you visit the area now you'll be surprised at the transformation that has happened. Young people use these deserted buildings to set up their startup companies, and artists use them for studios. In KaCaMa Design Lab, you'll see creative furniture made of old coat hangers, corks and food coloring. You could attend a cooking class in Bon Appétit Cooking Studio. Or you can see an art exhibition in Osage Sigma, a world-class gallery. After hanging around, you could go to the nearby Lei Yue Mun Fishing Village to indulge in the delicious seafood.
How to Get to New Territories
New Territories covers a large area, visitors could take buses, MTR, taxis to travel around on the mainland part and take ferries to visit the surrounding islands.
- Last updated on Apr. 15, 2021 -