Victoria Harbour (Victoria Bay)
Situated between Hong Kong Island and Kowloon Peninsula, Victoria Harbour, aka Victoria Bay, is the largest harbour in China and the third largest in the world, after San Francisco in the United States and Re de Janeiro in Brazil. It is home to most of the ports of Hong Kong, making the city one of the world's busiest ports. The harbour bustles day and night with all manner of watercraft – from the historic Star Ferries to cruise liners, cargo ships, and wooden fishing vessels.

Origin of the Name
The harbour was named after the British Queen Victoria, who was on the throne for 63 years (1837 - 1901), the longest in the history of the Great Britain. During her reign, the Great Britain enjoyed unprecedented cultural and economic prosperity. However, after she had been on the throne for only 3 years, in 1840, Great Britain waged the First Opium War with China. Following the war, the Nanjing Treaty was signed, as a result of which Hong Kong Island became a Concession of Britain. Later in 1860 after the Second Opium War, China was forced to sign the Peking Treaty, and in 1861 Kowloon Peninsula was also ceded to Britain. In April of that year, the bay between Hong Kong Island and Kowloon Peninsula was named Victoria Harbour. As the natural center of the territory's dense urban region, the harbour has played host to many major public shows, including the annual fireworks and its promenades are popular gathering places for visitors and residents.
Best Sites for Grand Harbour View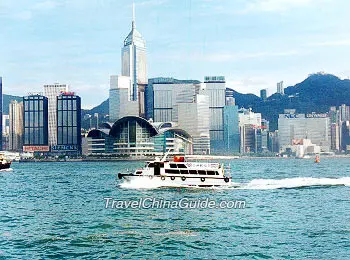 Victoria

Harbour
Long famous for its stunning panoramic views, the harbour is a major attraction of Hong Kong. A myriad of lights twinkles at night from the skyscrapers on Hong Kong Island and Kowloon Peninsula, making Hong Kong, together with Hakodate in Japan and Naples in Italy, included in the 'three best night scenes of the world'.

In 2004, the local Tourism Board introduced a show dubbed A Symphony of Lights, featuring nightly more than 40 skyscrapers in a stunning multimedia extravaganza. On Nov. 21, 2005, the show was listed in Guinness World Records as the world's largest permanent light and sound show.

At a height of 554m (1,818 feet), Victoria Peak is the highest mountain in Hong Kong. Victoria Tower on it can be counted as the best place to view the enchanting night view.

The Avenue of Stars, situated along the Tsim Sha Tsui Promenade, allows for spectacular harbour views. It was built to honor the most illustrious people the local film industry has produced over the past decades.

Golden Bauhinia Square is located outside the Hong Kong Convention and Exhibition Centre on the Wanchai waterfront. Surrounded by Victoria Bay on three sides, it rests at the center of the Harbour, making it a great site for harbour view.

As the highest indoor sightseeing deck in Hong Kong, Sky100 Observation Deck is located on the 100th floor of International Commerce Centre. One can view the whole Victoria Harbor and the Kowloon Peninsula from there. Besides, it is also one of the best places to watch Hong Kong Chinese New Year fireworks performance.
Victoria Harbour Cruise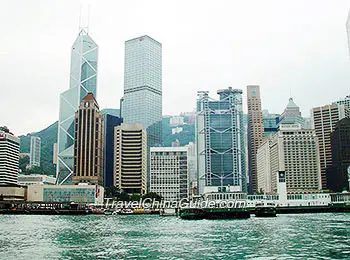 There is no better way to capture the magic of the harbour than by taking a cruise aboard a ferry.

Star Ferry is second to none for a Victoria Harbor cruise. It was once listed in the 50 places of a lifetime by National Geography. On top of the ferry service between Hong Kong Island and Kowloon Peninsula, it also provides a two-hour nighttime cruise, during which visitors are able to enjoy the Symphony of Lights in a unique way.

Duk Ling
Duk Ling is a carefully-restored authentic Chinese fishing junk and has been used for harbour cruises in Hong Kong waters for about 150 years ago. Tourists can aboard the Duk Ling to transfer between the Tsim Sha Tsui Star Ferry Terminal and Hong Kong Island Central Pier 9.

Aqua Luna
Named after the most famous pirate in Hong Kong of the last century, Aqua Luna is possibly the last handcrafted traditional Chinese red-sail junk built with age-old designs and traditional materials. It plies between Tsim Sha Tsui Pier 4 and Central Queen's Pier.
Star Ferry Harbour Cruise Service
It's a circular cruise around Victoria Harbour involving the three piers: Tsim Sha Tsui Ferry Pier, Central Pier No.7 and Wanchai Pier. The duration is about 1h.
Service Months
Service Hours
Ticket Fare (HKD)
Tsim Sha Tsui Ferry Pier
Central Pier No. 7
Wanchai Pier
Adult
Discount Fare
Single Ride Day Round Trip Ticket
Feb. - Sep.
11:55 - 17:55
12:15 - 17:15
12:30 - 15:30
105
95
Oct. - Jan.
11:55 - 16:55
12:15 - 16:15
100
90
Single Ride Night Round Trip Ticket
Feb. - Sep.
18:55, 20:55
20:15
-
190
171
Oct. - Jan.
17:55, 18:55, 20:55
18:15, 20:15
180
162
A Symphony of Lights Harbour Cruise
Feb. - Sep.
19:55
19:15
-
215
194
Oct. - Jan.
205
185
Note: 1. The interval of day time ferry is an hour.
2. The discount fare is for children from 3 to 12 years old and seniors at or over 65 years old.

How to get to Victoria Harbour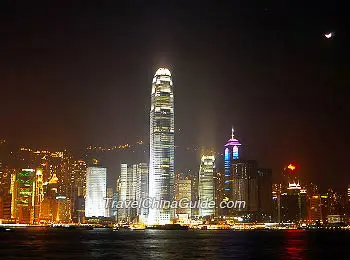 Night Scene of Victoria Bay
Cross-harbour tunnels
Three cross-harbour tunnels: Cross Harbour Tunnel; Eastern Harbour Crossing; and Western Harbour Crossing

MTR routes
Three MTR routes with cross-harbour tunnels:
Tsuen Wan Line (connecting with MTR Central Station and Tsim Sha Tsui Station)
Tseung Kwan O Line (connecting with MTR Quarry Bay Station and Yau Tong Station)
Tung Chung Line and Airport Express (sharing the same pair of tracks in the tunnel and connecting MTR Station Hong Kong Island and Kowloon Station)

Ferry
Star Ferry Routes:
Central <=> Tsim Sha Tsui; Wanchai <=> Tsim Sha Tsui
First Ferry:
Central <=> Cheung Chau; Central <=> Mui Wo; Cheung Chau <=> Peng Chau; North Point <=> Hung Hong; North Point <=> Kowloon City
Hong Kong and Kowloon Ferry:
Hong Kong and Kowloon Ferry run four routes, two of which ply between urban Central and Lamma Island: Central <=> Yung Shue Wan (Lamma Island); Central <=> Sok Kwu Wan (Lamma Island)
Firework Performance Along Victoria Harbour
The performances are staged on Dec. 31st of each year for countdown celebration of the New Year, and on the second night of the Lunar New Year. To enjoy the best view, it is suggested to take a cruise floating on the harbor. In addition, there are some other recommended sites for a good experience of the fireworks, including Tsim Sha Tsui waterfront, West Kowloon Waterfront Promenade, New Central Harbourfront, Central Piers no. 9 and 10 and Golden Bauhinia Square.



Top 10 Things to Do in Hong Kong
- Last modified on Aug. 19, 2019 -