Lan Kwai Fong
Lan Kwai Fong is located between Wyndham Street and D'Aguilar Street on Hong Kong Island. This Central hot spot is famous for its night scene and award-winning dining. As the most famous bar street in Hong Kong, 80 restaurants and bars are spread in this narrow L-shaped lane. Central, the economic and financial center of Hong Kong, has a concentration of foreign enterprises, multinational companies, government headquarters, and office buildings with famous attorneys. To get to know what the elites at those places look like after work, one is destined to go to Lan Kwai Fong.

Lan Kwai Fong is dominated by white collar workers and foreigners. The best time to view its energy is on Friday and Saturday nights, when it is most crowded with people looking for entertainment. Generally speaking, an evening here is divided into two parts: Happy Hour and Spree Hour. Happy Hour is for white collars from 17:00 to 21:00. To lure them, most bars offer promotions, such as buy one and get one free for drinks and half price for food. Spree Hour starts at 22:00 when many university students and foreigners join the group. Although it is a place mostly for white collars, it is not an expensive place to hang out. A glass of beer costs about HK$40 to HK$50, which is half price during Happy Hour. Fees are paid for the service, however, in most cases paid with service charges and tips.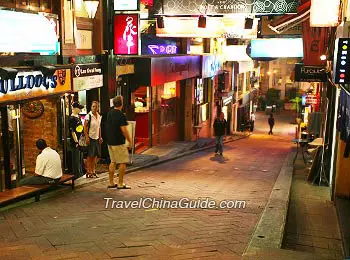 Hong Kong Lan Kwai Fong
The names and furnishings of dining places in this unique cultural district are all westernized. The bars have simple décor, a bar, bar stools, and a bar cabinet with all kinds of beer and drinks. Wing Wah Lane is a gourmet street with many foreign cuisines, such as the Japan style sheet iron fever, Indian curry rice, and gourmet food from Malaysia and Thailand. English has historically been the social language of this district, yet with more and more mainland visitors, some bar waitresses have started to speak mandarin.

When New Year's Eve, Christmas and other grand occasions come, there will be activities held along the streets in Lan Kwai Fong, such as game stalls, competitions, and entertainment performances. People also flock to this street to count down to a special moment. During All Saints' Day, people in disguise themselves as ghosts, horses, angels, devils and mummies. Visitors should not miss it if they come during the festival.

Popular Bars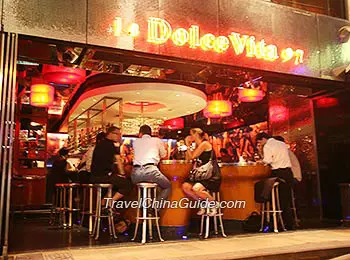 A bar: La Doice Vita 97
C Bar
A small yet lively bar. The seats in front offer a view of the bustling crowds. Service hours last as long as 16 hours from 09:00 to 01:00 the next morning.
FONG
In the heart of Lan Kwai Fong, the first floor has bar stools and the second floor has a glamorous lounge bar.
POST 97
A classic brand, serving traditional British breakfasts and self-help drinks at night, each of which costs HK$97
La Doice Vita 97
The most popular bar. Offering Italian gourmet food during the day, it is a music bar at night with live shows each Thursday and Saturday.
The Whiskey Priest: An Ireland theme bar. It is a good place for live ball game broadcasts, serving authentic Irish dishes and black beer.
Consumer Budget
Each bottle of the beer cost HK$40 to HK$50 generally, but the cocktails favored by many women may range from HK$70 to HK$150. Some bars may charge an admission fee, changeable with the time period and ranging from HK$150 to HK$400, so ask about the charges before going into any one of the bars. Some bars also have Ladies' Night, when ladies get free admission or a free drink.

Opening Hours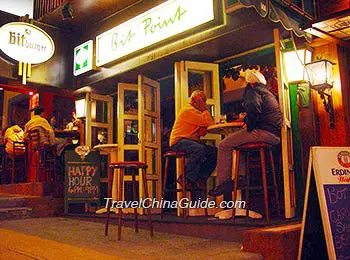 Bars in Lan Kwai Fong
Most bars in Lan Kwai Fong are closed during the daytime. It is advised for visitors to get there after 18:00 and stay until the next morning.

How to get to Lan Kwai Fong
By MTR
Take Tsuen Wan Line or Island Line to Central, then exit from D1; turn right to Pedder Street and walk until you reach Queen's Road Central, turn left when you get to D'Aguilar Street, walk straight along D'Aguilar Street and you will reach there. It takes 10 minutes or so to walk. (Note that the MTR generally runs to half past 12 at night and starts at half past 5 in the morning, so visitors have to take a taxi if they stay too late.)

By Bus
Take Bus 12, 12m, 13 or 40m to Lan Kwai Fong, D'Aguilar St.

Take the Peak Tram down the hill and get on bus 15C at lower terminus. Alternatively, take minibus line 1 at the square of the peak, (the road is bumpy) and then walk about 10 minutes from the Central bus station.
Take Disneyland Resort Line and transfer to Tung Chung Line at Sunny Bay; get off at Hong Kong, and exit from C.

Go to explore Hong Kong Nightlife



Top 10 Things to Do in Hong Kong
- Last updated on Sep. 21, 2018 -
Questions & Answers on Lan Kwai Fong
Asked by Kiara Arellano from PHILIPPINES | Mar. 09, 2018 02:01

Reply
How to get to Lan Kwai Fong from Tsim Tsa Tsui?
Answers (1)
Answered by James from CANADA | Mar. 12, 2018 01:25

0

0

Reply
You can take Tsuen Wan Line to Central and then walk southwest for several minutes to Lan Kwai Fong.
Asked by Wynne from MALAYSIA | Dec. 04, 2017 02:27

Reply
How do i get to Victoria Harbour from Yau Ma Tei?
Answers (1)
Answered by Neil from CANADA | Dec. 04, 2017 18:48

0

0

Reply
You can take Bus 102 to Gloucester Rd, Victoria Park, which takes about 20 minutes, around 10HKD. Then, walk north for about 5 minutes to the harbor.
Asked by patrick from BELGIUM | Sep. 05, 2017 18:54

Reply
how far and how to get from hotel neardisneyland to Lan Kwai Fong in time, distance and moneywise?
pls if you have details as me and my thai girl will be going to disney but would like to know about nightlife hong kong too many thanks for advice

Answers (2)
Answered by Amenda from UNITED KINGDOM | Sep. 05, 2017 22:34

1

1

Reply
Well, it's about 28 km far and you can take Disneyland Resort Line and transfer to Tung Chung Line at Sunny Bay, get off at HK Station from Exit C, then walk west for about 10 minutes, you will arrive there. It takes 25.7HKD and 40 minutes. The metro is available from 6:00 to 1:00am.
Answered by jodie from AUSTRALIA | Jan. 11, 2018 05:50

0

0

Reply
not HK station. It is Central station
Asked by June from SINGAPORE | Jan. 21, 2017 21:54

Reply
Travelling to Hong Kong with children
Hi, I wish to visit LKF but with my kiddos, age 3 and 1, tagging along. Just wondering if you could share if the bars/restaurants are children/family friendly? At the same time, we would like to know if there is any bar that is suitable for us to go to enjoy happy hour.

As this is trip is solely just me, my husband and our boys, that's why we have to make sure the place we intend to go are suitable for them too.

thanks a mil!
Answers (1)
Answered by Landon from SINGAPORE | Jan. 25, 2017 01:21

0

0

Reply
As I know, most bars in HK accept children as long as the children won't drink. So don't worry.
Lan Kwai Fong becomes the icon of nightlife. I recommend several bars for appreciating the night view of Victoria Harbour, which are Felix at the 28/F of Peninsula Hotel and Sky Lounge in Sheraton Hotels. Have a nice time! :)