Lantau Island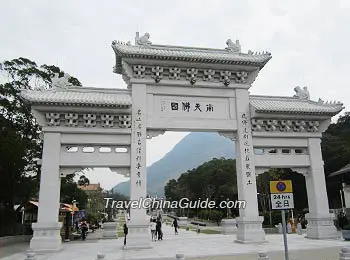 Lantau Island
Throughout Lantau Island, the beautiful scenery and famous historical sites are truly fascinating. There is a chain of mountains that stretches from the higher elevations in the west to the lower ridges in the east. The highest peak in the mountain range is Phoenix Mountain, standing 935 meters (102,2 yards) high. It is the second highest peak in all of Hong Kong. The most popular attraction for tourists visiting Lantau Island is climbing Phoenix Mountain to view and admire the sunrise. Tourists often climb up at night, and reach the top before the daybreak. It's steep in places so tourists should be well prepared before setting out. Bring a flashlight.
There are 47 villages on the island. Three of them, Mui Wo,
Tai O
, and Tung Chung are being developed as new towns. In addition, more than 78.4 square kilometers (30.3 square miles) of its territory has been designated as Wild Countryside Park. Tai O, also known as "The Venice of the Orient", is the largest settlement on Lantau Island. Crisscrossing canals run the length and breadth of the small fishing harbor. In addition, homes built on stilts over the water are a common sight here. Tai O was once a garrison town but has now become a peaceful fishing harbor. Salted fish is a local specialty. Tai O was once the largest city on the island. In the 1970s, Tai O started to attract holiday visitors, and today the town is prosperous and busy.
You can participate in many outdoor activities in the Wild Countryside Park such as hiking, camping, swimming, and fishing. Or you can have a barbecue in the mountains far from the hustle and bustle of the towns.
The most beautiful beaches in Hong Kong are scattered along the southern coast, the area around
Cheung Chau Island
, and the vicinity of Tai O, which is about 3.2 kilometers (2 miles), --20 minutes by bus--from Mui Wo.
| | |
| --- | --- |
| The Big Buddha | Ngong Ping Piazza |
After one of the most advanced new airports in the world, Hong Kong International Airport, was opened on a man-made island in northern part of Lantau Island in 1998, your coming here becomes more convenient. On Sep 12th, 2005 Hong Kong Disneyland will open to public, after your eyes being delighted in the natural beauty of Lantau Island, you may pay a visit there.
The tranquil, natural environment and Hong Kong Disneyland will make the island a popular spot for not only nature lovers and hikers but who like large entertainment parks as well.