Po Lin Monastery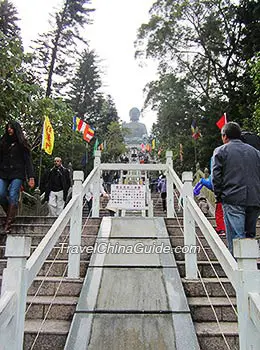 Po Lin Monastery
The Po Lin Monastery is located in Ngong Ping on
Lantau Island
in Hong Kong. Originally, the Buddhist monastery was built by three monks and was initially called Da Maopeng. In 1924, however, it was renamed Po Lin Monastery. About 70 years later, the Po Lin Monastery has become one of the most renowned and most popular tourist destinations in Hong Kong.
Main Halls of Po Lin Monastery
The Po Lin Monastery consists of the Da Xiong Bao Dian (the Great Hall of Treasure), the Maitreya Hall, the Hall of Ti-tsang Bodhisattva, the Weituo Hall, the Banruo Hall, the Sutra-Collection Hall and other impressive structures. In the Da Xiong Bao Dian, for example, are enshrined three Buddhas - Sakyamuni, Dipamkarara and Maitreya. In the Hall of Ti-tsang Bodhisattva there stands a bronze statue of Ti-tsang Bodhisattva, which weighs approximately 200 kilograms (441 pounds). There is also a 1,000 kilogram bronze bell.
Tian Tan Big Buddha
Located on the peak of the Muyu Mountain, the Tian Tan Big Buddha in Po Lin Monastery is perhaps the most famous. It depicts Sakyamuni who sits on a lotus pedestal in meditation position. Covering an area of about 2,339 square meters (2,797 square yards), the Buddha, about 34 meters (112 feet) high with its pedestal, is the biggest bronze Buddha in the world.
Three Exhibition Halls in the Buddha's Pedestal
The pedestal consists of a three-storied exhibition Hall. It includes the Gongde Hall, the Fajie Hall, and the Sakyamuni Memorial Hall. The Fajie Hall displays a wooden book which records about 160 bodhisattvas gathering together to discuss the sutras. In the Gongde Hall is enshrined a statue of Ti-tsang Bodhisattva, standing on the lotus pedestal with a cane in his hand. In the Sakyamuni Memorial Hall the relic of Sakyamuni is worshipped, as it was received from Sri Lanka in 1992. There is also a bell in the exhibition hall, which is engraved with figures of Buddhas and the Buddhist sutras. It is rung every seven minutes, 108 times per day. Mythologically, it is said that the powers of the bell can 'cure' people's 108 kinds of vexations.
Buddhist Relics Exhibition
The Buddhist Relics Exhibition is held regularly in the Po Lin Monastery. Many precious Buddhist relics, including the Longcang Sutra and the Monk Huayan Preaching Buddhist Sutras (a painting) are displayed there. Buddhist disciples from all over the world can go there for a visit.
How to get to Po Lin Monastery
1. Take New Lantao Bus No.23 or 1R from Tung Chung Town Centre to Ngong Ping.
Note: Bus 1R is only available on Sundays and Public Holidays.
2. Take a ferry at the Central Pier No.6 to Mui Wo on the Lantau Island, and then take the New Lantao Bus No.2 at the Mui Wo Bus Station to Ngong Ping.
3. Take
Tung Chung Line
to Tung Chung station and then take
Ngong Ping 360
cable car to get there.
Po Lin Monastery
Tian Tan Big Buddha
The Buddhist Relics Exhibition
Entrance Fee
Free
Opening Hours
08:00-18:00
10:00-17:30
10:00-16:00
- Last modified on Jan. 08, 2019 -
Questions & Answers on Po Lin Monastery
Asked by Isabella from PHILIPPINES | Jan. 05, 2019 07:24

Reply
Hi, I would like to know if you recommend Big Buddha, Po Lin, and Disneyland in one day?
We would like to maximize time as much as possible. We plan to be at big Buddha and po lin 8:00 ETA.

And from Big Buddha, how do we go to disneyland?

Thanks!
Answers (1)
Answered by Victoria from CANADA | Jan. 08, 2019 01:30

0

0

Reply
Well, the time is a little bit tight to tour around Disneyland Resort.
From Big Buddha, take bus no.23 from Ngong Ping to Tung Chung Cable Car Terminal. Then take Tung Chung Line from Tung Chung to Sunny Bay and transfer to Disneyland Resort Line to the scenic area.
Asked by Adnan gustav from INDONESIA | Mar. 25, 2018 10:03

Reply
How to get to Po-Lin Monastery from Tsim sha tsui using MTR?
Answers (1)
Answered by Olivia from NEW ZEALAND | Mar. 25, 2018 20:06

0

0

Reply
To be honest, metro is not suggested, since it's a little complicated. Anyway, here is the route: Take Tsuen Wan Line to Lai King and transfer to Tung Chung Line; then get off Tung Chung and take bus 23 to Ngong Ping Village.
Or you can take bus 1R from Kowloon Park straight to Ngong Ping.
Asked by EM Jenner from MÉXICO | Feb. 03, 2017 16:44

Reply
Can I see the Po-Lin Monastery from the outside after it is closed?
Can I see the Tai tan Buddha from far away if it is closed?
Answers (1)
Answered by Lucas from GERMANY | Feb. 04, 2017 01:38

0

0

Reply
The Tai tan Buddha can be seen far away only if the weather is nice. The monastery at its foot cannot be seen outside.
Asked by JOHN r smith from CANADA | Jan. 14, 2017 10:33

Reply
Time it takes to travel to and from Hong Kong airport to Po Lin Monastery?
I need to be back in plenty of time for a 7pm flight to Adelaide.
Answers (1)
Answered by Tommy from UNITED KINGDOM | Jan. 16, 2017 00:50

0

0

Reply
To get to the monastery, you can take bus S1 or S56 to Tung Chung Station, then transfer to bus no. 23 to Ngong Ping. Walk for a few yards to the monastery. You may reverse the trip to get back to HKIA.
It takes around 70min for one way and costs HKD20.7.
Asked by Mark from USA | Jan. 04, 2017 02:06

Reply
Does it make sense to try to go to Po Lin & Tai O straight from airport? Place to leave bags?
We arrive early in the morning and only staying 3 days so we need to be as efficient as possible. Are Po Lin & Tai O both worth visiting if we only have that limited amount of time? Would we be able to leave our bags some place or would we be stuck carrying them everywhere? How much time should we allocate to getting to these destinations and enjoying them before heading to central HK?
Answers (3)
Answered by Benjamin from SINGAPORE | Jan. 06, 2017 02:40

1

0

Reply
Mark, both places are worthy visiting. 1 day is totally enough to cover the two sights. From the airport, you can take bus S1 or S56 to Tung Chung, then either take a cable car or bus no. 23 to Ngong Ping and then walk southwards to the monastery. Half day should be enough.
Then, take bus no. 21 to Tai O. Spend the rest of the day in that peaceful place and you can leave for Central HK the next day morning.
I heard subway stations, hotels, and some scenic areas can provide luggage deposit service. It should not be a major concern.
Answered by Mark from USA | Jan. 06, 2017 12:43

0

0

Reply
Benjamin, thank you for your response. Very helpful. It appears the cable car is closed until June. In that case, would you recommend taking one of the blue taxis from the airport to NP Village?
Answered by Josey from SPAIN | Jan. 06, 2017 19:31

1

0

Reply
Oh, of course the blue taxi can be your choice. Catch one at HKIA and it will take you to NP Village with the fare of around 200HKD.