Victoria Peak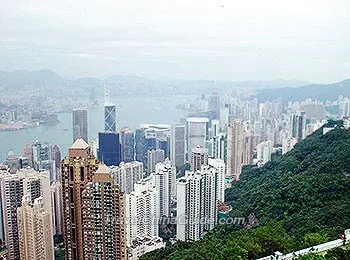 A bird's-eye view of Hong Kong
seen from Victoria Peak
If Hong Kong is a city of jade during the day, it becomes a luminous pearl with a sea of lights twinkling in the streets after dark. Where is the best place to enjoy the multi-colorful night scene that encompasses Hong Kong and
Victoria Harbour
? Victoria Peak is a good location to view its night scene. Being 554 meters (about 1,817.6 feet) above sea level, the Peak is the highest point within Hong Kong and occupies the western part of the
Hong Kong Island
.

How to reach Victoria Peak? Tourists can take the Peak Tram, a pleasant ride ascending the mountain. The tram has been in operation for over one hundred years, and to date, no accidents have ever occurred. Your journey aboard the tram will take eight minutes and upon reaching the summit you will see a seven storied building in the shape of a ship. This is the
Peak Tower
in which there are several attractions namely, Madame Tussauds Hong Kong, and Sky Terrace 428.

Museum and Cinema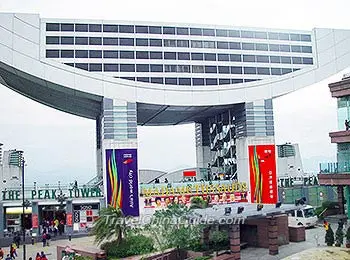 Peak Tower
If you want to take a photo with your favorite movie or sport stars, then please visit
Madame Tussauds Hong Kong
. This museum exhibits over 100 waxworks of celebrities from all works of life from the middle ages to the present day, including President Hu Jintao. On the second and the third floors of the Peak Tower is a museum called Ripley's Believe It or Not! Odditorium. From its name, tourists may image how bizarre the more than 450 exhibits collected from all over the world are. On the fourth floor is the Peak Explorer Motion Simulator. It is very welcoming to all visitors and equipped with high-tech projectors, sound system and motion chairs. Sitting on the chair and looking at the images on screen, it appears that you are actually there and witnessing what happens around you. Here you will enjoy an exciting journey.

Night View
Viewing Hong Kong at night is a must! The panoramic vista is one of the most beautiful night scenes in the world so a visit to the Lion Pavilion on the Victoria Peak is also highly recommended. Standing upon the pavilion and overlooking the Victoria Harbour and the Kowloon Peninsula, a spectacular night view will unfold in front of your eyes. The Victoria Harbour is one of the world's busiest harbors and has a constant ebb and flow of shipping all year round. With row upon row of skyscrapers stand prominently on the Central District which is the city's financial and economic hub. The most spectacular are the Bank of China Tower and the Central Plaza. The Bank of China Tower, with 72 stories soars skyward and is designed by an American-born Chinese architect Bei Yuming (Ieoh Ming Pei); with the bamboo-shaped outlook of the tower symbolizing that the Bank of China aspires to get better and better. The Central Plaza is a reinforced concrete building with 78 stories.
| | |
| --- | --- |
| Our Guests at Victoria Peak | Inside the Peak Tram |
The whole city is swathed by glittering neon lights along the banks of Victoria Harbour. Another way to experience Hong Kong's night views is from Peak Garden. You can walk among fragrant flowers, butterflies and birds while enjoying the spectacular vista.
No matter when you come to the Victoria Peak, it will always give you a beautiful view of Hong Kong.

Recommended Nearby Attractions:

Government House

Zoological and Botanical Gardens

Hong Kong Park