Hong Kong Zoological and Botanical Gardens
Hong Kong Zoological and Botanical Gardens is located on the Albany Road in the Central District of the Hong Kong Island. It is surrounded by Robinson Road, Glenealy, Upper Albert Road and Garden Road. Covering an area of 5.6 hectares (13.8 acres) on the northern slope of the Victoria Peak, this garden extends from a height of 62 meters (200 feet) to 100 meters (330 feet). Built in 1871, it is the first garden in Hong Kong. Its location is also named the Government Hill for that just to the northeast of the garden lies the Government House, the residence of the Governor of Hong Kong. Therefore the local people call the garden 'Bing Tau Fa Yuen', which means the garden for the commander-in chief.

Name History
The garden was originally named Hong Kong Botanical Garden since it was first established for plants. But from 1876 onwards, it began to raise birds and mammals. Thus in 1975, it was renamed as Hong Kong Zoological and Botanical Gardens. Nowadays, it is a wonderful green area for the public, and also a popular location for families with kids.
Now the garden has been divided into two parts by Albany Road. The main entrance is on Albany Road, and the two gardens are connected by a pedestrian tunnel. In the east garden, there is a bronze statue of the deceased British King George VI, the Children's Playground, Bird House, Jaguar Cage, Plant Greenhouse and Fountain Terrace Garden. The west garden is mainly the home of mammals and reptiles.
Presently, about half of the garden area in the Hong Kong Zoological and Botanical Gardens is used to raise animals. There are about 200 birds, 70 mammals and 30 reptiles raised in 40 cages. When entering the Bird House, one will have the chance to see the true features of American Flamingo, Bali Mynah, Hawaiian Goose, and Red-crowned Crane, etc. In the mammals' area, tourists can observe the Bornean Orang-utan, Emperor Tamarin, Ring-tailed Lemur, Siamang and others closely. In the reptiles' area, there are Elongated Tortoise, Radiated Tortoise, and Spurred Tortoise. Though the quantity of the animal is small, each animal has its own unique image and style to catch tourists'eyes.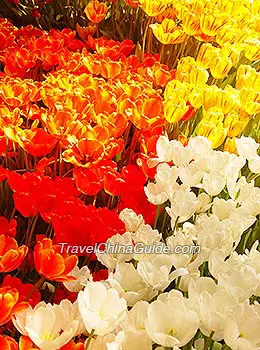 Beautiful Flowers in the Garden
There are around 900 species of plants in the garden, including almost all the main species of foreign and local plants. Most of them come from tropical and subtropical zones. The main plant groups include Conifer, Fig, Palm, Gum trees, Magnolia, Camellia, and Azalea. They are common plants, but that doesn't mean they have no features. The Dawn Red-wood, the local Ailanthus, Crapnell's Camellia, Grantham's Camellia and Yellow Camellia are rare species. You may not always have the chance to see them in other places. Travellers-tree, Royal Palm, Asoka Tree and Forest Grey Gum and some others provide unique features in shape, leaf, bark, and fruit. They are easy to be recognized and distinguished. When you go there, you will find that the garden is frequently filled with the fragrance of Roses, Mock Lime, Orange-Jessamine and Sweet Osmanthus.
The uniqueness of the Hong Kong Zoological and Botanical Gardens not only lies in its abundant animal and plant species, but also because of its multiplex educational function. It is a garden with perfect equipment which provides a wide range of teaching in zoology and botany for visitors. Through outdoor learning activities, explanation labels, conservation and research programmes, Hong Kong Zoological and Botanical Gardens provides a deep knowledge of animals, plants and natural environment for the public. If you go there, not only will you have a better understanding of and appreciation for those living things, but also you'll have the chance to understand the coexistence between living things and nature.
How to get to Hong Kong Zoological and Botanical Gardens
1. Take
Island Line
or
Tsuen Wan Line
to Central, and then walk southwest for 10mins to get there.
2. Take bus 12, 12m, 23, or 40 to HK Zoological & Botanical Garden, Garden Road.
3. Take bus 13, 103, 103p, 23b or 40m to Government House, Upper Albert Road, and you will see the garden.
Entrance Fee
Free
Opening Time
Fountain Terrace Garden 5:00-22:00
Green House/ Education and Exhibition Centre 9:00-16:30
Other Areas 6:00-19:00

Recommended Nearby Attractions:

Government House

Hong Kong Park

Tamar Park

Peak Tower

Victoria Peak

Lung Fu Shan Country Park

Pok Fu Lam Country Park
- Last updated on Oct. 10, 2019 -
Questions & Answers on Hong Kong Zoological and Botanical Gardens
Asked by Peter Mills from USA | Oct. 09, 2019 00:19

Reply
We are staying at The Bishop Lei International House , where is the best entrance we can walk to?
Answers (3)
Answered by Adi from POLAND | Oct. 10, 2019 00:12

0

0

Reply
You are suggested to go there from the East Gate.
Answered by Peter from USA | Oct. 10, 2019 03:33

0

0

Reply
Thank you very much, we are joining family and very much looking forward to visiting this special place. Is there a gift shop?
Answered by Tina from MALAYSIA | Oct. 10, 2019 20:39

0

0

Reply
There may not. It is great place to enjoy leisure time and go for a walk.
Asked by KIRAN from HONG KONG | Oct. 27, 2017 01:21

Reply
What is the opening hours of Hong Kong Zoological and Botanical Gardens?
What can we see there now?
is it any entry fee for that on any ticket need to buy?

Answers (1)
Answered by Alice from CANADA | Oct. 27, 2017 02:49

0

0

Reply
Fountain Terrace Garden: 5:00am - 10:00pm
Green House / Education and Exhibition Centre: 9:00am - 4:30pm
Other Areas: 6:00am - 7:00pm

The garden is for free. As I know, there is no need to pay for any entry.

Asked by josie from UAE | Nov. 13, 2016 06:15

Reply
How far that Hong Kong Zoological and Botanical Gardens to HKIA?
how many minutes travel time from HK airport to Zoological and Botanical Gardens? how many minutes travel?
how much the taxi fare from airport to zoological?
Answers (1)
Answered by Cheryl from USA | Nov. 14, 2016 01:57

0

0

Reply
The distance is about 25 miles (40km). You can taxi there for about HKD 300. The trip takes about 40 minutes.

Or, you can take Airport Express train from HKIA to HK Station, Exit C. The fare is HKD 100 per person, and the trip takes about 25 minutes. Then, walk south for about 0.6 mile to the gardens. ;)
Asked by Liral from HONGKONG | Nov. 07, 2016 09:27

Reply
What is the entry fee for Hong Kong Zoo?
Answers (1)
Answered by Lee from GERMANY | Nov. 08, 2016 02:58

0

0

Reply
Hi, dear! It is free of charge. :)