Peak Tram, Hong Kong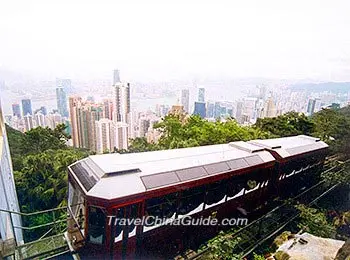 First Begun Operation: May 30, 1888
Total Length of Line: 4,478 feet (1,365 meters)
Slope: 4 - 27 degrees
One-way Trip Time: Seven minutes
Frequency: every 10 - 15 minutes
Lower Terminus: Garden Road Tram Station
Upper Terminus: the Peak Tower

Taking the Peak Tram to get to Victoria Peak, a leading tourist spot to view the splendid scene of Hong Kong, is an unforgettable experience. As the earliest form of motorized public transportation, the tram has operated for over 100 years. It runs on the tracks following the slope of the mountain, taking seven minutes to travel from an elevation of 92 feet (28 meters) to 1,300 feet (396 meters). The tram can carry 120 passengers at a time, with 95 seats and the standing room holding 25 people.
Route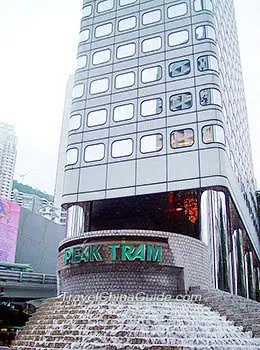 Garden Road Station
The Peak Tram passes six stations in order: Garden Road, Kennedy Road, MacDonnell Road, May Road, Barker Road, and the Peak. The lower terminus is at Garden Road in the Central, while the upper one is on the third floor of the Peak Tower on the hillside.
No Regular Stop at Intermediate Stations
The tram does not routinely stop at the intermediate stops. Passengers should press the bell in advance to inform the driver to stop the tram. When the tram stops in the halfway, only the front door is opened for boarding and alighting. Visitors who want to get on the tram at the intermediate stops should press the Up or Down button at the station.
Passengers taking the tram at the two terminuses should buy tickets at the ticket office. Visitors who board at the intermediate stations can buy tickets in the carriage.
Operating Hours
: 7:00 – 24:00
Ticket Price
Adult Ticket
Round-trip
HK$ 52
One-way
HK$ 37
Discount Ticket
(Children: 3 – 11 years old; Seniors: >= 65 years old )
Round-trip
HK$ 23
One-way
HK$ 14
How to Get to the Garden Road Tram Station?

By Hong Kong MTR
Take MRT Island Line or Tsuen Wan Line, and get off at Central Station (Exit J2). Walk through the Chater Garden to Garden Road, and go along it to the station.



By Bus 15C
Take Bus 15C from Star Ferry Pier 8 in Central District to the Garden Road Tram Station.
Price
HK$ 4.2
Half price for children under 12 years and seniors above 65
Operating Hours
From Star Ferry Pier: 10:00 – 23:40
From Garden Road: 10:15 – 11:55
Major Attractions along the Tram Line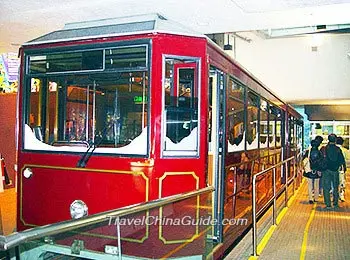 Peak Tower and Sky Terrace 428
The Peak Tower is a great place, encompassing sightseeing, entertainment and shopping. At the top of the tower is Sky Terrace 428, a 360-degree observation deck for visitors to enjoy the view of the Victoria Bay. There are a lot of other novel and interesting facilities. Among them is Ripley's Believe It Or Not! Odditorium, the most attractive one with over 500 pieces of bizarre items.


Opening Hours:
Monday to Friday: 10:00 - 23:00;
Saturday, Sunday and Holidays: 8:00 - 23:00



Peak Tram Historical Gallery
Located inside the Garden Road Tram Station, Peak Tram Historical Gallery exhibits more than 200 items related to the tram and gathered from all over the world. Some of them are century-old and very rare. A replica of the first generation Peak Tram is also on display.


Opening Hours: 7:00 – 24:00



Madame Tussauds Hong Kong
Madame Tussauds Hong Kong, in the Peak Tower, exhibits 100 waxworks of celebrities from home and abroad, such as Bruce Lee, Jackie Chan, Yao Ming, the Beatles, Michael Jackson, and Marilyn Monroe.


Opening Hours: 10:00 – 22:00 (visitors should enter before 21:45)
Combo Tickets
Adult
Children: 3 – 11 years old; Seniors: >= 65 years old
Peak Tram + Sky Terrace 428
Round-trip: HK$ 99
Round-trip: HK$ 47
One-way: HK$ 84
One-way: HK$ 38
Round-trip Peak Tram + Madame Tussauds + a meal at the Peak
HK$ 460
HK$ 386
Round-trip Peak Tram + Madame Tussands + Sky Terrace 428
HK$ 459
HK$ 362

All the combo tickets should be bought at the Garden Road Station.


Tickets including the Madame Tussauds Hong Kong are available between 9:30 and 21:00.
Tips

It may take some time queuing for tickets. In order to save your time and energy, avoid going there on the weekends or public holidays.

Visitors who buy the Combo Ticket including Madame Tussauds Hong Kong can board the tram through the express access, which can save a lot of time.

The tram doesn't turn around when it reaches the Peak; it goes downhill backwards. Some visitors may find this quite scary. You can buy a one-way ticket to the Peak Tower and go down by bus no.15 (NWFB) or no.15B.



Further Reading: Hong Kong Ding Ding Tram

- Last updated on Sep. 20, 2022 -
Questions & Answers on Peak Tram, Hong Kong
Asked by Florence from HK | Sep. 20, 2022 01:57

Reply
Online ticket
I have already buy the round-trip ticket online for date 24/9/2022 for 2 persons but unfortunately I have other urgent matter and can't come. Can I change the ticket date ?
Answers (1)
Answered by Zoe | Sep. 20, 2022 02:19

0

0

Reply
It depends on the ticket policy of the issuer. Where did you buy the ticket?
Asked by JDERRICK | May. 15, 2022 02:23

Reply
Reopening of HK peak tram
When will it be operating again?
Answers (1)
Answered by Stella | May. 30, 2022 00:25

0

0

Reply
It's still unknown yet:(
Asked by Denzil from HONG KONG | May. 01, 2020 06:03

Reply
Round trip means - I can alight at one side trip and then come back after viewing for return
Answers (1)
Answered by Kaylee from FINLAND | May. 05, 2020 23:10

0

0

Reply
Yes, you can correct.
Asked by William from HONG KONG | Aug. 01, 2019 02:45

Reply
Is the Hong Kong Peak Tram divided into classes (e.g. First Class, Second Class & Third Class)?
Answers (1)
Answered by Rosa from MALAYSIA | Aug. 05, 2019 02:36

0

0

Reply
No, the prices are different for different age groups.