Hong Kong Tram & Escalator
Tram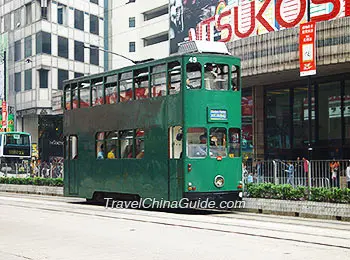 Tram in Hong Kong
It is one of the old transportation means of Hong Kong, first operated in 1904. After more than 100 years, it also becomes a famous attraction to provide a different way to visit around the city.
Nowadays, Hong Kong Tramways Limited Company runs six main routes between Kennedy Town and Shau Kei Wan from 06:00 to 24:00 daily. During rush hours, the tramcars depart, on average, every 1.5 minutes. The whole route measures eight miles (13 kilometers) long and connects main regions of the city.
Routes:
Shau Kei Wan→Western Market;
Shau Kei Wan→Happy Valley;
North Point→Whitty Street;
Happy Valley→Kenned Town;
Causeway Bay→Kennedy Town;
Western Market→Kenney Town
| | | | | | |
| --- | --- | --- | --- | --- | --- |
| | Western Market | Causeway Bay | Happy Valley | North Point | Shau Kei Wan |
| Kennedy Town | 23 mins | 55 mins | 60 mins | 70 mins | 80 mins |
| Western Market | ------ | 35 mins | 40 mins | 50 mins | 58 mins |
| Happy Valley | 40 mins | 5 mins | ------ | 35 mins | 42 mins |
| Causeway Bay | 35 mins | ------ | 5 mins | 15 mins | 25 mins |
| North Point | 50 mins | 15 mins | 35 mins | ------ | 15 mins |
The time information in the above table is approximate and only for your reference.
Besides the above main stations, there are in total 123 sub-stations distributed along the route with an interval of 270 yards (247 meters). Most of them were built in the middle of the road, others can be found near the sidewalk or at the foot of the pedestrian overcrossings.
A single tramcar ticket fare is HK$2. A child or senior citizen ticket is half price. Tramcars are self- service ticketing. Make sure you prepare some changes before you get on board. You can also use the Octopus Card to pay the fare. Another option is to purchase a monthly ticket at Whitty Street Tram Depot, the Causeway Bay Terminus or at the North Point Terminus.
Hong Kong Tramways Limited Company Inquiry Hotline: +852-25487102
Inquiry Email: enquiry@hktramways.com
Escalator
Central is Hong Kong's administrative centre and also a shopping and catering area, while Mid-Levels is a well-known residential allotment in the city. Between these two areas, you can enjoy a free escalator system, where you can travel between Central and Mid-Levels very easily.
This system opened in 1993 and is formed of roofed pedestrian walkways, overbridges, 20 single-direction escalators and three moving travelators. It is 800 meters (about 875 yards) long, which is the longest roofed escalator system in the world. It starts from the Hang Seng Bank HQ in Central, passes by Central Market, Cochrane Street, Hollywood Road, Shelley Street, Mosque Junction, Robinson Road and finally reaches Conduit Road. It will take you about 20 minutes to finish the whole trip.
The system runs in different directions at different times. From Monday to Saturday, it runs from Mid-Levels to Central during 06:00 to 10:00 and then runs in the opposite direction during 10:00 to 24:00. On Sundays and public holidays, it operates from Central to Mid-Levels during 06:00 to 24:00.
Tips: 1. During your escalator trip, you can go to Soho (Gourmet Zone). There you will have a good chance to taste various delicacies. What's more, it's not far from Lan Kwai Fong; a place for bars, night clubs and many other entertainment facilities.
2. How to get to Central: You can take the subway train and get off at Central MTR Station. Also you can go there by tram and get off at the Hang Seng Bank HQ stop.
- Last modified on Jul. 22, 2018 -
Questions & Answers on Hong Kong Tram & Escalator
Asked by J Quinn from AUSTRALIA | Jul. 21, 2018 19:28

Reply
Victoria Peak, escalator, Man Mo Temple and Hong Kong Tram
We have 1 full day to explore HK Island. We are staying at the Harbour Plaza Metropolis and will catch a Star Ferry across to Central Star Ferry Pier. Then a bus to Garden Road Central terminal to catch the tram up to Victoria Peak. After we want to bus down from Victoria Peak to link up with Escalator, visit Man Mo Temple and catch a Hong Kong Tram just for a ride. What is the best option.
Answers (1)
Answered by Frank from GREECE | Jul. 22, 2018 23:08

0

0

Reply
There is no problem of your schedule but you have to line up for a long time to take a tram.
Asked by Sharon from NEW ZEALAND | Nov. 28, 2017 16:26

Reply
What is the best way to get from mid level escalators to the Peak by bus?
Answers (1)
Answered by Nicole from USA | Nov. 28, 2017 20:09

0

0

Reply
Well, walk east for about 5 minutes to Central and take Bus 5. Get off at the peak. It takes about 40 minutes and over 10HKD.
Asked by me j from PHILIPPINES | Dec. 08, 2016 23:46

Reply
How will we go to Happy Valley Race course from MRT TST Station? Also is there an entrance fee?
Answers (1)
Answered by Abbey from AUSTRALIA | Dec. 09, 2016 03:49

2

0

Reply
Take MTR Tsuen Wan Line from TST Station to Admiralty Station, and transfer to MTR Island Line to Causeway Bay Station, Exit A. Then, walk south to it. You need to pay HKD 10 as the entrance fee. :)
Asked by Ronnie laxinto from PHILIPPINES | Sep. 17, 2016 18:37

Reply
Hi! we want to ride mtr from mongkok station going to the peak. what line of mtr do i have to take?
and how much time? and how much is the cost? we are using standard octupos card. Thanks.
Answers (1)
Answered by Brian from UNITED KINGDOM | Sep. 17, 2016 21:05

0

0

Reply
Hello, it is suggested to take Tsuen Wan Line to Central Station within 20min at a cost of 11.9HKD. Leave from exit J2 and walk to the peak tram station to take the tram onto the peak in 15min, for which it costs 28HKD for a single trip and 40HKD for a round trip. And the Standard Octopus Card can be used on both means of transportation.