Hong Kong Transportation
Getting There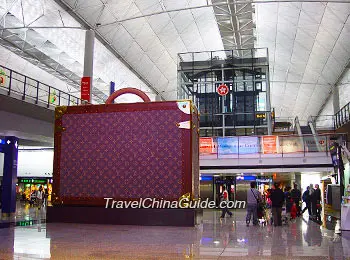 HKIA
Air
Hong Kong International Airport
(HKIA) is one of the major transport hubs in Asia. As the fourth busiest international passenger airport in the world, it has some 750 aircraft movements every day and it operates 90 airlines to around 150 destinations around the world, including some 40 cities in Chinese Mainland. No matter where you travel from, overseas or Chinese Mainland cities, you can get there by plane.
Hong Kong Kai Tak Airport
, used to be one of the busiest airports in the world, has been closed since 1998.

Flights
:

Beijing - HK Flights

Shanghai - HK Flights

Guangzhou - HK Flights
The Guangzhou-Shenzhen-Hong Kong High Speed Railway has connected Hong Kong with many cities in Mainland China including Beijing, Shanghai, Guangzhou, Shenzhen, Guilin, Kunming, Guiyang, Xiamen, Fuzhou, Changsha, and Wuhan. A few traditional style trains still run between Hong Kong and Beijing/ Shanghai/ Guangzhou, taking much longer time.

Developed from a fishing village, this area has a lot of waters and piers. There are all together 4 cross-boundary ferry piers, one near the International Airport, one in Hong Kong (HK) Island, one in Tsim Sha Tsui,
Kowloon
, and one in Tuen Mun,
New Territories
.
Star Ferry
has served the city for a century which brings a great joy for passengers to take star ferry for the glittery and glamorous high-rises between Central and Tsim Sha Tsui, especially during Christmas and New Year time. For those who head for outlying islands, taking ferry seems to be the only choice. Daily direct sailings also transfer between the city and Shenzhen, Macau as well as cities of Guangdong Provinces, like Zhuhai & Zhongshan.
Hong Kong Macau Ferry Terminal
Hong Kong-Zhuhai-Macau Bridge
, traveling between Hong Kong and Macau by land has been possible and a long-distance bus ride between takes around 2 hours generally.

Shenzhen Bao'an International Airport - HK
,
Hong Kong to Guangzhou Bus
Helicopters provide the most expensive yet fastest mode of transport between Hong Kong and Macau. From Macau to Hong Kong, the helicopters are available from 10:00 to 22:30 and from Hong Kong to Macau, the helicopters operate from 10:30 to 22:59.

Transportation to Other Cities

How to Travel from Hong Kong to Guangzhou

How to Travel between Hong Kong and Shenzhen

How to Travel between Hong Kong and Dongguan

How to Travel between Hong Kong and Foshan

How to Travel between Hong Kong and Zhuhai

How to Travel between Hong Kong and Beijing: Train vs. Flight

How to Travel Between Hong Kong and Guilin & Yangshuo

How to Travel between Hong Kong and Zhongshan

How to Travel between Hong Kong and Shanghai: Train vs. Flight


Getting Around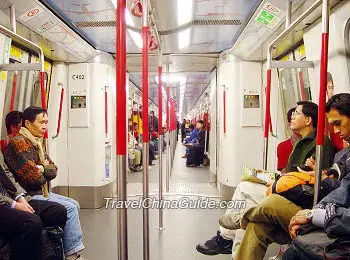 MTR

It is compact and easy to navigate, with street, bus and subway signs clearly marked in English. Travelers can ride on subway trains, light rail, bus, minibus, ferry, tram and taxi to transport them, yet they all have their own fare system and require a new ticket each time you transfer from one to another. However, if you are going to stay there for several days, think of buying the Octopus Card, with which you can hop on and off trains, trams and most buses and ferries, not worrying about purchasing tickets each time.

The city's Mass Transit Railway (MTR) is modern, fast and easy-to-use. It is safe to say that railroads are the backbone of the whole transportation network in this area. The city's MTR network now run 10 urban subway lines, 1 airport express line, 1 light rail system with 12 routes and 1 tourist cable car system
Ngong Ping 360
. By 2025, 5 new subway lines are expected to be put into use, which are Guangzhou - HK Express Rail Link, Shantin - Central Line, Tuen Mun South Extension, Tung Chung West Extension and Kowloon East Extension.

Subway Map
| | |
| --- | --- |
| Double-decker Buses | Taxi |
Big bus has 3 daytime routes covering Hong Kong Island, Kowloon, Aberdeen and Stanely and 1 night route in Kowloon. Passengers can hop off at any of its stops.

See more Hop on Hop off Buses in Hong Kong
Victoria Peak
to have a full view of the beautiful scenery of the city. It is the earliest transportation means operated since 1888. Taking the tram is regarded as the best way to explore this city; thousands of visitors are delivered everyday.
| | |
| --- | --- |
| Tram in HK Island | Ferry |
- Last updated on Jun. 28, 2022 -
Questions & Answers on Hong Kong Transportation
Asked by Celena from INDONESIA | Jan. 24, 2020 05:02

Reply
Tsim sha tsui to admiralty
How much the fare and how long does the trip? Thank you
Answers (1)
Answered by Russel from UNITED KINGDOM | Feb. 01, 2020 16:46

0

0

Reply
Take Tsuen Wan Line from TST Station to Admiralty Station directly. It takes around 15 mins on the way with the fare of 10.3HKD per person.
Asked by Lynn from MALAYSIA | Jan. 11, 2020 09:39

Reply
Can i take ferry from shekou to hkia and go out to hk airport hotel
I book a hotel at Regal Airport Hotel. Can i take ferry from shekou to hkia and go out to the hotel because my flight is at the next day morning?
Answers (1)
Answered by Pam from USA | Jan. 12, 2020 23:54

0

0

Reply
Yes, it will be ok.
Asked by Julia from SINGAPORE | Dec. 28, 2019 19:33

Reply
Would like to know which bus should I take from HKIA to Shenzhen North station (high speed train).
And what is the frequency of bus. How long it take from HKIA to Shenzhen.
Answers (1)
Answered by Liz from SINGAPORE | Dec. 30, 2019 01:47

0

0

Reply
The ticket is located at Mainland/ Macao Transport Centre, Hall A of Arrivals Level (L5), Terminal 1. You can consult the staff.
Asked by Zacharie ZANNI from FRANCE | Nov. 05, 2019 07:40

Reply
Best transportation from HKIA to Kai Tak cruise terminal on saturday december 7th
Hello,
Please could someone tell me what is the recommmended transportation (train, bus, Uber, taxi..) for 4 french seniors landing in HKIA around 4pm30 on saturday december 7th to reach Kai Tak cruise terminal. We have a reasonable amount of luggages (2 large and one medium sizes).
Thank you in advance.
Zac
Answers (1)
Answered by Alex from ITALY | Nov. 06, 2019 19:49

0

0

Reply
You can take E22 (CTB) to Ede Road, Cornwall Street station, and transfer to 22(CTB) to Kai Tak Cruise Terminal station. It takes 130 mins with HK$18.
Asked by Lia from HONG KONG | Sep. 25, 2019 19:49

Reply
I'm looking to visit Zhuhai for 3 days from HK entering though the Jiuzhou ferry port.
I'm Australian and will require the 3-day VOA. What are the opening hours of the Jiuzhou Port Visa office?

Thanks,
Lia
Answers (1)
Answered by Janet from UNITED KINGDOM | Sep. 27, 2019 01:08

0

0

Reply
As I know, the service hours are from 08:30 to 23:30.