Hong Kong Dining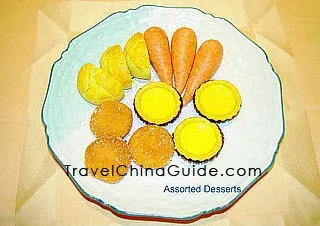 Desserts
Welcome to the prominent culinary capital of Asia: Hong Kong. You can have a good dining experience here, for it boasts a large number of restaurants serving Chinese, Asian and western food, as well as savory vegetarian food, hot pot and buffet dinners etc. Numerous snacks bars, cake and dessert shops, tea houses and steakhouses are also the highlights. Gourmets, are you ready?

Chinese Restaurants
Kowloon
gathers the most Chinese restaurants. Without going to mainland China, you can still have a taste of their delicacies. The typical Beijing food, Roast Duck, is available, as well as light-flavored Shanghai and Hangzhou dishes.
Asian Restaurants
Hong Kong welcomes a great many Asian people, who work, study, even permanently live there. Therefore, Asian restaurants can easily be found, especially around Kowloon, Tsim Sha Tsui and Causeway Bay.
Western Restaurants
There are many western restaurants in Causeway Bay, Wan Chai, Lan Kwai Fong and SoHo. These areas are the communities of western expats. So the restaurants there usually serve authentic western food.
Other Restaurants:
Specialties:

Seafood: Due to the special location, Hong Kong is rich in marine food. Hence local cooking prominently features seafood. Venture out to the outlying islands, such as Lamma Island and
Sai Kung
, for the best seafood. The Jumbo Kingdom, which is famous for the world-renowned Jumbo Floating Restaurant, and Lei Yue Mun, located between Junk Bay and Victoria Harbour, are also strong recommendations to find great seafood.

Tingzai Porridge: People usually add some fresh ingredients into the rice porridge. Tingzai Porridge is a kind of rice porridge with pork, peanut, squid, fish slice and so on. 'Tingzai' means 'small boat'. It's said that Tingzai Porridge was sold by fishermen in Sheung Shui in the past. At present, even some large restaurants offer this kind of porridge.

Spicy Fish Balls: It is one of the most popular snacks in Hong Kong. They are actually meatballs made of fish. After being fried, they will be added some home-made spicy sauce for a better flavor. In some popular stalls or restaurants, you may see a long queue for the fish balls.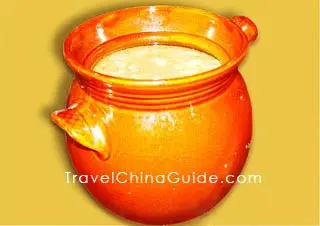 Soup

Hong Kong-style Soup: People in that area make clear, tender, tasty and nutritious soup. A bowl of soup each day is good for health. Many housewives make superb soups for their husbands and children. The main ingredients are fish or chicken. It takes about three to four hours to cook soup over slow fire. Amongst all soups, the Wan Zai Chi is the representative.

Yum Cha
: Yum Cha (tea and dim sum) is a specialty in Hong Kong. It is easy to find a restaurant with Yam Cha. These restaurants offer tea, coffee, dim sums and quick & simple meals. The working class often has breakfast or lunch there.
See also:
15 Most Popular Dishes of Chinese Dim Sum

Poon Choi: It is a series of traditional dishes, especially popular in
New Territories
. Poon Choi can be cooked with very rich ingredients. For instance, you can cook a Poon Choi dish with squid, pork, duck and fish. Usually, the cooked Poon Choi is put in a wooden, steel basin or a clay pot.

Snacks: Traditional snacks include Wonton Noodles, Fish Ball Noodles, Pineapple Bread as well as the Spicy Fish Balls and Tingzai Porridge mentioned above. Wonton Noodles are just like its name - a combination of wonton and noodles. Fish Ball Noodles are made with rice noodle, fish, beef etc.
| | |
| --- | --- |
| Seafood Store | Poon Choi |
Useful Tips:
1. In order to better serve the customers, local Tourism Board recommends some qualified restaurants, which are rated by the public and are guaranteed to meet the following standards: providing tasty food with clearly marked prices; displaying clear menus with prices for food and beverage; ensuring good customer service with well trained and knowledgeable front-line staff. This kind of restaurants displays a sign with the words of "Quality Tourism Services".
2. Most restaurants in the city accept reservations. Chinese tea houses and famous western restaurants usually have no vacant seats during lunch time (1:00 p.m. to 2:00 p.m.), at night and on weekends, so it's suggested to make reservations in advance.
3. According to the local law, the restaurants with over 200 seats should provide smoke-free sections. Now many small ones also offer smoke-free sections, while some still completely ban smoking. If you are a non smoker, do ask for the seats in smoke-free section.
4. Many restaurants accept payment with credit cards. It is suggested that customers keep the receipts for records. Some credit cards companies or banks may surcharge for overseas purchases, so please check before use.
5. Most restaurants will automatically charge 10% service fee in the bill.
6. Casual wear is acceptable in most restaurants. For some top-end ones, you'd better check their dress code rules when you making a reservation.
7. Food usually comes in three levels of quantities (big, ordinary and small), different from the size of plates. For spicy dishes, tell the waiters how spicy you want - extremely spicy, spicy or lightly spicy.
- Last updated on Jun. 14, 2022 -
Questions & Answers on Dining in Hong Kong
Asked by Anna from PHILIPPINES | May. 28, 2016 09:04

Reply
where to buy reasonable priced meals near Novotel Kowloon, HK. We'll bring our children.
do local food stores their understand english? Im a bit worried we might not able to buy or try out their meals just because we are having trouble communicating with each other.. do taxi drivers and bus drivers understand us in our english language?? Also, how do we know that the prices on taxi cabs are valid? Do we bargain with them or they have this machine that computes the total transportation fee?
Answers (1)
Answered by Darcy from USA | May. 29, 2016 04:13

0

0

Reply
Oh, there are many restos near ur hotel within walking distance, so you can easily find nice ones for your kids. Most owners of the restos speak simple English and you will have no barrier about ordering. Take it easy!

The taxi drivers speak little English. I suggest you show the address in Chinese characters. Anyway, for the famous spots like Ocean Park and the peak, they usually understand the English language. Just speak to them. The drivers usually charge by meter. The fee will be presented on the receipt, so you can ask for that before getting off.