Hong Kong Gourmet Areas
Named 'the Culinary Capital of Asia', Hong Kong boasts many restaurants distributed in famous gourmet districts, including Causeway Bay, Kowloon City, Lan Kwai Fong, SoHo, Sai Kung, Lamma Island, Lei Yue Mun, Stanley, Tsim Sha Tsui and Hung Hom.

Causeway Bay - Genuine Hong Kong Tradition
Causeway Bay is a famous shopping area of Hong Kong and many people go shopping there, therefore catering in this area is well-developed. Walking along Tung Lung Street, Matheson Street and Jardin's Bazaar, you can find many tasty and cheap snacks. Most of the snack stands are open well into the night. Alternatively you can go for Mouthwatering food served in Hong Kong styled dai pai dong, teahouse and western bars, Japanese sishu bars and upscale restaurantsat in Times Square, Lee Theater Plaza, Percival Street or Paterson Street.
---

Kowloon City - Commoners' popular choice
considered the Gourmet Paradise of Hong Kong with its several dozens of restaurants. , Kowloon City has a concentration of Asian delicacies which makes this an area preferred by many. Chinese and Thai restaurants dominate the area and generally, prices are not very high. In this gourmet district, you can not miss Nga Tsin Wai Road, Nam Kok Road, Lung Kong Road, Fuk Lo Tsun Road and Prince Edward Road and there are many restaurants providing South East Asian delicacies from Thailand and Vietnam, Cantonese cuisine, Chaozhou cuisine, hot pot and desserts.
---

Lan Kwai Fong and SoHo Hollywood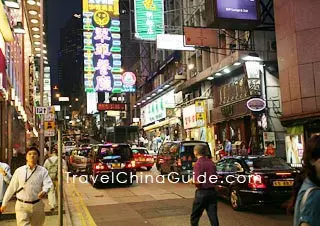 Lan Kwai Fong, Hong Kong
Twenty years ago, Lan Kwai Fong was not a prosperous place. But now, it has changed. Together with SoHo, this area has become fashionable. There you can find many western food restaurants, such as Italian, French, Mexican and American restaurants.
Great quantities of eateries are around Lan Kwai Fong, popular among both locals and foreigners. The people, the ambience and the aroma of food are hard to resist. SoHo is on the west of Lan Kwai Fong. This gourmet district comprises Elgin Street, Staunton Street and Shelley Street. Restaurants there are quite fashionable.
---

Sai Kung, Lamma Island and Lei Yue Mun - Seafood gathering
If you like eating seafood, you should go to Sai Kung, Lamma Island or Lei Yue Mun. Gourmets will be intoxicated by both the delicious food and the beautiful scenery. In addition to the seafood restaurants, you can buy fresh seafood in the seafood markets.
---

Stanley - nostalgia and seascape with dainties
Stanley is a beautiful peninsula, located on the south of Hong Kong Island. There you can find many western restaurants or bars. Some of the restaurants have open air seating.
---

Tsim Sha Tsui - Shangri-la
Tsim Sha Tsui is an area densely populated with Japanese, Italian, Spanish restaurants, hotpot and bars coexist here, detaining belly gods late into the night. This area includes several famous gourmet streets - Nathan Road, Canton Road, Chatham Road, Ashley Road and Granville Road, in which there are many international restaurants. Additionally, Knutsford Terrace and Knutsford Steps, located at the intersection of Observatory Road and Kimberley Road, are well-known for western restaurants and British pubs.
---

Hung Hom - New Focus
Hung Hom is a new gourmet district not far from Tsim Sha Tsui. With reasonable prices, many new restaurants spring up and specialize in their own cooking styles and unique tastes. Whampoa Gourmet Place in Hung Hom boasts more than ten restaurants, mainly providing Asian food, such as Sichuan and Cantonese dishes of China, Vietnamese food and Singapore food.
- Last modified on Jul. 22, 2019 -