Yum Cha – Cantonese Tea Brunch Tradition
Yum cha, literally drinking tea, is very popular in Guangdong, Hong Kong and other Cantonese-speaking areas. It used to last from 5:00 or 6:00 to 11:00. But nowadays, many teahouses serve it all day long and one can go for yum cha any time. Cantonese people often order a pot of tea and several dim sum dishes while sharing the time with families or friends. It has been part of their daily life and a way of leisure.
History and Origin of Yum Cha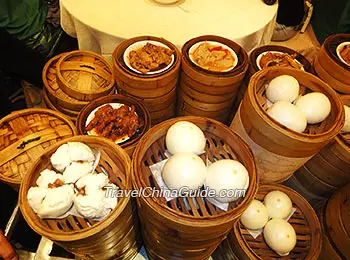 Cantonese Yum Cha
The origin of Canton morning tea tradition can be traced back to late
Qing Dynasty
(1644 - 1911). There were restaurants called "Yili", hanging a wooden board with the word "Tea Talking," where the passers-by could rest. It served tea and cakes but the environment were very poor, with only a few wooden tables and benches available. Then the tea shops appeared and then the even larger tea houses. Since then, it has become common for Cantonese people to go to the tea house to drink morning tea. With time passing by, the tea has been a supporter in those tea houses while various delicate dim sums keep popping up.
Types of Yum Cha
A set of yum cha usually contains tea and dim sum. There is dry Dim Sum and wet Dim Sum and the dry one is more delicate. Dry Dim Sums include Dumpling, Steamed Dumpling with Pork, Steamed Buns and pastries, etc. The wet ones are porridge, meat, Guiling Jelly and Jellied Bean Curd…
The serviced tea is mainly black tea which warms the stomach and removes greasy of the dim sums, being conductive to digestion. The common ones are
Oolong tea
,
Pu erh tea
and chrysanthemum tea. Some people also like to mix Pu erh tea with Chrysanthemum to remove the inner heat.
Recommended Yum Cha Menu
1. Shrimp Dumpling
The main ingredients of Shrimp Dumplings are wheat flour, shrimp, pork and bamboo shoots. Because of its novelty and delicious taste, it won the favor of diners and soon became famous in Guangzhou.
2. Barbecued Pork Buns (Cha Siu Bao)
Barbecued Pork Buns is one of the typical traditional dim sum in Guangdong Province. It is a kind of flower-like steamed buns with barbecued pork fillings.
3. Shumai
Shumai is one of the most popular dim sum in Cantonese tea houses. It uses pork, shrimp, flour wrappers and eggs as the main ingredients and with light soy sauce, sugar, salt, chicken powder, pepper, starchy flour and cooking wine as the seasonings.
4. Egg Tart
The baked Egg Tart has crisp outer layer and sweet solidified egg paste inner layer. It is made by putting the crust into a small bowl-shaped cake mold and pouring into a mixture of sugar and eggs, and then baked.
5. Rice Noodle Rolls (Cheung Fun)
It has sweet and salty taste. The fillings of salty Steamed Vermicelli Roll mainly include pork, beef, shrimp and pork liver while the sweet fillings are mainly sugar-soaked vegetables and fruits and fried sesame.
6. Glutinous Rice Chicken
Glutinous rice, chicken, fork-roast meat, spareribs, salted egg yolk, and mushroom are wrapped with lotus leaf and steamed until done. The Glutinous Rice Chicken is full of the fragrance of lotus leaf.
7. Caramel Treats
Caramel Treats features yellow appearance and soft and sweet flavor. Deep-fry noodles until done, mix with sugar and cut into small pieces.
8. Egg Loose
Egg Loose is made of flour, eggs and lard. Deep-fry until light yellow. It is crisp and eaten with maltose.
9. Sesame Balls
Sesame Balls refer to the fist-sized and deep-fried glutinous rice dough covered with sesame seeds. There are various fillings such as peanut brittle, shredded coconut, fine bean mash, diced meat and candied melon. With a golden surface, the Sesame Balls are round and hollow inside. The out layer is thin, soft and sticky and the filling is sweet and tasty.
10. Deep Fried Meat Dumpling
Deep Fried Meat Dumpling is often seen in Guangdong, Hong Kong and Macau, crisp outside and soft inside, having crisp flavor. The main ingredients are flour, minced pork, leek, shrimp, dried black mushroom, and yam bean. The cooking technique is deep-frying.
See also:
15 Most Popular Dishes of Chinese Dim Sum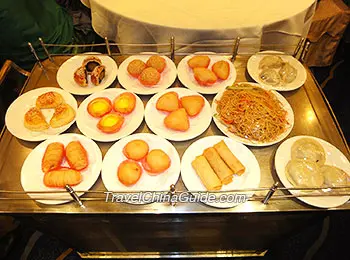 Dim Sums
Top Tea Houses for Yum Cha
Taotaoju Restaurant
Chinese name: 陶陶居
Address: No.20, Dishipu Road, Liwan District, Guangzhou
Average cost: CNY50-60/ person
Lianxiang Lou
Chinese name: 莲香楼
Address:No.67, Dishipu, Liwan District, Guangzhou
Average cost: CNY60-70/ person
Guangzhou Restaurant
Chinese name: 广州酒家
Address: Baifu Square, No.112, Tiyu East Road, Tianhe District, Guangzhou
Average cost: CNY50-60 / person
City Hall Maxim's Palace
Chinese name: 美心皇宫
Address: 1/F, Low Block, Hong Kong City Hall, Hong Kong
Average cost: HKD150/ person
Luk Yu Tea House
Chinese name: 陆羽茶室
Address: No.24, Stanley Street, Hong Kong
Average cost: HKD400 / person
What to Do in a Tea House - Yum Cha Etiquettes
When you enter a tea house, the waiter will give you a record card and record the number of guests as everyone need a paid tea seat. The first thing is to choose the tea you'd like to drink. While drinking, you need to help your friends or families pour tea first and bend the right index finger and middle finger and knock on the table to express your gratitude if others pour you tea. When the teapot is empty, open the cover to show the waiter need for tea.
Dim sum dishes don't need to be taken by yourself. There are special waiters who push carts carrying all kinds of delicious dim sum dishes and snacks. As long as the carts come, you can stop it and choose what you like. The waiter will take the initiative to mark small seals on your record card. The final payment is according to these seals. The price of the dim sum dishes are divided into six grades: Xiaodian, Zhongdian, Dadian, Dingdian, Tedian, Chaodian. The higher the grades, the more expensive the dim sum dishes are. The cheapest Xiaodian costs about CNY3-5 while the most expensive costs CNY 20.
- Last updated on Dec. 11, 2019 -