Eight Cuisines of China - Shandong & Guangdong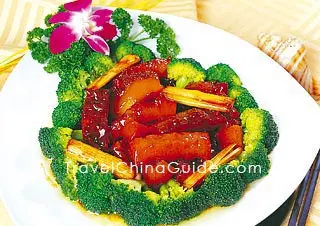 Saute Sea Cucumber with Scallions
Chinese cuisine has a number of different genres, but the most influential and typical known by the public are the 'Eight Cuisines'. These are as follows:
Shandong Cuisine
,
Guangdong Cuisine
,
Sichuan Cuisine
,
Hunan Cuisine
,
Jiangsu Cuisine
,
Zhejiang Cuisine
,
Fujian Cuisine
and
Anhui Cuisine
. The essential factors that establish the form of a genre are complex and include history, cooking features, geography, climate, resources and life styles. Cuisines from different regions are so distinctive that sometimes despite the fact that two areas are geographical neighbors their styles are completely alien.
Shandong Cuisine
Shandong cuisine is the local flavor of Jinan City and Jiaodong peninsula derived from the use of shallots and garlic. Both restaurant chefs and those in families are expert in cooking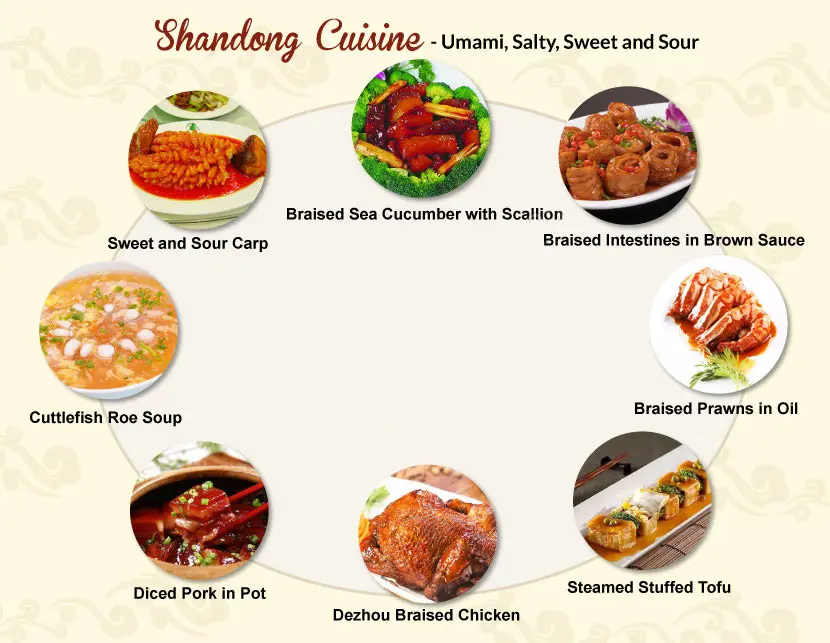 Braised Abalone
seafood, soups, meat and offal. The recipes are those that once delighted the royal court and were served to the emperor. The typical menu can include many delicate dishes such as:
Braised abalone - smooth, delicate, fresh and savory
Sweet and Sour Carp - with crisp exterior and tender fish interior, a little sweet and sour
Bree with a complex - clear, mild and fresh
'Eight Immortals Crossing Sea teasing Arhats' - This is a starter before a celebration feast. It is luxurious and traditionally uses as its eight main ingredients: fin, sea pumpkin, abalone, asparagus, prawns and ham. The stock is flavored with fish's swimming bladder and fish bones. These symbolize the eight immortals and the Arhats [Buddhist saints] are symbolized by the inclusion of chicken breast.
Guangdong Cuisine
Steamed Weever
Guangdong dishes takes fine and rare ingredients and is cooked with polished skills and in a dainty style. It emphasizes a flavor which is clear but not light, refreshing but not common, tender but not crude. In summer and autumn it pursues clarity and in winter and spring, a little more substance. The sauteed dishes always rely upon exquisite presentat ion involving cutting and carving skills. Typical menu here can ultimately embody these characteristics:
Chrysanthemum fish - chefs with adept cutting techniques shape the fish like chrysanthemums, each individual morsel being convenient to enjoy with either chopsticks or forks.
Braised Snake porridge - choose rare meat of cobra, grimalkin, and pullet, braised elaborately, also called 'Dragon and phoenix contending' (Long Feng Dou).
Roast suckling pig - a famed dish with rather long history, golden and crisp exterior, and tender meat, with dense aroma.

Popular Guangdong Dishes:
Black Pepper Beef
,
Steamed Perch
- Last modified on May. 29, 2019 -
Questions & Answers on Shandong & Guangdong Cuisine
Asked by Hanna from ALBANIA | Dec. 07, 2015 16:35

Reply
Does Sea Cucumber taste good?
Answers (1)
Answered by Brenda from DENMARK | Dec. 08, 2015 03:30

1

1

Reply
Hanna, it's crisp outside but chewy inside. It's difficult to describe how it tastes. Somebody said its flavor was a mixture of lavender and sea water.
Asked by Disha from INDIA | Jun. 15, 2015 22:36

Reply
Hi. How common is vegetarian food there?
please let me know because I am planning to study in the Southern Medical University. :)
Answers (2)
Answered by Danny from ICELAND | Jun. 19, 2015 02:50

1

1

Reply
Disha, there are many Indian restaurants in Guangzhou, such as Bombay Grill, DELHI TADKA, Indian Lassi, Mint Leaf and the Tandoor.
Answered by maria helena from GERMANY | Nov. 01, 2015 10:03

2

1

Reply
i lived there for one year as a vegan and its possible, you have to ask a lot though
Asked by Joshua from SINGAPORE | Mar. 22, 2015 01:32

Reply
restaurants to recommend in shenzhen
Hi helpful people of tcg,

I would be staying at hyatt place hotel near laojie station. Could anyone recommend good restaurants in the vicinity for dinner? Likewise, any good eateries near for breakfast and lunch?

Thank you for your help!
Answers (1)
Answered by Susie from UNITED KINGDOM | Mar. 22, 2015 04:25

0

3

Reply
Hey, along the street to the southeast of the hotel, there are many restaurants that you can have breakfast or lunch there. For bigger and formal one, you can go to Green Tea Restaurant (1234 Space Store), which is located 20 yards east from your hotel. Or just go to Sheng Shi Tang Gong. It is located in no. 1, Xinyuan Road, about 200 yards to the northeast of the hotel.
Asked by Daniel from BRAZIL | May. 22, 2013 20:18

Reply
Is smartweed commonly used in your food?
Answers (1)
Answered by James | May. 22, 2013 20:21

3

6

Reply
Probably It is commonly used in all chinese dishes :D
Asked by Gus from SINGAPORE | Feb. 18, 2013 09:29

Reply
Hi.Can u recomend a affordable Hakka (Ke Jia) restaurant in Houhai,Beijing?Thanks
Answers (1)
Answered by Jack | Feb. 18, 2013 23:44

0

3

Reply
I just know there is a Hakka Restaurant at No.5, Houhai Beiyan, Xicheng District in Beijing. It is nice and you can go there to have a taste.