Anhui Cuisine – Wild Ingredients & Light Cooking Techniques
Anhui cuisine, or simply Hui cuisine, is originated over 1,000 years ago from Huizhou, the current
Shexian County
at the foot of
Yellow Mountain
in Anhui Province. Anhui cuisine is one of the eight Chinese cuisines. The ingredients are mostly from the wild, and the flavor is light. Anhui cuisine attaches importance to dietetic invigoration with natural ingredients. The representative dishes and Anhui cuisine desserts include Stinky Mandarin Fish, Fried Hairy Tofu, Steamed Partridge, Stewed Bamboo Shoots of Wenzheng Mountain, Huangshan Stewed Pigeon, Li Hongzhang Chop Suey, etc.
Chinese Name: 徽菜 huī cài
English Names: Anhui cuisine, Hui cuisine, Huizhou cuisine
Popular in: China's Anhui Province
Flavors: salty and fresh, light, the original flavor of wild ingredients
Famous Anhui Dishes: Stinky Mandarin Fish, Fried Hairy Tofu, Steamed Partridge, Stewed Bamboo Shoots of Wenzheng Mountain, Huangshan Stewed Pigeon, Li Hongzhang Chop Suey
Famous Snacks: Stone Pastry, Huizhou Fried Pork Balls, Waxberry Balls
Anhui Cuisine History of Over 1,000 Years
Anhui cuisine history can be dated to Song Dynasty (960 - 1279 AD). Hui is the short name for Huizhou, an ancient area in southern Anhui province, where Anhui cuisine originated from. The banquets after worship ceremonies were very popular there, which were considered the origin of Hui cuisine. The development of Hui cuisine is closely related to the Huizhou merchants. As merchants from Huizhou did business around China, Anhui cuisine was introduced all over the country too and reached its peak in Qing Dynasty (1644 - 1911 AD).

Features of Anhui Cuisine
Most Anhui cuisine dishes are cooked with more oil than the dishes of other cuisines and the color is appealing. Oil used is generally colza oil made from local colza, which can change and adjust the taste of ingredients. Hams are extremely popular in Anhui. Using hams as a condiment is the unique way of cooking Anhui cuisine. What's more, Anhui cuisine dishes have the effect of nourishing our body, as multiple ingredients with varied nutrition are matched scientifically and reasonably.

Wild Ingredients of Hui Cuisine
The pleasant climate, many rivers and lakes, and lush hills in ancient Huizhou area provide Anhui food recipes a variety of wild ingredients, such as partridges, fishes, turtles, masked civets, fowls, fresh mushrooms, bamboo shoots, fungi, chestnuts, Chinese yams and so on. Even Chinese medicine herbs are used to cook food by Anhui cuisine chefs. Those materials are all from the wild, which is a key to ensure Anhui cuisine dishes have a tasty flavor.

Special Cooking Techniques
The most frequently used cooking techniques of Hui cuisine include braising, stewing and steaming. Frying and flash-frying are less used. Braising has strict requirement on heating. Actually, all Hui cuisine dishes take heating seriously. According to different features of varied ingredients and the wanted tastes of diverse dishes, different durations and different degrees of heating are applied. Also, many stuff is used as burning materials to heat. Those burning materials are subject to change, too. For example, charcoal for slow-stewing, fagots for quick-braising, and tree wood for slow-braising.

The Most Famous Anhui Cuisine Dishes
1
Stinky Mandarin Fish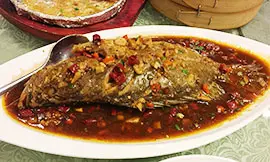 The mandarin fish is marinated and braised. It is one of the most famous Anhui cuisine dishes. It may smell stinky, but it tastes great with tender fish meat separated from fish bones.
2
Fried Hairy Tofu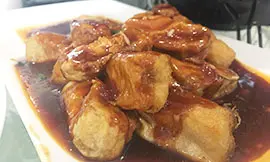 This Anhui food is made from the fermented tofu with white hair growing on the surface. After being fried, it becomes golden and has a mellow taste. People dip chili sauce when eating it.
3
Steamed Partridge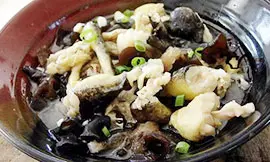 Partridge is the specialty in Huangshan, Anhui. Steamed Partridge is featured with aromatic light soup and fresh tender meat, being rich in nutrition, like protein and calcium.
4
Stewed Bamboo Shoots of Wenzheng Mountain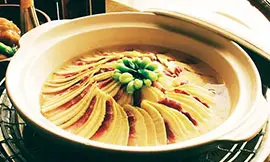 The bamboo shoots are from Wenzheng Mountain in southern Anhui. It tastes salty and a little sweet. Hams and mushrooms added improve the taste and aroma to make the dish more attractive.
5
Huangshan Stewed Pigeon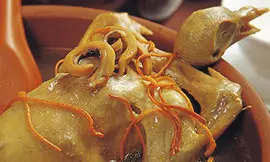 According to this Anhui food recipe, local pigeon and Chinese yams from Huangshan are stewed together. The pigeon meat is tender with refreshing Chinese yams and fresh light soup which is easy to digest.
6
Li Hongzhang Chop Suey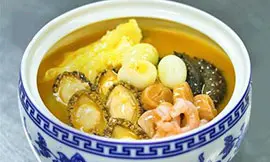 This dish is related to the famous minister Li Hongzhang in late Qing Dynasty. It is stewed with multiple ingredients, including chicken, sea cucumbers, fish belly and squid. It tastes salty, fresh and not greasy.
Anhui Cuisine Menu
| English | Chinese | Pinyin |
| --- | --- | --- |
| Stinky Mandarin Fish | 臭鳜鱼 | chòu guì yú |
| Fried Hairy Tofu | 虎皮毛豆腐 | hǔ pí máo dòu fǔ |
| Steamed Partridge | 清蒸石鸡 | qīng zhēng shí jī |
| Stewed Bamboo Shoots of Wenzheng Mountain | 问政山笋 | wèn zhèng shān sǔn |
| Huangshan Stewed Pigeon | 黄山炖鸽 | huáng shān dùn gē |
| Li Hongzhang Chop Suey | 李鸿章大杂烩 | lǐ hóng zhāng dà zá huì |
| Stewed Soft-Shelled Turtle with Ham | 火腿炖甲鱼 | huǒ tuǐ dùn jiǎ yú |
| Fuliji Roast Chicken | 符离集烧鸡 | fú lí jí shāo jī |
| Braised Masked Palm Civet | 红烧果子狸 | hóng shāo guǒ zi lí |
| Fang La Fish | 方腊鱼 | fāng là yú |
| Zhonghe Soup | 中和汤 | zhōng hé tāng |
Best Anhui Cuisine Restaurants in China

Old Street First Food House
Chinese Name:老街第一楼
Location: No.247, Tunxi Old Street, Tunxi District, Huangshan



Delicacy Restaurant
Chinese Name:美食人家
Location: No. 245-247, Tunxi Old Street, Tunxi District, Huangshan



Shicheng Huiyan Restaurant
Chinese Name: 狮城徽宴楼
Location:
No.108, Science Avenue, High-tech Zone, Hefei
No.252, Jinzhai Road, Baohe District, Hefei
No.421, Suixi Road, Luyang District, Hefei



Huishang Birthplace
Chinese Name: 徽商故里
Location:
No. 2, South Street, inside of Chaoyang Gate, Dongcheng District, Beijing
1st Floor, Qingqing Commercial Building, No.39, Yuanda Road, Haidian District, Beijing
No.5, Binhe Road, Xicheng District, Beijing
See more Anhui Restaurants in Beijing



Impress Huizhou
Chinese Name: 印象徽州
Location: 2nd & 3rd Floor, No.800, Middle Luochuan Road, Jing'an District, Shanghai
See more Anhui Restaurants in Shanghai
Travel with Us to Taste Authentic Anhui Cuisine
- Last updated on Apr. 06, 2023 by Catherine He -