Shandong Dumplings

Chinese name: 山东饺子 shān dōng jiǎo zi
Compared with dumplings of other regions in China, Shandong dumplings are characterized by sea food fillings. That's because Shandong Province is by the sea, where fish resource is abundant.
Famous Types of Shandong Dumplings: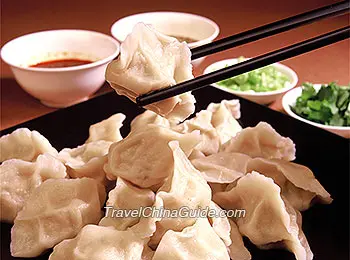 Shandong Dumplings
Common fillings of Shandong dumplings are Spanish mackerel, inkfish, yellow croaker, sea urchin and sea worm. The most popular and classic one is Spanish mackerel dumpling, which is known for thin dumpling wrapper, scrumptious filling and high nutritional value.

Recipe of Spanish Mackerel Dumplings:

1. Ingredients: Spanish mackerel (1,000g); pork (100g); leek (150g); flour (500g); egg; starch; water


2. Seasonings: green onion; ginger; wild pepper; garlic; salt; sesame oil; cooking wine; soy suace; vinegar



Note: This recipe is for two to three people.

How to make Shandong dumpling wrapper:

Step 1: Take out a basin and put flour inside. Add water into basin while keeping stirring the flour with chopsticks. The ratio of flour to water is 2:1.


Step 2: When the flour becomes flake-like clots, add an egg and a pinch of salt into the basin, and then starts to knead the dough.


Step 3: Stop kneading the dough when it has a rough surface. And then put the dough aside for twenty minutes.


Step 4: Restart kneading the dough until it has a very smooth surface. Then wait for another twenty minutes.


Step 5: Spread some flour on the chopping board and take out the dough from the basin. Keep rubbing the dough until it looks like a rod.


Step 6: Cut the rod-like dough into small dough balls and flatten them with your hand.


Step 7: Use a rolling pin to roll the dough into round and thin pieces one by one. The rim of the wrapper should be thinner than the central part.

How to make the filling of Spanish mackerel dumplings:

Step 1: Cut the fish belly and remove the guts and gills. After washing away the blood and slime, move the knife in a horizontal direction and cut from fish tail to fish head. Keep the flesh on both sides, peel off its skin and debone it. Then chop the fish flesh into mash.


Step 2: Chop the pork into mash.


Step 3: Boil some water with a few wild peppers. When the pepper water becomes cold, drop a few chopped green onions and sliced gingers inside.


Step 4: Get rid of the yellowish part of the leek, wash and then chop it.


Step 5: Take out a basin and mix the mashed Spanish mackerel and mashed pork together. Add cooking wine, sesame oil, starch, egg white, salt, and the wild pepper water made in Step 3.


Step 6: Use chopsticks to quickly stir the filling in one direction. When you feel that the filling gets more sticky, add chopped leeks inside, and again stir the mixture well in one direction.

How to wrap and boil the dumplings:

Step 1: Hold a piece of dumpling wrapper, put a scoop of filling at the center of wrapper and then fold it in half. Remember to firmly pinch the semicircular edge in case of breakage.


Step 2: After wrapping all the dumplings, start to boil some water.


Step 3: When the water is boiling, put the dumplings into the pot and gently separate them with chopsticks or scoop.


Step 4: When the water boils again, add a small bowl of cold water into the pot. This procedure needs to be repeated for three times, so as to make sure the Shandong dumplings are cooked thoroughly.

​How to make the dipping sauce:
You can mix the mashed garlic, soy sauce, sesame oil and vinegar together. The sour, salty and spicy flavor will serve as a perfect foil for Spanish mackerel dumpling's umami.



Tips:


1. Fresh raw material is of great importance. Good-quality Spanish mackerel has bright and black eyes, white belly, crimson gill, and the back with blue or green flurescence. You can also try to press the fish and see whether it bounces back. If it does, its flesh is firm and thus worth buying.


2. The egg and salt are added in the flour, in order to make the dough not break easily when being rolled.


3. The wild pepper water helps get rid of the Spanish mackerel's fishy smell, and the egg white will make the filling more tender and juicy.

Where to Eat Shandong Dumplings – Best Restaurants
Shun Hong Sea Food Restaurant, Jinan 舜鸿海鲜小馆
Nearly all the famous Shandong cuisines can be found in this restaurant. Apart from Spanish mackerel dumplings, you can also try sea food signature dishes like crab spawn and flatfish.


Location:
1. No.184, Wei Shi Yi Lu Road, Huaiyin District
2. No.7, North Bei Guan Road, Tianqiao District


Opening hours: 11:00-21:00


Average cost per capita: CNY70

Jin Chun Xi Restaurant, Jinan 金春禧
Dumplings of various fillings here are super popular, including Spanish mackerel, inkfish, mutton, shrimp, leek and cucumber.


Location:
1. Floor 4, Zhong Hai Huan Yu Cheng Mall, South Second Ring Road, Shizhong District
2. Floor 4, West Building of Shi Mao International Square, Quan Cheng Road, Lixia District


Opening hours: 11:00-14:00; 17:00-21:00


Average cost per capita: CNY75

Chuan Ge Yu Dumpling Restaurant, Qingdao 船歌鱼水饺
This restaurant has many branches all over the country. When eating Spanish mackerel dumplings, it is recommended to have a spicy dish together, such as stir-fried oysters or yellow-wine-pickled crab claw.


Location:
1. Floor B1, Wan Xiang Cheng (The Mixc), Shan Dong Road, Shinan District
2. Buidling 1, No.57, Min Jiang Er Lu Road, Shinan District
3. No.1, Mai Dao Road, Laoshan District


Opening hours: 10:30-21:00


Average cost per capita: CNY100

Shuang He Yuan Dumpling Restaurant, Qingdao 双和园饺子
You can either choose large or small serving of each type of dumpling here. The hottest picks are Spanish mackerel dumplings and assorted sea food dumplings. The latter has the filling of dried scallop, shelled shrimp and sea cucumber.


Location:
1. No.12, Shang Qing Road, Shibei District
2. No.129, Li Cun Shu Yuan Road, Licang District
3. No.19, Da Yao San Lu Road, Shinan District
4. No.25, Nan Feng Road, Shibei District


Opening hours: 10:30-21:30


Average cost per capita: CNY70

Feng Ze Yuan Restaurant, Beijing 丰泽园饭店
Feng Ze Yuan has been considered as No.1 Shandong restaurant in Beijing. Once come here, you must also try roasted sea cucumber and braised intestines in brown sauce in addition to the dumplings.


Location:
1. No.83, West Road, Xicheng District
2. Floor 5, Wang Fu Mansion, No. 301, Wang Fu Jing Street, Dongcheng District
3. No.15, South Road of Workers' Stadium, Chaoyang District


Opening hours: 11:00-14:00; 17:00-19:00


Average cost per capita: CNY160

Dong Lai Chan Fang Restaurant, Shanghai 东莱馋房
Spanish mackerel dumplings in this restaurant are famous for the chewy wrapper, juicy filling and refreshing taste. Other dishes can also bring you authentic Shandong flavor.


Location:
1. No.7, Floor 4, Jing Pin Shopping Mall, Yu Yuan Road, Jing'an District
2. No.206, Floor 2, Global Financial Center, Century Avenue, Pudong District


Opening hours: 11:00-14:00; 17:00-21:30


Average cost per capita: CNY120

Further Reading:
10 Famous Shandong Noodles
- Last modified on Apr. 16, 2020 -