Huaiyang Cuisine – Food of Yangzhou & Huai'an in South China
Huaiyang cuisine, a subgroup of
Jiangsu cuisine
, is originated from and popular in
Yangzhou
and
Huai'an
in Jiangsu Province. Taking fisheries as the main ingredients, it has a light, mild and sweet flavor while well preserving the original taste of ingredients. In addition, the dishes are usually well-designed with good-looking. For these reasons, Huaiyang cuisine dishes are frequently served on national banquets. The representative dishes include Braised Shredded Chicken with Ham and Dried Tofu, Yangzhou Fried Rice, Minced Crab Meat and Pork Balls, Braised Mandarin Fish in Shape of Squirrel, Three-nested Duck, Pingqiao Bean Curd Soup, etc. In Yangzhou, the varied pastry are also famous, which are featured with thin crust, thick sauce and fresh flavor.
Chinese Name: 淮扬菜 huái yáng cài
English Names: Huaiyang cuisine
Popular in: China's Yangzhou & Huai'an in Jiangsu Province
Time of Origin:
Western Han Dynasty
(202 BC - 9 AD)
Flavors: mild, fresh, sweet, original flavor of ingredients
Famous Huaiyang Dishes: Braised Shredded Chicken with Ham and Dried Tofu, Yangzhou Fried Rice, Minced Crab Meat and Pork Balls, Three-nested Duck, Pingqiao Bean Curd Soup
Famous Snacks: Sanding Steamed Buns, Vegetable Shao-Mai, Multiple Layer Oil Cake
Origin & Development of Huaiyang Cuisine
People in Yangzhou had started to eat cooked food about 4,000 years ago. Up to Western Han Dynasty (202 BC - 9 AD), there had been a variety of dishes cooked with different methods and seasonings in Huai'an and Yangzhou areas. Those food had its own style, and Huaiyang cuisine formed in the period.

In Sui Dynasty (581 - 618 AD), the Grand Canal connecting north and south China was dug and the northern food was brought to Yangzhou through the Grand Canal, making Huaiyang cuisine have a further development. By Song Dynasty (960 - 1279 AD), Yangzhou had become an important port along the Grand Canal and the deictic culture of north and south influence each other for many years. Such a situation made Huaiyang cuisine absorb the advantages of varied food.

In Ming Dynasty (1368 - 1644 AD), Huaiyang cuisine took root in Beijing, the capital city, because the emperors were fond of Huaiyang food. Later, it was highly regarded by literates, which helped Huaiyang Cuisine get to its golden age. Thereafter Huaiyang Cuisine had been the national banquet foods for many years. Till today, it is still often served to entertain foreign guests by national leaders.

Features of Huaiyang Cuisine – Delicate with Light, Mild, Original, and Sweet Taste
The first impression Huaiyang cuisine dishes leave on people is their delicate appearances like art works, secondly their light, mild and a little sweet taste with strong original flavors of the materials. The fisheries are the main ingredients of Huaiyang food, which are common and easy to get for many rivers and lakes lie in Yangzhou and Huai'an. Importantly, the ingredients should be fresh.

Special Cooking Methods
Stewing, simmering, braising, steaming, frying… those are the main cooking methods in Huaiyang cuisine. Besides, Huaiyang cuisine chefs think highly of slicing skill, to ensure the cooked food have a nice looking. For example, the square bean curd with a thickness of 2 cm, could be cut into 30 slices; the shreds can be sliced as thin as hairs. Heating is also very important to cook Huaiyang food. The durations and temperatures of heating are strictly controlled for each Huaiyang cuisine dish.

The Most Famous Huaiyang Cuisine Dishes
1
Braised Shredded Chicken with Ham and Dried Tofu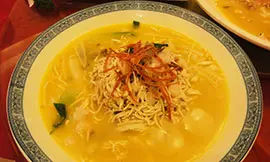 It is a representative dish of Huaiyang cuisine. Chicken, ham and dried tofu in this dish are all sliced into very thin shreds. Cooked with thick chicken soup, it has a salty and fresh flavor.
2
Yangzhou Fried Rice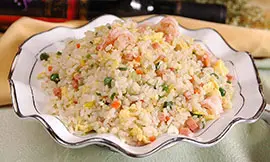 Originated in Yangzhou, delicious Yangzhou Fried Rice taste salty as it is cooked with rice, hams, eggs, shelled shrimps and other materials. The rice is not sticking but chewy and aromatic.
3
Minced Crab Meat and Pork Balls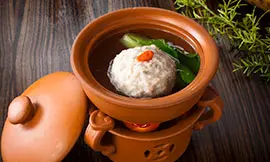 This famous traditional Huaiyang food is tender and fat but not greasy. The meat balls are large and round, looking like the head of lion. Thus the dish is also called Lion Head.
4
Sweet and Sour Mandarin Fish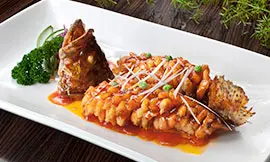 Through excellent slicing skill, the cooked fish looks like a squirrel, so the dish is also called Squirrel-shaped Mandarin Fish. The fish meat is tender with crisp surface, and in red or orange color.
5
Three-nested Duck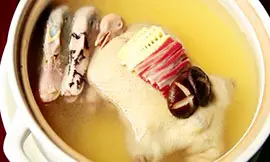 The dish is salty and aromatic, braised with wholly deboned ducks and a pigeon. The pigeon is stuffed into the wild duck, which then is stuffed into the fat domestic duck. Thus the name origin.
6
Pingqiao Tofu Soup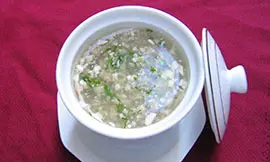 Originated from Pingqiao, Huai'an, Pingqiao Tofu Soup is salty and fresh. The ingredients include sliced salted soft tofu, mushrooms, bamboo shoots, hams and shredded meat.
Menu of Huaiyang Cuisine
| English | Chinese | Pinyin |
| --- | --- | --- |
| Braised Shredded Chicken with Ham and Dried Tofu | 大煮干丝 | dà zhǔ gān sī |
| Yangzhou Fried Rice | 扬州炒饭 | yáng zhōu chǎo fàn |
| Minced Crab Meat and Pork Balls | 蟹粉狮子头 | xiè fěn shī zi tóu |
| Sweet and Sour Mandarin Fish | 松鼠鳜鱼 | sōng shǔ guì yú |
| Three-nested Duck | 三套鸭 | sān tào yā |
| Pingqiao Tofu Soup | 平桥豆腐羹 | píng qiáo dòu fu gēng |
| Ruandou Eel | 软兜长鱼 | ruǎn dōu cháng yú |
| Sliced Bean Curd | 文思豆腐 | wén sī dòu fu |
| Roasted Pig Head in Brown Sauce | 扒烧整猪头 | pā shāo zhěng zhū tóu |
Best Huaiyang Cuisine Restaurants in China

Quyuan Teahouse
Chinese Name: 趣园茶社
Location: No. 1, Changchun Road, Yangzhou



Yechun Teahouse
Chinese Name: 冶春茶社
Location: No. 8, Fenglexia Street, Yangzhou



Huaiyang Food House
Chinese Name: 淮扬府
Location: No.198, Andingmenwai Street, Beijing
See more Huaiyang Restaurants in Beijing



Pujiang Ⅵ
Chinese Name: 浦江六号
Location: Building 6, No.1888, Pu Ming Road, Pudong New Area, Shanghai
- Last updated on Apr. 21, 2021 -