Huai'an Travel Guide
Huai'an Facts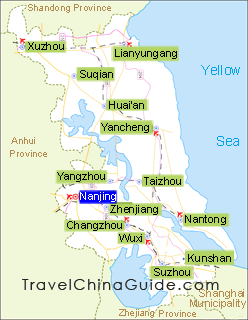 Chinese Name: 淮安 (huái ān)
Population: 5,327,700
Area: 10,072 square kilometers (3,889 square miles)
Nationalities: Han

Location: Huai'an is located in the center of northern Jiangsu Province, with the Huaihe River flowing through its domain. It is bounded on the north by Lianyungang, and neighbors Yangzhou and Anhui Province in the south. The time-horned Grand Canal and the modern Beijing-Shanghai Express meet each other in the city. The forth largest freshwater lake in China, Hongze Lake, is just lies in the west of Huai'an.
Administrative Division: 4 districts (Qinghe, Qingpu, Huaiyin, Chuzhou); 4 counties (Lianshui, Hongze, Xuyi, Jinhu)

Useful Telephone Numbers:
Tourist Complaints: 0517-3605355
Weather Forecast: 121
Zip Code Inquiry: 184
Bank of China: 0517-3914421
Huai'an Attractions - Things to Do
Located in Huai'an City of northeast Jiangsu Province, it has various heritages and memorial buildings about Zhou, and other ancient architectures. This tourism area mainly consists of Zhou's Former Residence, Zhou's Memorial Hall, Hexia Ancient Town and Fuma Alley.
Tieshansi National Forest Park
It is the most well preserved and largest kingdom for wildlife in Jiangsu. The 9-square-kilometer Tianquan Lake and the Xuyi Station of Purple Mountain Observatory are situated in the park. In addition, accommodation is available in the park. Therefore, the park is a perfect destination not only for holidays, but also for ecological and astronomical observations.
Qingyan Garden
Formerly Chengnan (South City) Park, the garden is the only classical garden of a government officer in Qing Dynasty. The Hefang Academy is the most characteristic building in the garden.
Other Scenic Spots
: Zhou Enlai Memorial Hall, Zhou Enlai's Former Residence, Zhenhuai Tower
How to get to/around Huai'an
Huai'an Lianshui Airport
has operated flights to more than 30 domestic cities including Beijing, Shanghai, Xi'an, Kunming, Chengdu, Chongqing... and it has opened international flights to Taipei, Phuket Island, Bangkok, Nha Trang, and Siem Reap now.
Huai'an Coach Station in Huaihai Road (North) offers buses to Nanjing, Lianyungang and Shanghai every 20 to 30 minutes, respectively taking about 3, 2, and 5 hours.
Hongze Lake is one of the principal freshwater lakes in China, rich in lake products. Transportation around Hongze Lake is convenient. It is 40 minutes' drive from downtown Huai'an, 1.5 hours from Nanjing and 4 hours from Shanghai.
Weather
-
Huai'an has the climatic features belonging to the warm temperate and subtropical zones, the boundary of which is the Huaihe River. Therefore, its annual value of solar radiation is greater in northern Huai'an, while the precipitation is just the reverse. At the turn from spring to summer, the plum rain may bright the city heaviest rainfall of a year.

When to Go
: Spring and autumn are the best time to the area. Visitors can escape from the winter chillness and summer heat as well as the rainy season.
Huai'an Travel Tips

Dining: Huai'an is one of the birthplaces of the Eight Cuisines in China, Huaiyang Cuisine, a branch of Jiangsu Cuisine. For visitors visiting there, local dishes and snacks are something indispensable to their journey.



History: As early as five or six thousand years ago, people had created their civilization in this region. It had greatly been exploited in its territory before the Qin Dynasty (221BC-206BC). During the Sui (581-618) and Tang (618-907) dynasties, the excavation of the Grand Canal and the flourishing of salt industry north of the Huaihe River greatly promoted the economy of this region, and its bloom still continued until the Ming (1368-1644) and Qing (1644-1911) dynasties



Physical Features: Located in vast plain area, the terrain of the city is plat. Plains constitute the greater part of the city except for the hilly area in southwest Huai'an. It also has large water area including nine rivers and several lakes.



Local Highlights: Jiangsu Xuyi Lobster Festival (around July): a grand festive occasion of Jiangsu Province combining delicacies, culture displays, trade talks, tourist activities and folk performances



Special Local Products: Cha San: a kind of snack usually served at tea time, Typha latifolia (Pu Cai, vegetable)
- Last modified on Sep. 09, 2019 -
Questions & Answers on Huai\an Travel
Asked by JC from ANGOLA | Jan. 05, 2020 11:14

Reply
What is the best way to get from Hong Kong to Huaian?
Answers (2)
Answered by Simon from AUSTRALIA | Jan. 06, 2020 18:21

0

0

Reply
It's hard to say what the best way is. Maybe you can take high speed train to Shanghai first, stay one night and then take high speed train to Huaian.
Answered by Trần Thuý diem | Feb. 15, 2020 19:55

0

0

Reply
Anh quên em thật sao
Asked by Siva from CHINA | Nov. 06, 2018 00:22

Reply
Huaiyang Train facility?
Is there any Train crossing Huaiyang city and goes to Shanghai? Second is there any plan for train from Huaiyang city to Shanghai
Answers (1)
Answered by Paul from CANADA | Nov. 07, 2018 01:13

0

0

Reply
Dear, at present, there is no railway station in this city. And it is expected that the Huaiyang High Speed Train Station would be finished by the end of 2019.
Asked by Joseph Johnston from CHINA | Mar. 30, 2018 07:41

Reply
Is there a bus in Huai'an that goes to airport?
I need to get from downtown Huai'an to the airport in the 2nd week of April this year. I have heard there is a bus that goes there but am not sure.
Joe
Answers (1)
Answered by Lily from DENMARK | Apr. 01, 2018 20:45

1

0

Reply
Yes, there is the shuttle bus from Datong Rd to the airport.
Asked by Peter from EGYPT | Mar. 09, 2018 10:55

Reply
What is the best way to get from Nanjing airport to Xuyi ?
Answers (1)
Answered by Chole from FRANCE | Mar. 12, 2018 01:42

0

0

Reply
First, take shuttle bus to Huai'an, and it takes about 90yuan, 3.5h. Then, take bus 11 to the south bus station. At last, take a bus to Xuyi from the bus station.
Asked by Vardan | Sep. 29, 2017 10:42

Reply
I want to go to Macau from Huai'an about on 1 to 5 of February 2018.
Could you help me to find any optimal variant?
Answers (2)
Answered by William from AUSTRALIA | Sep. 29, 2017 22:12

1

0

Reply
Here are two ways for you to choose:
1. Take a bus from South Bus Station to Nanjing. Then head for Lukou Airport and fly to Zhuhai in 2.5h. After that, you can take a direct shuttle bus to Macau.
2. You may fly to Guangzhou directly within 3h. At Guangzhou Airport, take intercity bus to Zhuhai Gongbei. Then pass the border to enter Macau.
Answered by Vardan from CHINA | Sep. 30, 2017 06:44

0

0

Reply
Thank you very much bro. Can you tell me which variant is cheaper? )))