Taizhou Travel Guide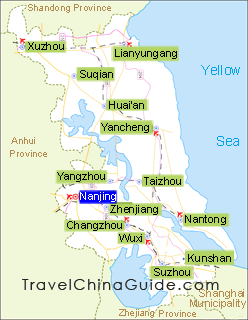 Taizhou Facts
Chinese Name: 泰州 (tài zhōu)
Population: 5,005,500
Area: 5,787 square kilometers (2,234 square miles)
Location: in the central area of Jiangsu Province, east China
Administrative Division: 3 districts (Hailing, Gaogang, Xinghua); 4 county-level cities (Jingjiang, Taixing, Jiangyan)
Area Code: 0523
Zip Code: 225300
GDP (2019): CNY 513.336 billion (USD 74.407 billion)
An Industrial and Trade Port City with Numerous Rapeseed Flower Fields
Taizhou lies in the center of Jiangsu Province, lower reaches of the Huaihe River. It is bordered by Yangzhou to the west, and separated from Suzhou and Wuxi by the Yangtze River in the south. Taizhou is an important industrial and trade port city in China's Yangtze River Delta. This city has a history of more than 2,100 years, and its city name means to bring prosperity to the nation and security to the people. There are many scenic spots and historical sites in Taizhou, including temples, academies, memorials and pavilions. Qinhu National Wetland Park with a water town and Qianduo Scenic Area with a large area of rapeseed flowers are two most spectacular and stunning natural scenic areas. The Taizhou Port mainly deals in bulk cargoes such as iron ore, coal, steel and grain with over 50 routes to 150 counties.

The museum is a combination of the exhibition hall for the historical materials of Mei Lanfang and the Mei Lanfang Garden to commemorate this excellent art master of Beijing Opera. Visitors can see the cultural relics, pictures, objects and previous performance segments of Mei Lanfang.
Taizhou Attractions - Things to Do
Not only a wetland eco-tour scenic spot for Milu, but also a holiday resort for water landscape, Qinhu Lake boasts fine scenery and humanistic resources. The ancient water town of Qintong and the boating festival make up the highlights of the scenic area.

Mei Lanfang Memorial Museum
The museum is a combination of exhibition hall for the historical materials of Mei Lanfang and the Mei Lanfang Garden to commemorate this excellent art master of Beijing Opera. The museum contains old buildings of Ming and Qing dynasties and the layout is like the garden in South China.

Shangfang Temple
Floating on the water of Wujindang Scenic Area, the temple is the largest water Buddhist resort in China that rebuilt in modern time.

Qianduo Scenic Area (Thousand Floating Fields Scenic Area)
The local villagers pile up the mud of the lake swamp area into arable fields and that is called Duo field, like floating islands on the water. At the beginning of April, the scenic area becomes a golden sea of rapeseed flowers. In summer and autumn, lotus and chrysanthemums play the leading role respectively. Tourists can take a boat to shuttle among them, or board the observation platform in the scenic spot to overlook the panorama.
How to get to Taizhou
1. The city shares one airport with Yangzhou, which is Yangzhou Taizhou Airport located at Jiangdu District in Yangzhou, about 20km away from Taizhou. Visitors can take flight from this airport to many major cities in China, such as Beijing, Guangzhou, Xi'an, Xiamen, Chengdu, Sanya, Kunming, Shenzhen, Shenyang, and Harbin.

2. The south bus station (the central station) and west bus station undertake the intercity road transportation to some tourist cities around, including Suzhou, Hangzhou, Shanghai, Nanjing and Zhenjiang. The former one is located in the Qingnian Road (South) and the other in Jiangzhou Road (North). The east station in Nantong Road mainly operates bus lines within the city.
Almost all the bus stations of Shanghai operate bus lines to Taizhou with three and a half hours' drive. Compared with other cities, Yangzhou is quite near Taizhou. Yangzhou Long-distance Bus Station is located in the Jiangyang Road (West), where buses can reach Taizhou in one hour and a half. From downtown Taizhou, Nanjing can be reached in about three hours. Visitor can have the aid of the Nanjing Lukou International Airport if traveling by air.

3. Taizhou Railway Station was put into use on July 1st, 2005 and mainly operates the trains to Nanjing, Lanzhou, Shanghai, Jingdezhen, Lianyugang, Yangzhou, Suzhou...

See more Taizhou - Shanghai Train
Weather
-
Taizhou enjoys a subtropical humid monsoon climate with clear four seasons and abundant rainfall. Winter is dry and chilly and summer is torrid and damp. Every May to July is the plum rain period, so the weather is overcast and rainy.

When to Go
: Spring is the best time to visit the city.
Taizhou Travel Tips

History: It was named as Haiyang before the Han Dynasty (206BC-24AD) established Hailing County in 117BC. Together with ancient Yangzhou and Nanjing, it had been famous nationwide as one of most prosperous cities in old days. In the Southern Tang (937-975), prefecture was set up here called Taizhou, meaning that the country is prosperous and the people living in peace.



Physical Features: Except one massif standing along in the Jingjiang City, the rest is vast fluvial plain formed by the Huaihe River and the Yangtze River. Generally, the terrain of Taizhou is higher in the center and slopes downward to the north and the south.



Local Highlights: Qintong Boating Festival of Jiangyan (April on Qinhu Lake, around the Pure Brightness)



Special Local product: Meilan Banquet, steamed dumpling stuffed with crab yolk, aquatic product from Yangtze River and Qinhu Lake
- Last updated on Jun. 08, 2020 -
Questions & Answers on Taizhou Travel
Asked by Noeleen Davel from SOUTH AFRICA | Feb. 13, 2020 02:08

Reply
Hi - where is Sesame Street English training centre in Taizhou? I will be working there soon
Answers (1)
Answered by Joshua from NEW ZEALAND | Feb. 15, 2020 16:50

0

0

Reply
Yes, I know one is located at F03-F04, Wanda Jinjie, No.318, South Qingnian Road.
Asked by Peter Tarsong from VANUA | Feb. 05, 2020 17:47

Reply
Does people in Yangzhou Taizhou Airport speak English or only Chinese?
Because I want to get to Taizhou City.
Answers (1)
Answered by Sharon from FRANCE | Feb. 06, 2020 18:03

0

0

Reply
Don't worry. As I know, the staff can speak and understanding basic English.
Asked by Cynthia from CANADA | Apr. 25, 2013 20:54

Reply
Could you please tell me the address of the (new) Taizhou Social welfare Centre/ Institute?
I heard that the old Centre was rebuilt at a new location.
Answers (2)
Answered by Alice from CHINA | Apr. 26, 2013 03:56

2

0

Reply
Do you mean the one at Xianju County? if so, it is at Xiayuan Village, Anzhou Street, Xianju County.
Answered by Cynthia from CANADA | Apr. 26, 2013 13:09

0

0

Reply
Hi Alice,
Thank you for your reply...I"m not sure if that is the place I'm talking about. The old location, called TZ Social Welfare Centre was located at 388 Hailing Nan Lu, postal code: 225300. Do you know if that's the old address of the place you mentioned?
Asked by surendra kumar from INDIA | Dec. 09, 2012 04:16

Reply
Which is the nearest airport to Taizhou city?
Answers (1)
Answered by Mindy | Dec. 09, 2012 19:24

2

0

Reply
It should be Yangzhou Taizhou Airport.