Suzhou Travel Guide

Humble Administrator's Garden


Pictures

Video
Suzhou is located in southern Jiangsu Province in the center of the Yangtze Delta. Shanghai lies to the east, Zhejiang Province to the south, Wuxi City to the west and the Yangtze River to the north. The city is divided by the Beijing-Hangzhou Grand Canal from north to south. Since 42% area of the city is covered by water, including a vast number of ponds and streams, it is praised as the 'Venice of the Orient'. Built in 514 BC, this is an ancient city with over 2,500 years of history and numerous points of interest. The unique characteristics of the past are still retained today. The double-chessboard layout of the city, with 'the streets and rivers going side by side while the water and land routes running in parallel', is preserved intact.
The mild climate makes the city a desirable destination all year round. Touring the wonderful ancient water towns in the vicinity or lingering in the exquisite
classical gardens
in the downtown area, you will truly know the charm of a 'paradise on earth'. As the saying goes - 'Gardens to the south of the Yangtze River are the best in the world, and Suzhou gardens are the best among them'. These gardens attain their high reputation not only for their vast numbers, but also for their charming natural beauty and harmonious construction. At present more than 60 gardens are kept intact in the city, and some of them have been listed in the World Heritage List.
There is no airport in the city and travelers should use the nearby Shanghai Pudong Airport or Hongqiao Airport. With four main train stations, the railway is well-developed. Frequent bullet trains run between Suzhou and Shanghai, which makes it possible to travel between the two cities in 30 minutes. Subway trains and convenient city buses can take visitors to most attractions within the city.
-
Dining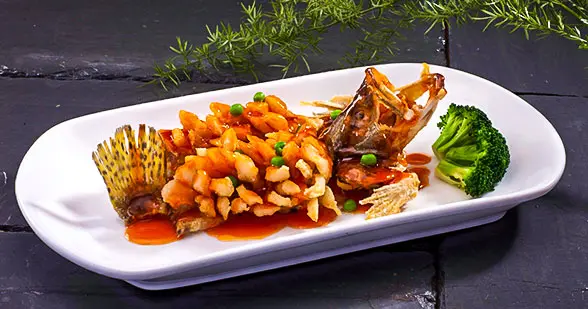 Tasting local delicacies should not be forgotten in your journey. Suzhou Cuisine belongs to the Jiangsu Style, which is one of the
eight famous cuisines of China
. The special sweet flavor and delicate appearance make the dishes greatly popular. Authentic notable local dishes and snacks can be found in Guanqian Street. You'll never forget the delicious food and friendly service.
Silk and embroidery are the very souvenirs most visitors are eager to buy in China. Here you have come to the right place. The city is the original site of Su Embroidery, and the silk products here enjoy a high reputation worldwide. If you want to buy, we recommend the souvenir stores at the Suzhou Silk Museum and Embroidery Museum.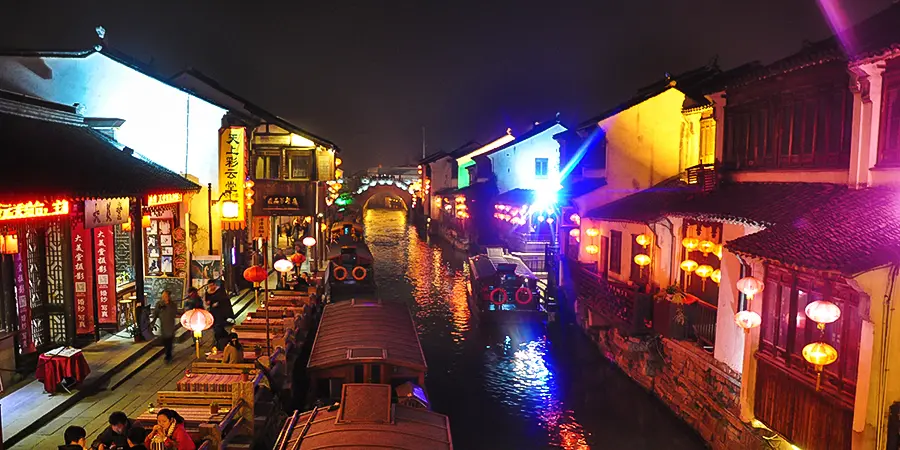 Local nightlife is much quieter and more leisurely than in big cities like Beijing and Shanghai. When night falls, one can enjoy the lovely scene on Shantang Street, take a boat ride on the Shantang River, or watch the local Kun Opera and Pingtan performance while sipping a cup of tea in a teahouse. Pubs or bars are also available, but traditional cultures are hardly felt there.
8 Things to Do in Suzhou at Night
Culture
The city is the cradle of Chinese Wu Culture. Many great names and schools of art arose here. For example, the Wumen Fine Arts School is the finest in the city's history. Pingtan,
Kun Opera
and Suzhou Opera are praised as 'the three flowers' in the cultural history of the city. Furthermore, embroidery, fans and brocade produced here are noted worldwide.
Here are some basic facts and practical information to facilitate your life, trip, and business in the city.
Area Code & Zip Code
Banks
Famous Universities
Useful Phone Numbers
Hospitals
Post Office
10 Places to Visit in China for a Trip of a Lifetime
10 Best Places to Visit in China for Return Visitors
10 Most Beautiful Cities in China
Top 10 Largest Cities in China by Population
China Population by City: List of 50 Most Populated Cities
- Last updated on Jun. 25, 2023 by Catherine He -
Questions & Answers on Suzhou Travel
Asked by Josh from UNITED KINGDOM | Jun. 23, 2023 02:58

Reply
X2 visa 24 hour registration
Hello, I have an X2 visa and will be studying in Suzhou. I was told I would need to register my arrival within 24 hours. If my flight arrives in Beijing first, can I register in Beijing and spend a few days exploring the capital or do I need to head straight to Suzhou and register there within 24 hours?
Answers (1)
Answered by Eric | Jun. 25, 2023 01:23

0

0

Reply
I suppose you will live overnight in a hotel in Beijing. In that case, the hotel staff will report your arrival to the police, so there is no need to worry about it.
Asked by PK Ooi from MALAYSIA | May. 24, 2023 19:54

Reply
Hi, How can I travel from Zhouzhuang water town to Xitang
Answers (1)
Answered by Rita | May. 25, 2023 19:49

0

0

Reply
There is no direct bus connecting the two sights, so it may be a little trouble to take public transport. You can take Bus Line 792 from Jiangze Station to Dong Yantou bus stop and then transfer to Bus Line 310 to Taozhuang Station. Then take Bus Line 216 to Cuinan Village. After getting off the bus, you can walk north about 200 m to see Xitang Old Town. It takes about 2.5 hours to get.

You can also travel by taxi, which takes about 1 hour and costs about CNY 100 - 120.
Asked by Mike from NEW ZEALAND | May. 04, 2023 11:54

Reply
What is the zip code for Xinchuang Yushan Square, Huqiu District, Suzhou, Jiangsu Province, CHina
Answers (1)
Answered by Molly | May. 04, 2023 19:31

0

0

Reply
It is 215011.
Asked by Ring from SINGAPORE | May. 01, 2023 08:14

Reply
Humble administrator garden in Oct 2023 , can I buy ticket at the entrance
Hi I'm planning to visit Humble administrator gardenc in Oct 2023 , can I buy ticket at the entrance? If not kindly provide an officia website with English version .Thank You
Answers (1)
Answered by Emily | May. 04, 2023 19:30

0

0

Reply
No, it hasn't offered tickets at the entrance for a long time. As I know, there is no English website for booking. You may contact TraveChinaGuide to see if they can help you with booking.
Asked by Joyce from SINGAPORE | Nov. 29, 2019 06:04

Reply
How can payment be made for online reservations to Humble administrators garden?
Answers (1)
Answered by Kate from AUSTRALIA | Dec. 02, 2019 18:17

0

0

Reply
I didn't try. But you need to book the ticket by passport. As for the payment, just follow the step by step instructions of official website to finish.