Suzhou Nightlife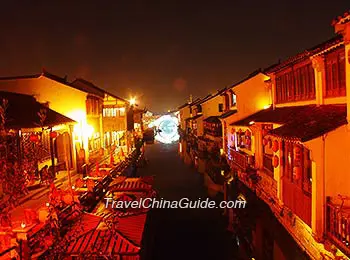 Night view of Suzhou
In addition to breath-taking scenery and unique handcrafts, Suzhou is rich in cultural heritage. Kun opera, Pingtan (a form of storytelling and ballad singing in Suzhou dialect) and Guzheng (a Chinese zither with 25 strings) are the traditional cultural arts of Suzhou and part of the locals' daily lives. Visitors can visit the Master of Nets Garden at night to enjoy all three of these classical forms of entertainment. Folk music and dancing and six other artistic performances will provide lasting memories of Suzhou City.
Entrance Fee: CNY80
Visiting Hours: 7:30 pm-10 pm from mid-March to mid-November
Tea House
There are many tea houses in the city, because drinking tea is an important custom in the area. A tea house is a great place to sip a cup of tea and rest after a day of excursions.
A unique opportunity offered by Suzhou is to sip a cup of tea in a beautiful garden. Shuang Zhao Lou, located in the Garden of Couple's Retreat, is a favorite place of local scholars. It is open from 8 am to 5 pm and can be reached by taking the No.701 bus. Bo Ya Tang in the Art Garden is on the water, so you can enjoy the charming scenery and watch fish frolic in the water while you drink your tea. Buses No.313, 204, 33, 301, 501 and the tourist special route No.1 can be used to get there. Another elegant and quiet place is Liang Lei Xuan in the Listening to Maple Garden. Fine tea sets and various kinds are available there. It is open from 8:30 am to 12 pm. Use buses No.1, 8, 32, 38, 101, 102, 103 and the tourist bus No.4.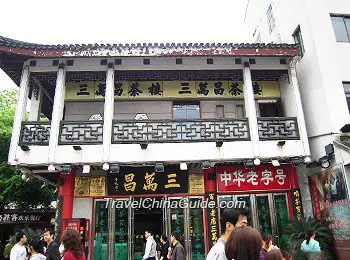 San Wan Chang Teahouse
Café
U.B.C. Coffee
Address: Dongda branch: No.5-8, South Street
Fenghuang branch: No.19, Fenghuang Street
Shilu branch: No.223, Changxu Road
Yuehai branch: No.8, Yue Hai Square, Guan Qian Street
Ming Tien Coffee Language
Address: Shilu branch: No.1, Guang Ji Road, Jin Chang District
Renmin branch: No.31, Renmin Road
Provence Coffee
Address: No.24, Wu Ya Chang, Shi Quan Street
Clubs and Pubs
Harry's Bar
Address: No.1-72, Xia Tang, Luo Gua Bridge, Lin Dun Road
Bai Du Bar
Address: No.208, Zhu Hui Road
Qi Lin Karaoke
Located at No.201, Shi Quan Street, Cang Lang District, it is one of the most popular KTV locations in Suzhou.
Music Space
Its unique design-like a space capsule-and reasonable price attract many customers.
Address: No.183, San Xiang Road, Jin Chang District

Read More:
8 Things to Do in Suzhou at Night
- Last updated on Apr. 15, 2020 -
Questions & Answers on Suzhou Nightlife
Asked by Sophie from USA | Sep. 18, 2016 07:36

Reply
How late do nightlife last in Suzhou?
Hi, I'll be arriving in pingjiang street around 9-10 PM on a Saturday at the lend of March. Will any restaurants/ street food etc be opened at that time in pingjiang street?
Thanks
Answers (1)
Answered by Edward from USA | Sep. 19, 2016 03:43

0

0

Reply
As I know, most shops close at around 21:00. Instead, you may go to Xiangmen Houzhuang Night Market on Moxie Road. You can find many shops and delicious local food there. ;)
Asked by Mr.selonan from INDONESIA | Mar. 06, 2011 07:37

Reply
Please inform the adress and email of me any teaching hospital(s) in suzhou?
Thanks
Answers (1)
Answered by Mr.Scott | Mar. 07, 2011 03:11

1

1

Reply
The First Affiliated Hospital of Soochow University
Address: 188, Shizi Street
Asked by Mr.Berry from CHINA | Nov. 17, 2010 01:43

Reply
Thinking about a teaching job in Suzhou what the cost of living like and how much would it cost to rent a 2 bed apartment
Answers (1)
Answered by Mr.Michael | Nov. 17, 2010 04:45

0

0

Reply
Hi, the prices various from 1600RMB-3000RMB, mainly depends on its location and the decoration. Some would be more expensive.