How to Book?
Inquiry
Get a quote
Free changes
Payment
Confirmation
Suzhou Tours
A city of classical gardens
A city of ancient water towns
A city also full of modern charms
Best Private Suzhou Tours
Tailor Your Private Suzhou Tour
144-Hour Visa-Free Transit Policy
China's 144-hour visa free transit policy, carried out in Shanghai Municipality, Jiangsu Province and Zhejiang Province, makes a layover tour in Shanghai and its surroundings without a visa much easier than ever before. Transit travelers from 53 countries or regions can benefit from this policy and move around the three regions with visa exemption. More specifically, Suzhou, Hangzhou, Nanjing, and water towns like Wuzhen, Zhouzhuang and Tongli are all great places for a layover tour. Contact us to know more and better plan your trip.
What are the things to do in Suzhou?
Visit Suzhou Gardens
What makes Suzhou an attractive place for many travelers is the city's classical gardens. It is also nicknamed the City of Gardens for possessing more than 60 gardens with some of the more well-known including the Blue Wave Pavilion, Lion Grove Garden, Humble Administrator's Garden and the Lingering Garden. These four gardens respectively show the artistic styles of the Song, Yuan, Ming and Qing dynasties. Often two or three gardens are sufficient for most visitors although each of them has its own features. If you are keen to architecture, history and scenery, Suzhou Gardens won't disappoint you.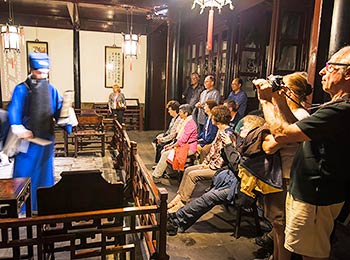 Enjoy the performance in the garden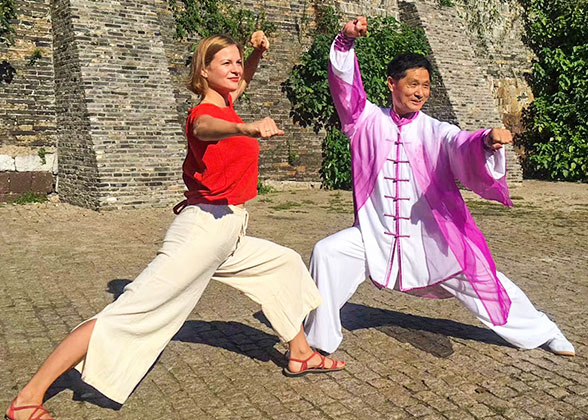 Learning Tai Chi in Suzhou
Explore the Water Towns in Southern China
When traveling to cities in the Yangtze River Delta, a trip to one of the ancient water towns is well worth experiencing. One can enjoy not only old streets, antique residential houses, charming waterscape, various bridges here but also traditional folk customs.

Some of the most popular water towns are Tongli, Nanxun, Zhouzhuang, Luzhi, Wuzhen and Xitang. Though built hundreds or even over one thousand years ago, these water towns have integrally retained their original style and historical charm. Only a short distance from Suzhou, any of these water towns makes a very good choice for a day-trip.
| Water Town | Trip Distance | Main Features |
| --- | --- | --- |
| Tongli | 40 minutes | Ideal to see garden-style architectures and stone bridges in a laid-back atmosphere |
| Xitang | 1 hour 15 minutes | The largest one which is abounding with old bridges, lanes and waterside corridors |
| Zhouzhuang | 1 hour | Rich in cultural landscape, the earliest developed and most popular one |
| Nanxun | 1 hour 15 minutes | Most tranquil, ancient buildings of Ming & Qing Dynasties, as well as western style architecture |
| Wuzhen | 1.5 hours | The liveliest, ride a small boat with black awning, amazing night views |
| Luzhi | 50 minutes | The smallest, less touristy, tranquil atmosphere permeates the place |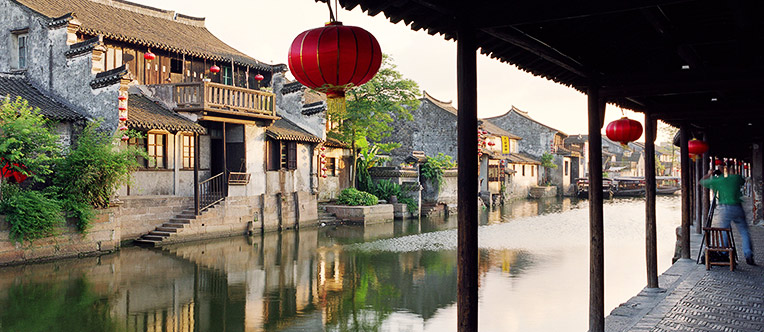 Visiting a water town may take you back to the ancient time of China
Travel to Famous Cities via High-speed Trains
The advanced high-speed rail network enables people to travel by train from Suzhou to the famous cities like Hangzhou, Shanghai, Nanjing and others from 30 minutes to 2 hours. If you have ample time, you may also extend your private Suzhou tour to these cities based on your interests.
Destinations
High Speed Trains
Travel Time
Shanghai
G7213, G7029, G7211, G7031...
93 departures from 06:37 to 22:22
25m - 46m
D3125, D2281, D3135, D3025...
22 departures from 05:27 and 22:43
28m - 59m
Hangzhou
G7581, G7355, G7587, G7591...
11 departures from 08:28 to 17:28
1h32m - 2h04m
D3125, D2281, D3135, D3141
4 departures from 08:03 to 13:36
1h45m - 2h10m
Nanjing
G7072, G7032, G7076…
87 departures from 06:17 to 22:18
1h12m - 1h57m
D636, D2206, D3072...
23 departures from 06:46 to 23:41
1h15m - 1h59m
Beijing
D312, D314 at 19:58 and 21:54
11h01m - 11h09m
Xian
D306 at 23:41
10h25m

The above schedules are only for your reference. If you wish to extend your Suzhou tour to other cities via train, please contact your travel consultant for more information.
What is the best time to visit Suzhou?
Best time to visit: March to May & September to October

Suzhou has a subtropical monsoon climate with four distinct seasons. The weather is often mild and moist, neither too hot nor very cold. As the seasons change, Suzhou Gardens greet visitors with different beauty. The exquisite garden architecture coupled with blooming flowers in spring, lush green trees in summer, glorious colors in autumn and silver-coated scene in winter will bring you unforgettable travel experience.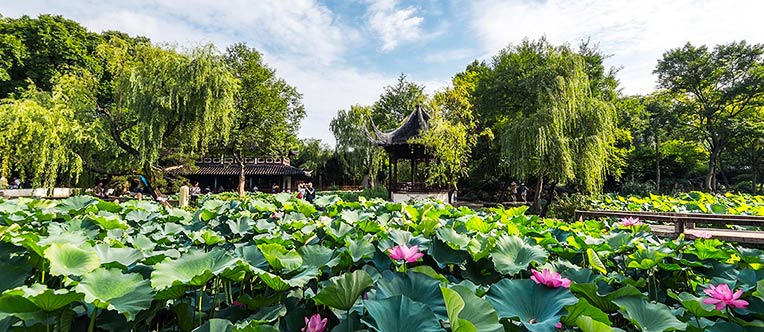 Welcome to Suzhou!
International Flights to China