One Day Suzhou City Tour
Suzhou Arts and Crafts Museum - Canglang Pavilion - Suzhou Old Town - Jinji Lake Scenic Area
In the morning, our professional guide and driver will meet you at the lobby of your hotel at the appointed time. Should you arrive in Suzhou this morning, we recommend that you do so before 09:00 a.m. and our guide will pick you up at the railway station. After a warm greeting, we will drive you to the Suzhou Arts and Crafts Museum to start this 1-day private Suzhou city tour. Afterwards, you will be guided to the Canglang Pavilion, which is actually a classical Chinese garden created during the Northern Song Dynasty (960 - 1127). Although we do not organize lunch, our guide is willing to recommend some good restaurants if required.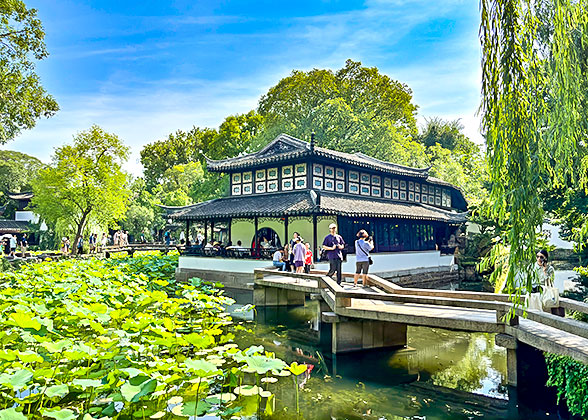 Canglang Pavilion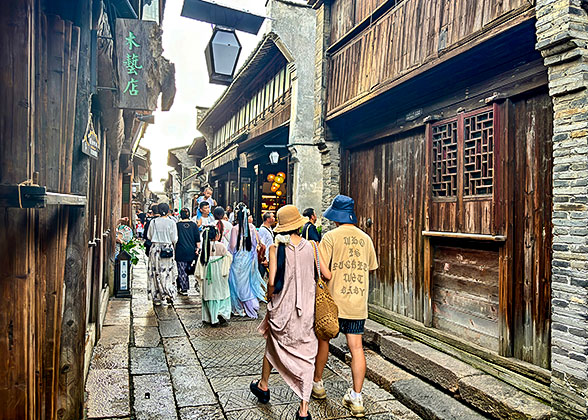 Visit the Suzhou old town by tricycle
In the afternoon, we will arrange a tour of the Suzhou old town for about 30 minutes by tricycle. This is an old quarter in Suzhou full of archaic constructions including ancient memorial archways, bridges, century-old wells and houses. Then, we will continue our tour itinerary to the Suzhou Industrial Park by a private drive. Alternatively, should you prefer, we can get there by metro which might feel like going through a 'time-travel' tunnel from the ancient days to the present Suzhou. Upon arrival, we will pay a visit to the Jinji Lake Scenic Area, as well as the prosperous Suzhou Center, and the European-style Moon Harbor around the lake.
Today's 1-day private Suzhou tour package comes to an end after enjoying lake views at the Moon Harbor. Then you will be transferred back to your self-booked hotel in downtown Suzhou. We hope you will have spent an enjoyable day.
Suzhou Arts and Crafts Museum
The splendid Museum of Arts and Crafts mainly consists of five exhibition halls themed by art treasure, embroidery, comprehensive engraving, sandalwood craft, and miniaturized landscape respectively. Over a thousand pieces of valuable exhibits are displayed in this museum including rare bronze wares of Wu State during the Spring and Autumn Period (770-476 BC), embroideries and jade wares from the Sui and Tang Dynasties (581-907), silk fabrics of the Song and Yuan Dynasties (960-1368), and elaborate musical instruments and costumes produced in the Ming and Qing Dynasties (1368-1911).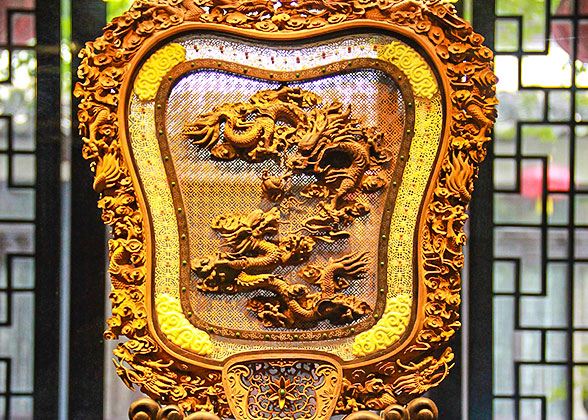 Suzhou Arts and Crafts Museum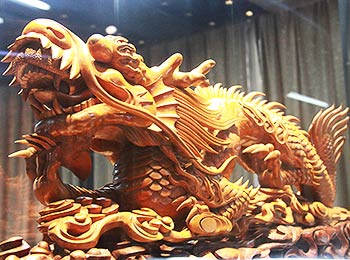 An exquisite art exhibited in the museum
Canglang Pavilion
Embraced by the river flowing on its periphery, Canglang Pavilion Scenic Area is a secluded traditional garden with not only well-decorated pavilions, elaborate bridges, artificial hills and strange rock formations, but also the outstanding natural landscape of green ponds and luxuriant plants. This is an ideal setting for a leisurely stroll.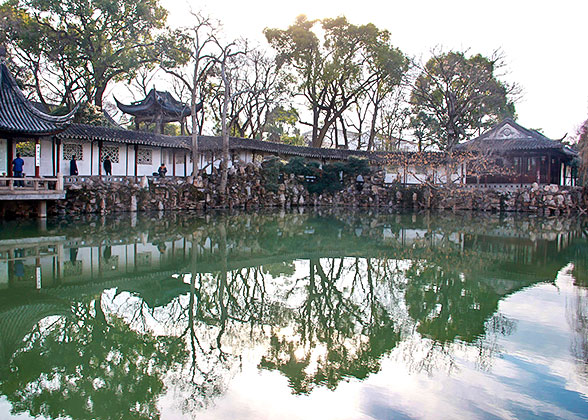 Enjoy the nice landscape in Canglang Pavilion Scenic Area
Jinji Lake Scenic Area
Located inside Suzhou Industrial Park, the graceful Jinji Lake is the largest urban lake in China. The azure sky interspersed with white clouds, grassy lawns, and high-end buildings including the Gate to the East and the Suzhou Center around the turquoise water together form this fantastic scenic area. From the Moon Harbor, you can have a full view of the incredible skyline along the bank of the Jinji Lake.
Tour Prices
| 1 traveler | 2-3 travelers | 4-5 travelers |
| --- | --- | --- |
| USD289 | USD169 | USD99 |
Prices are per person in US Dollars.

Price Includes
Private English-speaking guide
Private driver & air-conditioned vehicle
Entrance fees to tourist sites
Price Excludes
Hotel accommodation with breakfasts
Lunches and dinners
Tips or gratuities for guide and driver
Why Travel With Us
Itineraries you may also like: