Suzhou Shopping
In addition to its natural beauty, Suzhou boasts a number of excellent local products, ranging from snacks to exquisite handcrafts. A fan, a piece of embroidery or a box of local snacks will be not only an excellent souvenir of your journey but the best gift to take home to your friends and relatives. There is no need to visit a large number of shops in search of the best local products, because most of the larger shops have been in business for many years and offer high quality goods. Just enjoy your shopping!
What to Buy
Handcrafts
Su Embroidery
Su embroidery is one of the four major styles of Chinese Embroidery. Vivid depictions of animals, people, landscapes and flowers are popular themes of Su embroidery. Traditional embroidery is blended with fashionable contemporary elements, yielding a style of embroidery that is appreciated by both Chinese people and foreigners. You can enjoy more exquisite Suzhou embroidery in the Su Embroidery Museum, which is at No.262, Jingde Road.

Song Brocade
From ancient times, the silk produced in Suzhou has been considered among the best in China. As its name implies, Song Brocade, which is woven from the outstanding silk of Suzhou, is made in the style of the Song Dynasty (960-1279). Song Brocade, which is made in a variety of styles and serves many functions, is always elegantly designed and colored. If you want to learn more about the silk culture of the city and do some shopping, the Suzhou Silk Museum is a must. It is located at No.2001 Renmin Road and can be reached by buses No.1 and 102 and the tourist special buses No.1 and 2.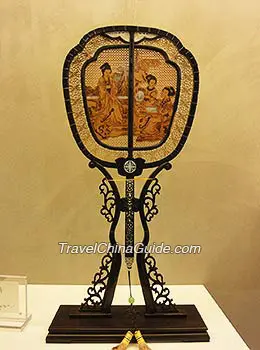 Suzhou Fan
Suzhou Fan
This is another of the fine handcrafts available in Suzhou. The traditional folding fans can be made of sandalwood or mandarin silk, while the newer style round fans are made of paper. They make good gifts for yourself or a friend back home.

Taohuawu Woodblock New Year Prints
Usually posted on exterior doors, Chinese New Year prints were originally used to exorcise the house of evil spirits. The combination of interesting subjects with woodblock printing helped this craft develop into a popular form of folk art. Incorporating auspicious themes that portray mother and child, local stories, religious motifs and well-known fables, Taohuawu Woodblock New Year Prints, which are internationally recognized, are created using a three-step process that requires the image to be drawn on paper, carved in the selected wood and then printed. You can purchase this Chinese traditional handcraft at No.190 Shantang Street.

Suzhou Writing Brush
Writing brush, ink stick, ink slab and paper are the four treasures of calligraphy in China. The special Huzhou writing brush that is currently produced in Suzhou, originated in Zhejiang Province. Brushes sold in the city today have incorporated a series of improvements, becoming a distinctive specialty of the area.

Other
Biluochun Tea
Biluochun green tea is produced in Wu County. It is one of the ten famous Chinese Teas and is noted for its smooth shape, fresh color, fragrant aroma and mellow taste. The best Biluochun tea leaves are picked during March and April, and the prepared tea leaves are curled like screws and covered with white fuzz. Production of authentic Biluochun tea is very limited, making it expensive and hard to find.
Where to Buy
Guanqian Street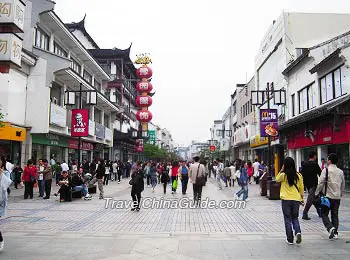 Guan Qian Street
Located in the central downtown area, it is the center of Suzhou commerce, due at least in part to the presence of shops that have been doing business here for many years. The Pine and Crane Restaurant, Cai Zhi Zhai and Huang Tian Yuan are all located here. Others, including Lu Gao Jian, which is noted for its unique meat products, and Sheng Chun Yang, which sells high-quality hams, are also famous in the city. If food is not on your shopping list, you can visit the Heng Fu Silverware Shop, which was founded in the Qing Dynasty (1644-1911) and enjoys an excellent reputation in China. For fashionable clothing, the Golden Eagle Shopping Center, located at No.1 Guan Qian Street, is your best choice.

Shiquan Street
Hotels, restaurants, clubs and pubs, fashionable clothes and splendid handcrafts are all available on this bustling street. Exquisite Su embroidery can be founded in Su Xiu Tang. Jin Sha Ge and Bo Gu Tang are two stores that sell antiques, pottery and porcelain. Chinese paintings and calligraphy are sold in Rui Guang Zhai. This street is also popular with young people looking for fashionable and reasonably priced Japanese, Korean, and European style clothing. Tourist special route No.2 and regular buses No.204, 47, 501, 931, 55 and 811 will take you there.
| | |
| --- | --- |
| San Wan Chang Teahouse | Golden Eagle Shopping Mall |
Tower Department Store
Clothing, shoes, cosmetics, watches, furniture and so on are assembled here. The environment is comfortable, and the service is professional.
Address: No.23-29, Renmin Road
Opening hours: 10 am-10 pm

Metro Shopping Mall
Address: No.245, Guan Qian Street
Opening hours: 9:30 am-10 pm from Sunday to Thursday
9:30 am-10:30 pm on Friday and Saturday
Supermarkets
Carrefour Supermarket
Address: No.183-184, San Xiang Road
Metro Supermarket
Address: No.579, Changjiang Road, New District
Trust-Mart Supermarket
Address: No.288, Dong Wu North Road, Canglang District
Buses: No.1, 102,101 and 103
- Last updated on Apr. 08, 2021 -
Questions & Answers on Suzhou Shopping
Asked by Ashley from MALAYSIA | Dec. 06, 2019 19:58

Reply
Minimart or Familymart available?
Is there any convenience store or familymart around at Suzhou area near Humble administrator garden? Thanks
Answers (1)
Answered by Adelaide from UNITED KINGDOM | Dec. 09, 2019 22:18

0

0

Reply
Yes, there is a Familymart that is located a No.153, Dongbei Street, Gusu District.
Asked by Tanya from CHINA | Sep. 12, 2019 01:10

Reply
Where is a good place to go to get prescription sunglasses in Suzhou?
Answers (1)
Answered by Erin from AUSTRALIA | Sep. 15, 2019 20:46

0

0

Reply
Maybe you can have a look in Ray Ban store, which is located in No. 211, Changjiang Road, Meiluo Mall.
Asked by Julia from ENGLAND | Aug. 24, 2019 03:00

Reply
Where is the best place to buy Wigs in Suzhou?
My mother is elderly and losing her hair. I have been told that you can purchase good quality Wigs in China at a reasonable price. Does Suzhou have any such shops?
Answers (1)
Answered by Petty from USA | Aug. 27, 2019 23:27

0

0

Reply
Well, you can go to Ruifeng Wig store, which is located at No.550, Shizi Street.
Asked by Morphy from POLAND | Aug. 23, 2019 16:31

Reply
Where I can buy electronics in Suzhou?
I'm looking for place where are many small vendors offering things like phones, mp3 players, phone accessories etc.


Answers (1)
Answered by Adolf from USA | Aug. 27, 2019 19:12

0

0

Reply
Maybe you can have a look at Wuqueqiao Road, Gusu District. There are many shops gathering along this road.