Suzhou Attractions - Things to Do
When Suzhou is mentioned, naturally, people will think of its abundant classical gardens. The ingenious man-made landscape and the concept of maintaining harmony between mankind and nature have gained a high reputation worldwide. Possessing wonderful gardens, exquisite water towns, charming natural scenery and splendid history and culture, the city is praised as 'a paradise on earth'.
Top Things to Do

Humble Administrator's Garden
(Zhuo Zheng Yuan)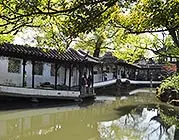 Being one of the four most famous gardens in China and the largest garden in Suzhou, the Humble Administrator's Garden is a masterpiece of classical gardens in South Yangtze River region. The garden is divided into three sections and each has its own features. The delicate pavilions and corridors, windows of various shapes, along with winding paths fully represent the skillful techniques of ancient gardeners. Meanwhile, the names of most structures in the garden have a connotation, usually conveying the former owners' wills or attitudes towards life.

Tiger Hill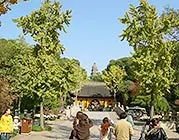 A noted poet Su Shi in Song Dynasty (960-1279) once said, "It's a lifelong pity if one visited Suzhou without going to the Tiger Hill". From his words, we can know what Tiger Hill means to the city. It's a luxuriant hill where the Tomb of King He Lu during the Spring and Autumn Period (770 BC-476 BC) is located. Besides, it abounds in precious cultural relics, including the Tiger Hill Pagoda, Sword Testing Stone and Sword Pool. The Buddhism culture, excellent landscape, profound history background, as well as the legendry tales all contribute to the charm of Tiger Hill.

Lingering Garden
(Liu Yuan)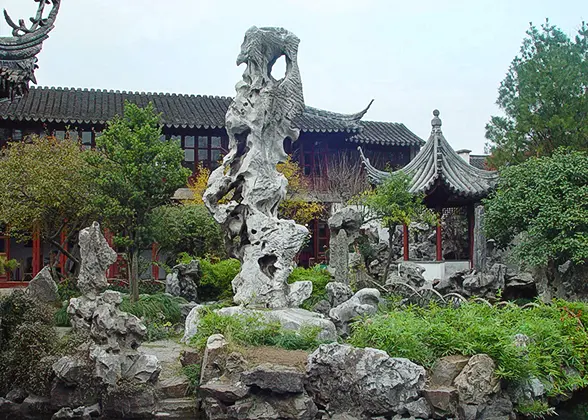 First built in 1593 during the Ming Dynasty (1368-1644), the garden has a long history of more than 400 years. In the Lingering Garden, buildings, trees and flowers blend harmoniously with their surroundings. Liu Shu, one of the previous owners, was an enthusiast for stone collection. He collected many unusually-shaped lake stones in the garden, among which Guan Yun Feng is the most precious one and gains honor for the garden.

Zhouzhuang Water Town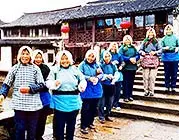 Zhouzhuang Water Town, inheriting the splendid culture of Wu State in the Spring and Autumn Period, is the best example of water countryside in China. There, you can enjoy a view like a Chinese landscape painting, just as what described by Ma Zhiyuan (a poet of Yuan Dynasty) in his lyric - a few houses hidden past a narrow bridge and below the bridge a quiet creek running. The pastoral waterside scenery and peaceful life will definitely enchant you.

Tongli Town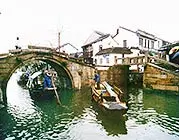 Only 11 miles (18 kilometers) from the downtown Suzhou, Tongli is a wonderful travel destination where you can experience the original water town life in rural China. As a land divided into seven sections by fifteen rivers, Tongli relies heavily on bridges for the sake of transportation. The antique bridges there are exquisite and well-preserved and the Ternate Bridges are the most famous of all. The locals have a tradition to walk on the three bridges on happy occasions. In addition, the residential houses and gardens are also very charming.

See more about
Top 10 Things to Do in Suzhou
12 Best Places to Visit in Suzhou
More Attractions

Canglang Pavilion (Blue Wave Pavilion) is the oldest Suzhou garden which can be traced back to more than 1,000 years ago.



Couple's Retreat Garden (Ou Yuan) was once dwelled by a couple seeking secluded life and thus got its name.



Guangfu Ancient Town is mainly reputed for the plum flowers blooming in the Sea of Fragrant Snow in early spring. Apart from this, there are interesting temples and handicrafts worth appreciating.



Hanshan Temple (Cold Mountain Temple) is one of the most famous Buddhist temples in Chinese history and boasts its bell rings.



Jinji Lake is the largest city lake park in China. It's a symbol of Suzhou as "New Paradise on Earth".



Lion Grove Garden (Shizilin) is known as "a Kingdom of Rockery", rich in various rocks resembling lions.



Luzhi Town is a peaceful and pristine land typically representing an ancient water town in lower reaches of the Yangtze River.



Mudu Ancient Town is a town full of fine structured gardens, including Yanjia Garden, Hongyin Shanfang Garden, Ancient Pine Garden and Bangyan Mansion.



Panmen Scenic Area, lying to the southwest of Suzhou, consists of Ruiguang (Auspicious Luster) Pagoda, Water and Land City Gates and Wumen Bridge.



Pingjiang Road is a historical block with old style Suzhou architectures and culture. It lies along an old canal and is comprised of many old alleys and featured stores.



Shantang Street (Seven-Li Shantang) is a riverside pedestrian street from Changmen Gate to the Tiger Hill, in parallel with the Shantang River.



Shaxi Ancient Town is an ancient water town with many folk houses built in Ming and Qing Dynastinies, ancient streets and bridges.



Suzhou Silk Museum unveils the secrets of making silks and is the best place to learn the city's prosperity of silk in the past.



Suzhou Museum is an attractive place famous for its rare cultural relics and unique architectural style.



The Master of Nets Garden (Wang Shi Yuan) is the best example of small and medium-sized gardens.



West Garden Temple was initially one part of the Lingering Garden, featuring sacred temples and beautiful landscapes.



Xuanmiao Taoist Temple (Temple of Mystery) is a place where you cannot only admire the majestic buildings, but also enjoy Taoist music and the flying cymbals performance.

Suzhou Zoo has many rare and endangered species such as Yangtze Giant Softshell Turtles and Ring-tailed Lemur.

Suzhou Zhongnan Center is the tallest skyscraper under construction in China up to now - 729 meters (about 2392 feet).

Sutong Yangtze River Bridge connects Suzhou and Nantong, is a grand highway bridge benefits a lot.

Suzhou Grand Canal provides a distinctive way to admire the old town.
- Last updated on Apr. 08, 2021 -
Questions & Answers on Suzhou Attractions
Asked by Judith from MALAYSIA | Apr. 29, 2019 08:40

Reply
Getting around Suzhou by Bus & subway/metro
Hi! I am planning a day trip to SZ in May and will be taking the high speed train from Shanghai. Could you please tell me how to get to the following places by bus or subway/metro:

1) Humble Administrator's Garden
2) Master of Nets Garden
3) Silk Factory No 1
4) Suzhou Embroidery Research Centre
5) Pingjiang Road
6) Shantang Road

Thank you.

Answers (1)
Answered by Alan from USA | Apr. 29, 2019 23:09

0

0

Reply
1. From Suzhou Railway Station to Humble Administrator's Garden, take Bus Line 40 from South Square of the railway station to Beiyuan Road. Then walk southwest about 300m to the garden. It takes about 30 minutes.

2. From Humble Administrator's Garden to Master of Nets Garden, you can walk south 400 to take Bus Line 529 from Suzhou Museum.

3. Metro Line 4 to People's Bridge South Station. Get out of the Exit 2B and walk northeast about 500m.

4. Is it in Jingde Road? If yes, you can take Bus Line 204 to Children's Hospital, Jingde Road.

5. Bus Line 501/529/811/55 are all available.

6. Metro Line 2 to Shantang Street, get out of the Exit 4 and then walk south about 400m.
Asked by Jane Bennett from UNITED KINGDOM | Sep. 14, 2018 06:08

Reply
Im going to Humble Administrators Garden, Lingering Garden and Master of Nets on Friday 12th October
how long do you have to queue for tickets at each place? Is there anyway to pre purchase tickets but still do the visits independently without a guide?
Answers (1)
Answered by Anne from NETHERLANDS | Sep. 14, 2018 22:58

0

0

Reply
Hi, at present, there isn't any English website for ticket booking in advance. Thus you need to go there earlier to purchase the tickets. It is hard to define the exact waiting time.
Asked by yap | Feb. 13, 2017 07:02

Reply
I will be traveling from Shanghai Airport to Suzhou.
Must i buy train ticket from airport on the spot or need to buy online better?
Traveling on weekdays. Where is the best hotel to stay at SZ with good location max budget 800rmb?
Answers (5)
Answered by Gavin from UNITED KINGDOM | Feb. 13, 2017 21:29

0

0

Reply
1. You are suggested to book the train tickets online in advance. However, the booking page doesn't have English version. You can ask help for TravelChinaGuide. They provide online train ticket booking service. If interested, the contact information is booking

travelchinaguide.com.
2. About the accommodation, you are advised to find a hotel nearby Guanqian Street. Lavande Hotel is a nice choice. The price is around CNY 300 per night in usual time. It has clean environment and warm service. The location is No.212, Guanqian Street, Gusu District. Hope you like.
Answered by Yap | Feb. 15, 2017 05:04

0

1

Reply
For Shanghai hotel i would prefer staying at Nanjing West Road. What is the best hotel/airbnb for 4 people to stay?
Budget and good location.

In addition, the train ticket at Shanghai and SZ subway ticket can share to use?
Answered by Angela from GERMANY | Feb. 16, 2017 02:54

0

0

Reply
You are suggested to check in Ruitai Hotel, near the Exit 1 of West Nanjing Road metro station.
If the SH smart card is of green, yellow, or red, it can also be used in SZ.
Answered by Yap | Feb. 16, 2017 20:48

0

0

Reply
The Shanghai transportation card can buy at shanghai station - can the transport card use for fast train to SZ and also use in shanghai metro later on?

TQ
Answered by Angela | Feb. 17, 2017 19:40

0

0

Reply
Well, the Shanghai smart card cannot be used on the train of SZ.
Asked by calvin from BRUNEI | Nov. 01, 2016 06:09

Reply
Is there any public bus available from Suzhou Railway Station to Chunting Holiday Inn Hotel?
The hotel is located at NO:601 nanhuan east road,Gusu district.
if so please provide the bus number and where is the drop off point?
thanks so much.
Answers (1)
Answered by Liam from FRANCE | Nov. 01, 2016 22:15

0

0

Reply
You can take public bus no.101 from Renmin Road and get off at South Bus Station first. Then you can easily find the hotel after arriving there.