The Master of Nets Garden (Wang Shi Yuan)
Sometimes the smallest package can contain the most magnificent gift. The Master of Nets Garden is a clear example of this. It is the smallest of the Suzhou residential gardens, yet it is the most impressive because of its use of space which creates the illusion of an area that is much greater than its actual size. Even more than the architectural achievement is the mood of tranquility and harmony that it embodies.
This exquisite Master of Nets Garden was first designed during the
Southern Song Dynasty
(1127-1279) as a residence for a government official. At that time, the garden was named "the Hall of Ten Thousand Books" because the owner housed numerous books in three studies within the garden. Later on, it went through vicissitudes in different dynasties until an official named Song Zongyuan bought and restored the garden around 1765 in the
Qing Dynasty
(1644 - 1911). It is said that in a moment of frustration with bureaucracy he declared that he would rather be a fisherman than a bureaucrat. Therefore, he changed the name of this garden to "Wangshi Yuan", meaning a fisher's garden in English, to express his will.
| | |
| --- | --- |
| Refined Layout of the Garden | |
The Master of Nets Garden is divided into three sections: a residential section, the central main garden and an inner garden. The main garden has a large pond that is surrounded by pathways and a variety of buildings such as the Ribbon Washing Pavillion (Zhuoying Shuige) and the Pavillion for the Advent of the Moon and Wind (Yuedao Fenglai Ting). There are many more buildings that are situated so that there is never a sense of crowding, but always of spaciousness. As is common in
Suzhou gardens
, the pond has a small pavilion in it. Here the pavilion is accessible by a bridge that is less than one foot wide.
| | |
| --- | --- |
| Wanjuan Hall, a study | Elegant Furniture of Ming and Qing Dynasty |
As you walk about the gardens and along the walkways, you can often see beautiful flowers or plants through delicate windows which frames the scenery from a distance and draw you to a single sight, a moment of peaceful natural beauty. As you walk through the buildings, it is easy to imagine the life that the original residents lived in a feudal society where these gardens were solely for their pleasure and the pleasure of their guests.
The various buildings are constructed so that you can always access the main garden from any room.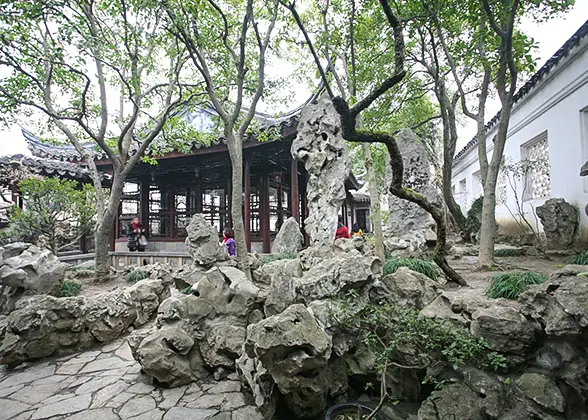 Dian Chun Yi
The rooms themselves are quite impressive in design and ornamentation and well represent the style of the Song Dynasty.
The inner garden Dian Chun Yi which is only about 660 square feet, has the distinction of being used as the model for the Ming Hall Garden at the Metropolitan Museum of Art in New York City and also completely miniaturized for an exhibit in the Pompidou Center in Paris in 1982. This garden is reputed to be the most well-preserved one in Suzhou and should not be missed. It is small in size, but is like a beautifully cut diamond whose beauty is of everlasting fascination and pleasure.
Transportation
1. Take bus no. 55, 202, 529, 811, or 931 and get off at Wangshiyuan Station.
2. Take bus no. 47, 204, 501, or 511 and get off at Wangshiyuan North Station.
3. Take tourist bus no. 2 and get off at Wangshiyuan West Station.
Suzhou Bus Search
Admission Fee
April, May, July, August, September and October: CNY 40
January, February, March, June, November and December: CNY 30
* Note:
1. Children below 3.9 feet (1.2 meters) can enter for free when accompanied by an adult.
2. Children between 3.9 and 4.9 feet (1.2 and 1.5 meters) can enjoy half price.
Opening Hours
Apr. 21 - Oct. 20: 07:30 to 17:30
Oct. 21 - Apr. 20: 07:30 to 17:00

Note: A Night Garden Tour is arranged daily from April 1 to October 31. Visitor can not only admire the night view of the gorgeous Master of Nets Garden, but also enjoy entertainment activities of local color, such as
Kun Opera
, Ping Tan (ballad singing) and dance performances. The admission hours of the Night Garden Tour are from 19:30 to 22:00. The ticket is CNY 100 per person and not available after 21:10.
- Last updated on Oct. 06, 2021 -
Questions & Answers on The Master of Nets Garden (Wang Shi Yuan)
Asked by Lee from MALAYSIA | Jun. 09, 2019 18:09

Reply
China Unicom nearby Xi'An Jiaotong Liverpool University, Jiangsu, Suzhou
Hi, may i know is there any China Unicom shop nearby or inside Liverpool University in Jiangsu
Answers (3)
Answered by Jimmy from NETHERLANDS | Jun. 09, 2019 23:04

0

0

Reply
I know there is one located at 1st floor, Wencui Plaza, No. 8, Xuetang Street.
Answered by Lee from MALAYSIA | Jun. 10, 2019 19:05

0

0

Reply
Is there any China Unicom branches nearby Suzhou Sun Plaza hotel, Shangtang street? or maybe at the train station?
Answered by Jimmy | Jun. 11, 2019 18:27

0

0

Reply
The nearest one is near No.1-12 Liuyuan Road, located northwest about 320m from the hotel.
Asked by Wong Hao from SINGAPORE | Jun. 05, 2019 03:25

Reply
Is there nearby metro station to Suzhou Wangshi Garden?
If yes, how Long do I need to walk from the station?
Answers (2)
Answered by Doris from SINGAPORE | Jun. 05, 2019 19:31

0

0

Reply
The nearest metro station is Beisita Station and it is 1km away from the garden, taking around 20 minutes.
Answered by Tom | Oct. 06, 2021 00:03

0

0

Reply
Sanyuanfang is the closest. In fact both Leqiao and Chayuanchang are closer than than Beisita.
Asked by nathania from INDONESIA | Apr. 28, 2019 08:14

Reply
How do i get to The Master of Nets Garden from Suzhou Ping Jiang road?
If by bus, where is the bus stop to wait at Ping Jiang road and?
and what is the bus stop name to drop off at the master of nets garden?
and how long is the frequency of the bus?
Answers (1)
Answered by Emilie from UK | Apr. 28, 2019 19:59

0

0

Reply
You can take Bus Line 501 at Vinegar Square Bridge Guanqian Street East 2(醋坊桥观前街东2) to North Master of Nets Garden (网师园北). The stop is in west of the Changfa Shopping Mall. It takes about 41 minutes and the frequency is around 20 minutes.
Asked by bro5 from CHINA | Mar. 07, 2016 09:51

Reply
I'm planning to go to Suzhou 11th-13th March.
Is this too soon in the year for the evening performances at Master of the Nets Garden?
Answers (2)
Answered by Cissy from CANADA | Mar. 08, 2016 03:07

0

0

Reply
That is right. The show is only on between Apr. 1 and Oct. 31 every year. If possible, change your travel plan.
Answered by bro5 from CHINA | Mar. 08, 2016 05:57

2

0

Reply
Thank you for your answer. Unfortunately I am only here for that time :(