Luzhi Town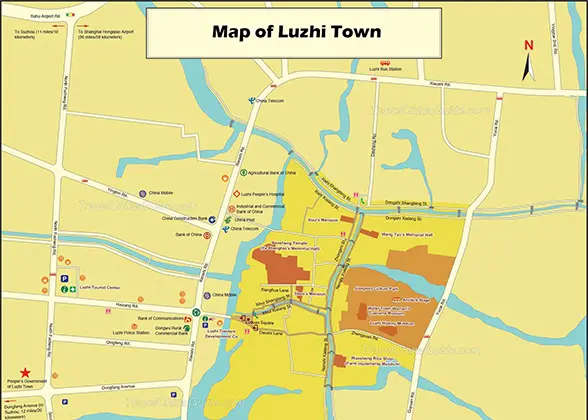 Map of Luzhi Town (Click to enlarge)
Located in Kunshan city about 11 miles (18 kilometers) east of Suzhou, Luzhi is an old but extremely beautiful water town. With a history of more than 2,500 years, it compares favorably to
Zhouzhuang Water Town
. Covering about 247 acres (100 hectares), it has been awarded the great name of 'the No. 1 water town in China'.
The natural beauty of the town is indescribable. Old stone bridges, limpid water, venerable maidenhair trees and old-style dwellings, as well as the traditional women's costumes, create an ideal 'civilized, rich, pastoral and harmonious' environment. Many travellers from all over the world enjoy the peace and tranquillity. In addition, the town is noted for several historical and cultural relics, such as Baosheng temple, the Wansheng Rice Company and the White Lotus Flower Temple built in the
Northern Song Dynasty
(960-1279).
Antique Bridges
The town's most notable features are its numerous quaint stone bridges, which were built in the
Song
,
Yuan
,
Ming
and
Qing
Dynasties. Owing to that, Luzhi Town deserves its reputation as a 'Museum of Chinese Ancient Bridges.' At one time, there were 72 bridges in the tiny town; 41 still exist and are well preserved. All of the bridges are different in design and style, but two are considered especially noteworthy.
Built in the Wanli era of the Ming Dynasty (1368-1644), Zhengyang Bridge (also called the East Bridge) is the biggest stone arch bridge in that town. It is known for being the first site in the town to receive sunshine in the early morning. Moreover, this old bridge is a vantage point for viewing the whole fascinating landscape of the water town.
Located on the eastern side of town, Dongmei Bridge (Chicken-Goose Bridge) is most famous for its unique structure and many Buddhist designs, which are listed in the history of Chinese bridges. It is a completely round bridge, half of which rests above the surface of the water and half of which lies below. The combination of Buddhist engravings and unique circular design makes this a very rare bridge definitely worth visiting.
| | |
| --- | --- |
| | Dongmei Bridge |
Jiangnan Culture Park
In the southeast of the ancient town lies a culture park, covering about 25 acres (10 hectares). The vivid rockeries, delicate bridges and murmuring rivers there all bring you to a typical garden in Jiangnan (Southern Yangtze River region). The reproduced Plum Blossom Villa, used to be one of the best tourist sites in Suzhou, bears profound cultural sense. An ancient stage stands in the center of the park. Traditional folk shows are often held there at weekends and on holidays. Besides, there is a riverside street where tea houses, bars, cafes and souvenir shops locate, providing a place to enjoy leisure time.
There is a Water Town Women's Costume Museum in the park, where you will be amazed by the distinctive traditional costume worn by women of the town. Their coats and trousers are characteristically pieced together using different cotton materials in a variety of designs. In addition to wearing these interesting clothes, local women are accustomed to wearing colorful kerchiefs and embroidered shoes.
Baosheng Temple
Built in 503, Baosheng Temple is a must-see historical site in the town. This old temple has a history of more than 1500 years. Its nine famous clay arhats were sculptured in the
Tang Dynasty
(618-907) and are still well preserved. Such arhats are not only rare in the region south of the Yangtze River but unique in the whole country. In addition, the temple boasts treasures from different dynasties, including a Buddhist stone pillar from the Tang Dynasty, a stone flagpole from the Northern Song Dynasty, a hall built during the Ming Dynasty and an iron bell from the Qing Dynasty (1644-1911).
Xiao's Mansion
Xiao's Mansion is the most integrated, well-preserved architecture dating back to the Qing Dynasty. Situated on Shangtang Street, the mansion was built in 1889 and represents a typical southeast China house of a rich family in the 19th century. Covering an area of over 1,200 square yards (1,000 square meters), the house is composed of dozens of rooms and a private lane named Xiao Lane. Visiting the house, you can relive the previous tenants' elegant life style.
Wansheng Rice Shop
Built in 1910, Wansheng Rice Store is an old-established rice shop that was once operated by two wealthy businessmen and now serves as the rice distribution centre for Luzhi and nearby towns. Many quaint antique agricultural tools are displayed for travellers to view.
| | |
| --- | --- |
| Wansheng Rice Shop | Local Women |
Luzhi is truly a peaceful and pristine land. Beautiful water, elegant stone bridges, and lovely women will take you into a fascinating world - one which you may enjoy so much that you forget to go home.

Transportation

From Suzhou:
1. Take
Rail Transit Line 1
and get off at the terminal Zhongnan Street Station. Go out via Exit 1. Then take bus no. 528 and get off at Xiaoshi Road Station.
2. Take bus no. 18 from Fengmen, bus no. 52 from Wuzhong Bus Station or Suzhou South Bus Station, or bus no. 518 from Suzhou Railway Station or North Bus Station and get off at Luzhi Bus Station.
Suzhou Bus Search



From Shanghai:
Take a bus from Shanghai Zhongshan Bus Terminal to the town. The bus departs about every one hour from 06:10 to 16:50, with a fare of CNY 17.



From Hangzhou:
Take a bus or train from Hangzhou to Suzhou. Then from Suzhou Railway Station or North Bus Station, take bus no. 518 to reach Luzhi Bus Station. From Suzhou South Bus Station, take bus no. 52.

Admission Fee
Free to enter the ancient town.
Combo ticket for scenic spots in the town: CNY 78
Zhanglin Garden: CNY 20
Boat
CNY 150 for a boat allowing four people
Opening Hours
The town is open all day long.
Opening hours of scenic spots in the town:
Spring, summer and autumn: 08:00-17:00
Winter: 08:00-16:30
* Note: Tickets sale stops 15 minutes before the closing time.

You May Like:

Guangfu Ancient Town

Mudu Ancient Town

Tongli Town

Shaxi Ancient Town

Zhouzhuang Water Town

Top 8 Suzhou Water Towns

12 Best Places to Visit in Suzhou
- Last updated on Apr. 08, 2021 -
Questions & Answers on Luzhi Town
Asked by Christina from HAWAII, USA | May. 01, 2018 22:13

Reply
Can you leave luggage in Luzhi? At the Xiaoshilo Bus station? Secure place to leave them for a fee?
We wanted to wander around for a few hours before we took a taxi to Tongli where we will spend the night.
I would rather not drag my suitcase thru the streets.
Answers (1)
Answered by Joe from USA | May. 02, 2018 03:16

0

0

Reply
Yes, you can leave them in the tourist service center, and it charges CNY8 for one bag, as I remember.
Asked by PaddyddaP from ITALY | Oct. 19, 2017 12:21

Reply
Luzhi to Shanghai
Hi, I paste here under Hank's post (Jan 17,2016) to understand whether it's still correct or we're supposed to use something different to travel from Luzhi to Shanghai

"You may walk east along Wangjiang Road for about 0.7 mile (or take a taxi) to Nangang Bus Station, and take bus Kunshan line 151 to Metro Huaqiao Station. Next, take metro line 11 from Huaqiao Staton to Jiangsu Road Station....."

Does anyone know how often (at what times if possible) this bus Kunshan Line 151 to Metro Huaqiao pass at Nangan Bus Station? How long can it take from Nangan Bus St to Metro Huaquiao Station (just to manage as we don't speak any Mandarin..)? When is the last bus to Metro Huaquiao Station? And, last question, when does the Metro line 11 stop in the night? 10, 10.30?

Thanks so much for answering


Answers (1)
Answered by Nicole from USA | Oct. 19, 2017 22:35

0

0

Reply
First, I would like to give you're my suggestion.
You can walk to Xiaoshilu Bus Stop in the town, and then take bus BRT5 to SZ Railway Station, and it takes about 1 hour, CNY1. The bus is available from 5:20 to 20:00.
After that, take a bullet train to Shanghai, which takes about 30 minutes. The last train leaves at 22:43.

Then answers for your questions.
As I know, Kunshan 151 is available from 5:50 to 18:30 with interval of 30 minutes. It takes about 1 hour to Huaqiao.
The last metro line 11 leaves at 21:51 from Huaqiao.
Asked by nicola from MALAYSIA | Aug. 30, 2017 01:21

Reply
Is Tongli or Luzhi easier to get to from Suzhou Railway Station?
Appreciate advice on the above, we are staying overnight at SZ and would like to visit one of the watertown, they both look about the same - so down to travel convenience and cost, thank you
Answers (2)
Answered by Enzo from UNITED KINGDOM | Aug. 30, 2017 02:45

0

0

Reply
Tongli has easier access. At the North Square Bus Station near the railway station, many buses are scheduled to Tongli from 06:10 to 17:20. It will take 30-40min and cost CNY8 per person. While for Luzhi, only two buses are on schedule at the same bus station.
Answered by chris from CHINA | Dec. 19, 2017 19:42

0

0

Reply
Tongli is directly accessible by metro line 4.
Asked by LEIGHN | May. 11, 2016 21:47

Reply
My friends and I are hoping to visit Luzhi this weekend. What is included in the combo ticket?
We were hoping to wander without spending money on it, but I'd like to know what costs money before we get there.

Thank you!
Answers (1)
Answered by George from USA | May. 12, 2016 04:03

1

0

Reply
The combo ticket includes Baosheng Temple, Cultural Relics Hall, Memorial Hall of Wang Tao, Wansheng Rice Store, Clothes Hall, Xiao Family Courtyard and Shen Family Courtyard. And the ticket fare is CNY 78 per person.