Shantang Street (Seven-Li Shantang)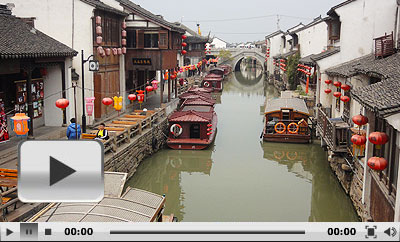 Pictures
Shantang Street, an ancient riverside pedestrian road in northwest Suzhou, Jiangsu, is very popular with tourists. From Changmen Gate (the west gate of the ancient city) in the downtown, it winds northwest on the northern bank of the Shantang River, and ends at scenic Tiger Hill. It extends about 2.2 miles (seven li), hence the name 'Seven-Li Shantang'.

In 825, Bai Juyi, a renowned Tang Dynasty (618 - 907) poet, was transferred to Suzhou as the governor. There and then he inaugurated the Shantang River canal project. Later, a road parallel with the river on the north bank was constructed. These made Shantang block into a busy transport and commercial hub. The Shantang Street is cited as 'the First Street in Suzhou' mainly for three reasons: a history of nearly 1,200 years; representative of the local streets and alleys; and associated with distinguished people and events.

Shantang Street can be sectioned into two by Bantang Bridge. The east part, from Duseng Bridge in Changmen, is built up with houses and shops; while the west part, from the Tiger Hill, is natural landscape. The entire block features typical characteristics of south China in the lower reaches of the Yangtze River. The clear river meanders along under small arched bridges interspersed with wooden boats adrift, passing numerous old residences and shops on the bustling street. All the above is a picturesque rendering of a beautiful ancient water town in south China. It is ideally a place to stroll, try all kinds of local snacks and pick up souvenirs. You should go boating to take in the street scene from a different angle.

When night falls and the red lanterns glimmer below the eaves, it becomes hard to resist. Tourists could not help exclaiming, 'Yes, this is Suzhou!'
| | |
| --- | --- |
| Shantang Street | Cruise in the River |
Old Shantang Street
The old street sector is about 395 yards (360 meters) long. Although it fills only one tenth of the length, it has the essence of the Shantang block and is called the 'miniature of the old Suzhou' and the 'window of Jiangsu culture'. It was a commodities hub, where merchants conducted business and community staged folk activities. It was one of the most eventful streets in
Ming
(1368 - 1644) and
Qing
(1644 - 1911) Dynasties. Qing Emperor Qianlong liked the Shantang Street very much. When he toured Suzhou in 1762, he left words to praise the wonderful scene. It was engraved on a stele that is still kept at the entrance of the street. He even built an imitation '
Suzhou Street
' in the imperial garden
Summer Palace
in Beijing.
| | |
| --- | --- |
| Charming Night Scene Along the River | Tonggui Bridge |
Nowadays the street reflects prosperity of both the present and the bygone era, with numerous shops and commercial guild halls. Tourists can try various snack shops with time-honored brands, including Caizhizhai, Wufangzhai and Qianshengyuan. There are also many specialty shops selling featured souvenirs like wood engravings, stones carvings and embroideries.
Tonggui Bridge
There are eight side bridges on the riverbanks and seven bridges spanning across the river, and the most famous one is Tonggui Bridge, a single arch stone bridge. It is 21 yards (19 meters) long and 2.5 yards (2.3 meters) wide. Looking like a half moon, the arch of bridge and its shadow in the water form a perfect circle. The bridge is not unique, but it is the most photographed. It is worth a boating trip to experience the life of ancient residents there.
Yuhan Hall
To the southwest of the Tonggui Bridge lies the Yuhan Hall, the former residence of Wu Yipeng, a famous Ming Dynasty official.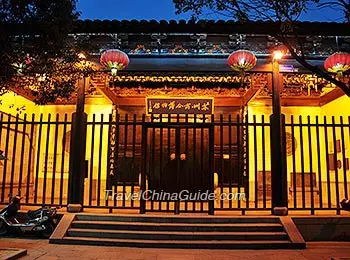 Commercial Guild Museum
Antai Fire Fighting Team
To prevent fire accidents in the busy and narrow street, a fire fighting team was established in 1925. Now its headquarters become a museum showing the old fire fighting equipment.
Commercial Guild Museum
Commercial guild halls are offices for merchants from other places around China, mainly for the establishing contacts. Usually there are stages, wing-rooms, halls and even gardens. Since Shantang Street was one of the biggest Qing Dynasty commercial centers in southeast China, commercial guild halls abounded. A museum was built in 2005 to display the history of the commercial guilds and the commercial culture of Suzhou.
Transportation

Take
metro line 2
and get off at Shantang Street Station.

Take bus line 7, 34, 44, 64, 85, 161, 304, 315, 317, 318, 406, 415, 522, 921, 970 or 980, and get off at Shantang Street Station.
Suzhou Bus Search
Admission Fee & Opening Hours
The block is free of charge and open all day long.
There are some sites which open from 8:30 to 17:00, and need admission fee. Visitors can buy a combo ticket (CNY 45; before 16:30) for the following sites: Yuhan Hall, Quanzhou Commercial Guild Hall, Shaoxing Commercial Guild Hall, Ancient Theatrical Stage, Shantang Pavilion, Antai Fire Fighting Team, and Jiangnan Tailoring Museum.
* Children of 3.9 - 4.9 feet (1.2 - 1.5 meters) enjoy half price tickets; children below 3.9 feet (1.2 meters) can enter for free.
Boating

Common Tour Boat: CNY 25 per person; 45 minutes.
Manual Ship: CNY 100 per boat (a boat can hold eight people)
Hours: 8:00 to 21:00 (tickets for day boating before 17:00, and tickets for night boating after 17:00)
- Last updated on Apr. 08, 2021 -
Questions & Answers on Shantang Street
Asked by Jess from MALAYSIA | Oct. 27, 2017 19:51

Reply
Where to take the common tour boat at Shantang Street
Common Tour Boat: CNY 25 per person; 45 minutes.
Answers (1)
Answered by Kayla from SINGAPORE | Oct. 29, 2017 22:53

1

0

Reply
As I know, the port is in the opposite of Ancient Stage (Guxitai in Chinese), you can ask other to find it.
Asked by muly from INDONESIA | Mar. 28, 2017 00:01

Reply
How to go to Suzhou Railway Station from Shantang Street?
And how to go to the street from Master of Nets Garden?
Answers (2)
Answered by Oliver from USA | Mar. 28, 2017 04:30

1

0

Reply
1. Walk northwest around 600 yards to get to Shantang Street Station. Take subway line 2 from there to the Main Railway Station directly.

2. From the scenic area, walk northeast around 350 yards. Take public bus no.501 to Shangtang Street. After arriving, walk northeast around 450 yards to find Shantang Street.
Answered by muly from INDONESIA | Mar. 28, 2017 09:12

0

0

Reply
thank you
Asked by james from USA | Jan. 03, 2017 20:45

Reply
Silk Embroidery Shops
I plan to visit Suzhou this summer for a work assignment. Where can I go to purchase top quality silk embroideries?
Answers (1)
Answered by Edward from FINLAND | Jan. 04, 2017 01:34

0

0

Reply
You are advised to go to Guanqian Street. There are many stores selling silk embroideries. You can surely find some beautiful products. :)
Asked by Happy from USA | Jul. 23, 2016 12:51

Reply
Shantang St Night Lamp in Suzhou
what time night lights get turned off at night?

1. Without the lights, can we walk around the street?

2. Or we have to stay in Hotel to be safe?

3. I can't decide the hotel to stay. Guanqian st or ST st?


Answers (1)
Answered by David from IRELAND | Jul. 23, 2016 22:14

0

0

Reply
Generally speaking, the street lamps will be lit at night, and ST and Guanqian Streets are busy commercial areas, so it will be safe for you to walk around at night. I suggest you live in Guanqian Street, where you can access to hotels in different standards.