Summer Palace (Yiheyuan)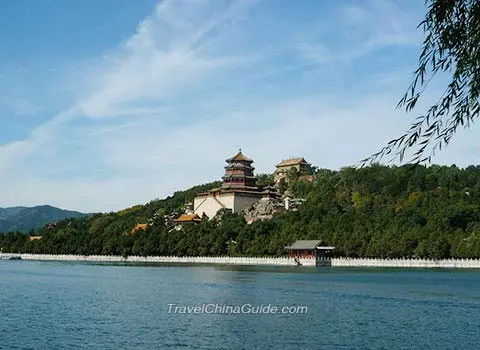 Summer Palace, Beijing


Pictures

Video

3-Day Private Beijing Tour from

$255

4-Day Private Beijing from

$499
Situated in the Haidian District northwest of Beijing, Summer Palace is 15 kilometers (9 miles) from the downtown area. Being the largest and most well-preserved royal park in China, it greatly influences Chinese horticulture and landscape with its famous natural views and cultural interests, which also has long been recognized as 'The Museum of Royal Gardens'.
Yiheyuan radiates fully the natural beauty and the grandeur of royal gardens. Composed mainly of Longevity Hill and Kunming Lake, it owns over 3,000 man-made ancient structures, including pavilions, towers, bridges, corridors, etc.
Summer Palace Facts
Location: in the western outskirts of Beijing, 15 km (9.3 mi) from the city center
Area: 290 hectares (717 acres)
Age: almost 270 years
Best time for visit: summer
Recommended Time for a Visit: half a day

Summer Palace History

In 1750, the construction of the lavish royal garden started to prepare for the birthday ceremony of Emperor Qianlong's mother, with the original name being 'Qingyi Garden' (Garden of Clear Ripples).



In 1869, like most of the gardens in Beijing, the Summer Palace could not elude the rampages of the Anglo-French Allied Force and was destroyed by fire.



In 1888, the garden was reconstructed and renamed as the Summer Palace (Yiheyuan). It was recorded that Empress Dowager Cixi embezzled navy funds to reconstruct it as a resort where to spend the rest of her life.



In 1900, Yiheyuan suffered another hit by the Eight-Power Allied Force and was repaired in the next two years.



In 1914, it was open to the public.



In 1998, the Summer Palace ranked amongst the World Heritage Sites by UNESCO, as well as one of the first national AAAAA tourist spots in China.


The Summer Palace can be divided into four parts: the Court Area, Front and Rear Area of Longevity Hill, and Kunming Lake Area.
Court Area
It is located in the northeast of the Summer Palace, and it spreads from East Palace Gate to the northeast coast of Kunming Lake. This was a substitute where Empress Dowager Cixi and Emperor Guangxu met officials and conducted state affairs. With the same pattern of the imperial palace of China-'Palace in front and garden behind', the Court Area consists of sections for both court affairs and living. East Palace Gate and Hall of Benevolence and Longevity served as office of the Emperor. The Hall of Jade Ripples was for Guangxu to live in and the Hall of Joyful Longevity for Cixi. There are also the Garden of Virtue and Harmony where Cixi was entertained and Yiyun Hall where once lived the Empress Longyu. Moreover, this area is an integrated transport hub and the first best stop for visitors to enjoy attractive view of Kunming Lake and Longevity Hill.
This is the most magnificent area with the most constructions. It is symmetrically laid out in east and west many delicate buildings and graceful gardens with the south-facing Tower of Buddhist Incense as the central axis. Walking up to the hilltop, on which lots of important buildings are positioned, including Hall of Dispelling Clouds, Hall of Moral Glory, Baoyun Bronze Pavilion, Revolving Archives, Hall of the Sea of Wisdom, etc.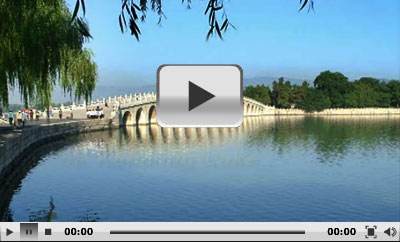 The area covers a larger part, and opens up the vista of Kunming Lake, as well as the sights around Back Lake (Houxi River). East Causeway of the lake is connected to the West Causeway by Long Gallery, which both were interspersed with pavilions, bridges and wharfs. Famous attractions amongst this area are numerous, including Seventeen-Arch Bridge, Bronze Ox, Nanhu Island, Hall of Embracing the Universe, Spacious Pavilion, Pavilion of Bright Scenery, Marble Boat, Suzhou Market Street, etc. As breeze fluttering, waves gleam and willows kiss the ripples of the vast water, the highlights can't be let off from any of the delightful scenery above.
Rear Area of Longevity Hill
It is quiet as compared to Front Hill Area in Summer Palace. Most constructions were never able to be repaired after wars, only a few ruins are left. In the axis of Rear Hill Area, there used to be a religious building group-Houda Temple, a composite structure with both Han and Tibetan characters. Although the constructions are fewer here, it has a unique landscape with dense green trees and winding paths. Strolling here, visitors can feel a rare tranquility and elegance. Famous scenic spots include Garden of Harmonious Interests, Hall of Increasing Longevity, Four Great Regions, Presence of Virtue Temple and Hall of Serenity, etc.
By Bus:
To the East Palace Gate: Take bus 303, 331, 332, 346, 508, 579, or 584, and then get off at Yiheyuan Station; or take bus 384, 394, 563, 594 or 601 to Poshangcun. After that, walk west for about 200 meters (220 yards) to the gate.

To the West Gate: Take bus 469 or 539 and get off at Yiheyuan Ximen (Yiheyuan West Gate) Station.

To the North Palace Gate: Take bus 303, 331, 346, 394, 563, 584, 594 or Singtseeing Bus Line 3, and get off at Yiheyuan Beigongmen (North Palace Gate) Station; or take bus 332, 384, or 601 to Beigongmen Subway Station.

To the New Palace Gate: Take bus 74, 374, or 437, and get off at Xin Jian Gong Men (Yiheyuan New Palace Gate) Station.

By Subway:
1. Take line 4 to Beigongmen, and exit from D. After that, walk west for 3 minutes to the North Palace Gate.
2. Take line 10 to Bagou Station. Then take Western Suburban Line to Yiheyuanximen Station. Walk north for 4 minutes to the West Gate of Summer Palace.
3. Take line 4 or line 16 to Xiyuan and leave from exit C2. Walk west for about 15 minutes to the East Palace Gate.
Beijing Bus / Subway Search



Ticket Type
Price (CNY)
April to October
November to March
Entrance Fee
30
20
Dehe Garden
5
5
Tower of Buddhist Incense
10
10
Wenchang Hall
20
20
Suzhou Street and Danning Hall
10
10
Combo Ticket
60
50
Recommended Time for a Visit
3 hours
Note: Free for children under 1.2 meters (3.9 feet).
Summer Palace Beijing Hours
April - October
November - March
Entrance: 06:30 - 18:00
* Scenic spots are open from 08:30 to 17:00.
Entrance: 07:00 - 17:00
* Scenic spots are open from 09:00 to 16:00.

Top Thing to Do Nearby Summer Palace:
Imperial Waterway Cruise

Top 10 Places to Visit in Beijing
Print

- Last modified on Aug. 15, 2019 -
Questions & Answers on Summer Palace
Asked by Laura Mairs from UNITED KINGDOM | Jul. 20, 2019 15:17

Reply
how long does it take to get to the summer palace by bus or by subway from downtown Beijing?
Answers (1)
Answered by Paz from USA | Jul. 22, 2019 01:31

0

0

Reply
Downtown area is not a concrete area. Could you be more specific?
Asked by VERONICA from ITALY | Jul. 11, 2019 02:46

Reply
Hi! I found generic and discordant information about service luggage in Summer Palace.
I read that there is no luggage storage room at the ticket office but someone said that is a luggage room nearby. Can anyone be more specific? Where exactly is this luggage storage room?
Answers (1)
Answered by Faye from USA | Jul. 11, 2019 19:23

0

0

Reply
They might store their luggage in the nearby hotels.
Asked by Ling ferrer from PHILIPPINES | Jun. 02, 2019 20:54

Reply
Is Beijing Summer Palace open on Mondays?
Answers (1)
Answered by Mandy from USA | Jun. 03, 2019 23:10

0

0

Reply
Yes, it opens every day.
Asked by Tayakee from THAILAND | May. 13, 2019 03:08

Reply
Which gate is the nearest to Beijing Dongsi station?
Hi, there. Which gate is the nearest to Dongsi subway station?
I mean i will go there by starting from Dongsi station.
Answers (2)
Answered by Anna from AUSTRALIA | May. 13, 2019 21:10

0

0

Reply
Take Metro Line 6 from Dongsi to Pinganli Station and then transfer to Metro Line 4 to Beigongmen Station. Walk west about 450m to the North Palace Gate.
Answered by Tayakee from THAILAND | May. 14, 2019 06:44

0

0

Reply
Thank you.
Asked by Ronit from ISRAEL | May. 11, 2019 12:24

Reply
Hi, is it possible to get to the summer palace by the subway from the Beijing Capital Airport?
If not, how long could it take traveling from downtown, using public transport? Thanks!
Answers (1)
Answered by Kara from NETHERLANDS | May. 13, 2019 01:04

0

0

Reply
Take Airport Express to Sanyuan Bridge first and then take south 150m to take Metro Line 10 (Circle Line) to Haidian Huangzhuang. After that, transfer to Metro Line 4 to Beigongmen. Get out of the Exit D and walk west about 450m to the Summer Palace. It takes about 80 mins and costs around CNY30.