Bronze Ox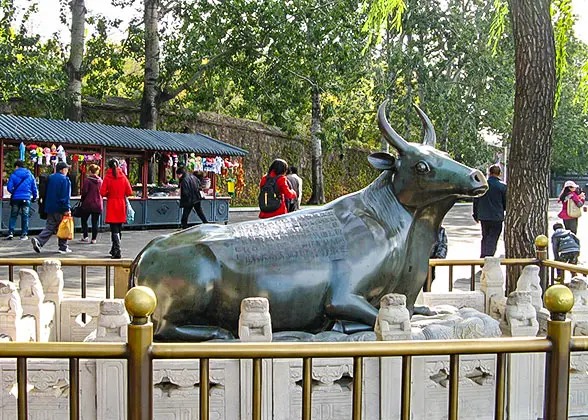 A life-size bronze ox set on a bluestone wave-lined pedestal overlooks the east shore of
Kunming Lake
. The ox was cast in the image of a live creature in 1755. On its back is an inscription explaining the significance of the bronze ox. The ox was placed on the bank of the lake in hopes of preventing flooding forever.
The ox is said to possess flood control powers.
Da Yu
, the legendary master of flood prevention, would commit an iron ox into the water on completion of every one of his projects. Oxen were praised as good swimmers, muscular, hardworking and easygoing. It has become customary since the Tang Dynasty (618-907) to line the edges of waterways with oxen. Hence this bronze ox was on the bank, too. This Bronze Ox, sitting beside the water and overlooking the harmonious and enchanting lake, is rather imposing. The Emperor Qianlong (1711-1799) personally dedicated this particular bronze ox. On the back of the ox is an 80-character-posy in seal character - 'Golden Ox Inscription' by him.
About its origin, there is another story. The Emperor Qianlong compared Kunming Lake to the Milky Way, and himself to the Jade Emperor. According to the Chinese legend 'Niulang (cowboy) and Zhinu (weaver girl)', the emperor built this bronze ox to symbolize the cowboy and a marble tablet carved 'Zhi Geng Tu' (picture of farming and weaving) as a sign of the weaver girl. This tablet was lost during the sacking of the Eight-Power Allied Force. During the extension of the Summer Palace, the Empress Cixi ordered the Zhinu Pavilion to be built near the
Marble Boat
, which faced the bronze ox across the lake. This arrangement cleverly implied the touching story of Cowboy and Weaver Girl.
The bronze ox was originally gilded with gold foil. It was usually called the 'gold ox' but the gold foil was peeled off when the Summer Palace suffered from despoiling. It is said that another use of the bronze ox was to monitor the water level. The groundwork of Kunming Lake's east bank was built ten meters higher than the Forbidden City. Bursting of the east bank would mean that the Forbidden City would be in danger. For the convenience of water level observation, the bronze ox was set here.
This bronze ox, by adopting a realist's approach, has become an integral part of the surrounding environment. It is the largest of its kind in existence in China, reflecting the excellence of casting techniques in ancient China. Today, many visitors to the Summer Palace like to have a photo taken with this 'old ox', and the vividly molded bronze ox has become an important part of the human landscape of the park.

Next: Marble Boat

Related Link: Summer Palace Travel Tips