Hall of Jade Ripples (Yulantang)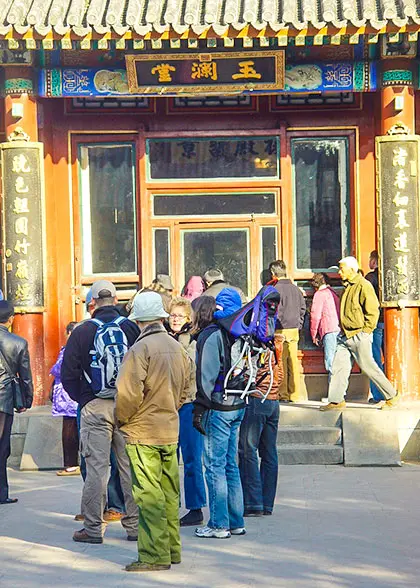 Hall of Jade Ripples
Next to the Hall of Benevolence and Longevity to the east and the Garden of Virtue and Harmony in the north, the Hall of Jade Ripples was originally built in1750 during the Reign of Emperor Qianlongfor the purpose of dealing with state affairs. It was rebuilt in 1892 during
Emperor Guangxu
's reignand used his living quarters. Constructed in traditional Chinese"sanheyuan" style(with a main hall in the middle and twoannex halls beside), this courtyard took the name of the main hall from a verse of Lu Ji in the Jin Dynasty (265-316):"Jade spring with rippling water".The main hall is south-facing with penthouses on either side and the back door of the hall leads to Yiyun House. The annex hall in the east is named Xiafenshi and another in the west is Ouxiangxie, both of which have back doors with the former leading to
Hall of Benevolence and Longevity
and the latter to Lake Front Wharf. Couplets hang on the columns of the halls reflecting the beauty of this courtyard.
Hall of Jade Ripples is also notable for a historical event -after the failure of the Reform Movement in 1898, Emperor Guangxu, who advocated reform, was put under house arrest here by
Empress Dowager Cixi
. The Reform Movement, also known as the "Hundred Days Reform", was aimed at reforming the outdated feudal system and creating a new edict. However, because of sharp disagreements between Guangxu and Empress Dowager Cixi as well as their fellows, the movement only lastedfor 103 days. Emperor Guangxu was consigned to the Hall of Jade Ripples, and his six associate reformists were beheaded. In order to prevent him from escaping and accessing the outside world, brick walls were built in both annex halls so that both exits in the east and west were blocked. To the south, Cixi assigned eunuchs to watch himcontinuously. Although most of the walls have been dismantled now, a vestige of them can still be seen, as a witness of that part of Chinese history.
| | |
| --- | --- |
| | |
The interior of the hall is furnished with hundreds of precious antiques, most of which were made in the Reign of Emperor Qianlong, such as the desk and the throne. These are rosewood framed and sandal wood centered with exquisite carvings. The screen behind the throne is composed of two layers of glass painted with both traditional Chinese and Western landscapes. On the desk, necessities for studycan be found, especially the four stationery treasures of China. During that time two annex halls were furnished with many precious objects, such as the Arhat Bed, the screen wall, the fans crossed behind the throne, kang table, an insert screen, and so on.
However, according to record, after the Reform Movement, Hall of Jade Ripples was mainly furnished with ordinary furniture, as only 105 pieces of furnature remained. Also, objects that were set out in the two annex halls were moved due to the walls built in 1898. After the foundation of the People's Republic of China in 1949, all furnishings in the yard were restored, to combine characteristics of both Qianlong and Guangxu periods.

Next: Yiyun House

Related Link: Summer Palace Travel Tips