Hall of the Sea of Wisdom (Zhihuihai)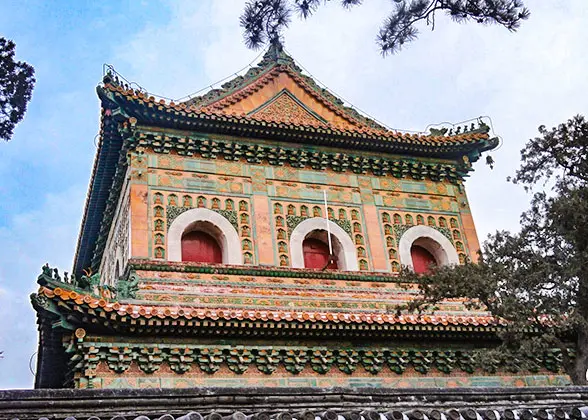 Hall of the Sea of Wisdom
On the slope north of the Tower of Buddhist Incense, there is a complex of buildings which is an outstanding domain on the hill crest. First comes a splendid archway with yellow glazed titles based on a marble pedestal. The gateway is called the Realm of Multitudinous Fragrance (Zhong Xiang Jie), a name for a Buddhist kingdom. Then here is the Hall of the Sea of Wisdom, the building on the topmost of the
Longevity Hill
.
Hall of the Sea of Wisdom is a two decked religious building first built in 1750 during the reign of Emperor Qianlong (1711-1799). It imitated the wooden architecture's appearance, but was made of brick and stone without a single beam to support the weight of the hall. Without any timber beams, and was also known as "No Beam Hall".
This building is always eye-catching for shining glazed bricks all around it. Not only the roof but also the walls were stuck on colorful glazed titles and bricks, in yellow and green with purple and blue strips. There are several real and virtual arch gates made of marble gate on façade and the back of the hall. Exquisite glazed Buddha statues in rows were inlaid on the wall around the arch gates. A total of 1,008 of these statues are the highlight making this building especially unique.
Realm of Multitudinous Fragrance and Hall of the Sea of Wisdom survived the war fire in 1860 for they were not made of wood, but the holy statue of Amitabha Buddha inside and those small glazed statues decorated on the wall couldn't escape, losing their hands and heads, which are usually the most exquisite part of a Buddha statue. They were repaired finally, but not as lustrous as they used to be.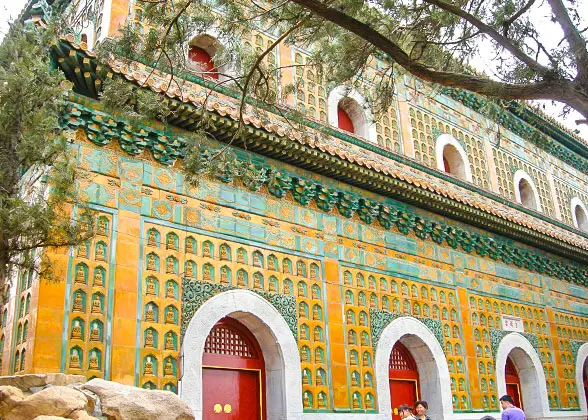 Small Buddha Statues outside the Hall
In "the Sea of Wisdom", there worships a statue of Guanyin (the Goddess of Mercy) in a sitting posture. The statue sits upright on the lotus throne with a pure jade bottle in one hand and willow leaves in the other. In the niches on both sides of the entrance to the hall, there sit respectively the statues of Manjusri and Samantabhadra which are said to be cast in the reign of the Emperor Qianlong. There are many beautiful mural paintings on the inside walls, mainly depicting auspicious clouds and flowers.
This is a holy building, with its name "the Sea of Wisdom" which comes from the sutra, symbolizing the mighty force and the infinite wisdom of Tathagata Buddha. Even the most inquisitive visitors may not pay attention to the characters on the architraves of the Hall of Sea of Wisdom and the glazed memorial archway. The archway has 'zhong xiang jie' (Realm of Multitudinous Fragrance) on front side and 'zhi shu lin' (Jeta's Grove) on back side; the hall has 'zhi hui hai' (Sea of Wisdom) and 'ji xiang yun' (Auspicious Cloud). They are comprised of a set of Buddhism hymns.

Next: Hall of Utmost Blessing

Related Link: Summer Palace Travel Tips
- Last updated on Apr. 08, 2021 -