Suzhou Market Street (Suzhoujie)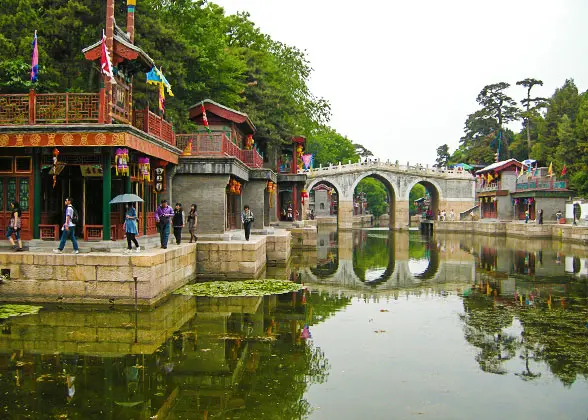 Over 60 stores extend from North Palace Gate entrance into the Suzhou Market Street which is about 300 meters (328.1 yards) in length. Along the Back Lake, the street design imitates the ancient style of shops on the banks of rivers in Suzhou City, Jiangsu Province, that is, taking the running water of Back Lake as the street and its banks as a market. The area served as an entertainment place where Emperors and concubines could feel as if they were strolling on a commercial street. When the royals went there, eunuchs and maids of honor would playact as peddlers, customers and shop assistants to mimic market activities.

Built during the reign of Qianlong (1711-1799), the Suzhou Market Street was burned down by Anglo-French allied force in 1860. Until 1986, it was rebuilt and in 1990 it was opened to the public. Today's market includes stores such as dyers, souvenir shops, drugstores, banks, shoe stores, teashops, and hockshops, with clerks dressed in Qing Dynasty (1644-1911) costumes.

About the aim of building the Suzhou Market Street, there is an interesting story. One day during the Emperor Qianlong's visit to Suzhou, he dressed up as a pilgrim and came to a Buddhist nunnery where he met a beautiful nun. Deeply attracted by her charming beauty, the emperor wanted to take her back to his palace. But it would break the Buddhist regulations to publicly choose a nun as a concubine. After came back to Beijing, the Emperor finally got a good way to solve this headache problem. He ordered to build a "Quanzong Temple" for the nun. The place was secluded with a beautiful view. Every time when Qianlong visited the temple, it served as his temporary palace and that beautiful nun was his favorite concubine.

One day, as usual, Qianlong came to Quanzong Temple, but he was told that the beauty was sick. "What's wrong with you?" he asked her with deep concern. "Nothing's wrong. It has been several years since I left home, and I'm homesick now. I want to go back to have a see." the beauty answered with tears in her eyes. "It's very easy. I'll come with you to Suzhou in half a year."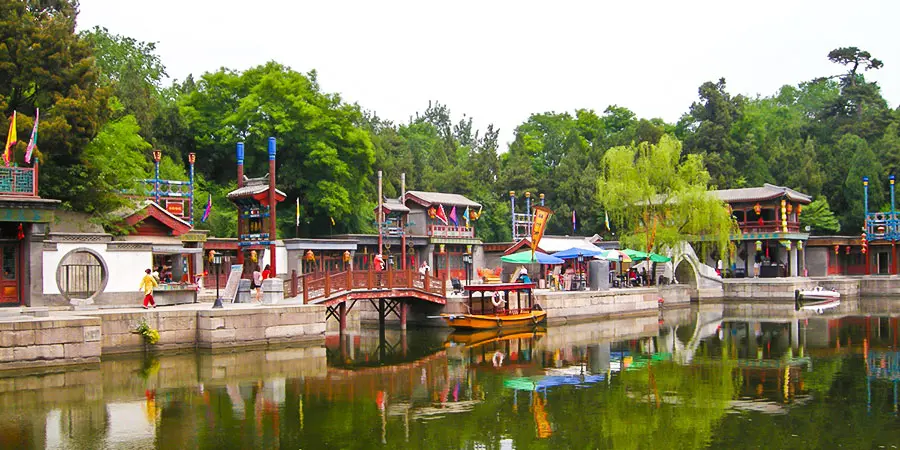 Half a year later, the Emperor came to the temple and asked the beauty to go to Suzhou with him. Incredulously, the beauty got in the carriage. But an hour later, the carriage stopped suddenly. One maiden asked her to get off, "Here it is Suzhou". "It is impossible. How could we get to that city in one hour?" the beauty poked her head out. She could hardly believe the sight before her eyes. A little river wound through the middle of the street. Along the two sides of the street, there were many shops selling the goods from Suzhou. The passers-by and shop owners all spoke Suzhou dialect. The whole scene before her eyes made her feel staying in there.

It turned out that the Emperor ordered to build a commercial street near Quanzong Temple. Also, a large number of merchants and shops were moved here to add more Suzhou's flavor. From then on, Emperor Qianlong could often take the beautiful nun here to admire the charming view. And because of this, the street has become known as Suzhou Market Street.

To visit this place, an additional charge of CNY 10 is necessary for those visitors who hold Summer Palace entrance tickets, but not necessary for through ticket holders.

Related Link: Summer Palace Travel Tips
- Last updated on Apr. 02, 2019 -
Questions & Answers on Suzhou Market Street
Asked by Mr.ABDULLAH from TURKEY | Apr. 13, 2010 02:01

Reply
I want to visit suzhou market street of Summer Palace, can you help me please
Answers (4)
Answered by Mr.Kevin | Apr. 13, 2010 03:03

0

4

Reply
Take subway line 10, get off at the destination and exit C.
Answered by Ms.Nalie from PHILIPPINES | Apr. 13, 2010 19:29

1

1

Reply
Go to summer palace early morning and go around for the whole day. Your destination is one of its attractions inside.
Answered by Ms.Ivy from PHILIPPINES | May. 05, 2010 04:35

0

4

Reply
Hi Nallie, where are u in that city? I am also from Philippines.
Answered by Waruna from SRI LANKA | Jan. 22, 2014 19:15

4

3

Reply
This is a crazy answer. You can't got to the Summer Palace using Line 10. You must take Line 4. This street is at the northern side of the Summer Palace.