Beijing Zoo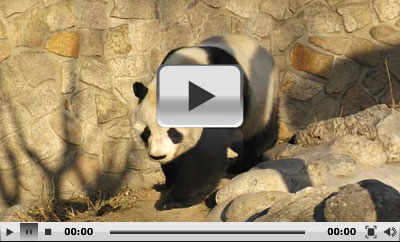 Situated in the Xicheng District, Beijing Zoo was the first of its kind in China. It contains a diverse collection of animals, a number of exhibition halls and some sites of historical interest.

Beijing Zoo is home to around 450 different species and has a population of some 5,000 animals. Some of the most popular attractions among visitors are the wild rare animals of China itself, such as the giant pandas, golden monkeys, milu deer and northeast tigers. However, the collection is far from restricted to those species found only in China; the polar bears, American bison, zebras, kangaroos, giraffes and elephants also draw large crowds.

Beijing Zoo is comprised of 16 different exhibition areas and halls. The most popular is the Panda Hall. Built in 1989 and covering an area of around 2.5 acres (10,000 square meters), it delivers an impressive aesthetic scene while also managing to account for the practical considerations of housing such large and physical animals. The inside of the hall replicates the style of traditional Chinese gardens and is shaped in the pattern of a Tai Chi diagram.
| | |
| --- | --- |
| Beijing Zoo | Map of Beijing Zoo (Click to enlarge) |
Another famous hall, the Gorilla Hall, was constructed two years earlier in 1987. The building houses a series of artificial hillocks and wooden apparatus for the animals which sit against a backdrop of attractive gorilla murals. Facilities introduced for the gorillas include a medical room, a mating room and a specialist feeding room. The hall itself is decorated by a series of rockeries and pools.

All halls and exhibition areas are finely constructed so as to ensure that the animals enjoy a both comfortable and healthy living environment.

Beijing Aquarium
is highly recommended for anyone visiting Beijing Zoo. Opened in 1999, it is widely-recognized by tourist bodies as being one of the country's top attractions, and is actually the largest inland aquarium in the world. The aquarium features thousands of different aquatic species - man-eating fishes, precious Chinese sturgeons, huge sea elephants and fierce sharks are some of the highlights. Tourists can also enjoy shows performed by dolphins, sea lions and whales in the aquarium's Ocean Theater.
While at here, visitors also have the chance to sample some the nearby historical relics: Lemarck Hall was built to commemorate the life of Lemarck (1744-1829), a famous French natural historian, and has also been used as the Chinese Botanical Science Research Base.
Also on the site is the Song Jiaoren Memorial Tower. Song (1882-1913) was one of the early leaders of the Kuomintang, but was assassinated soon after he was elected as China's premier in 1913.
Another site of historical interest is the Changguan Tower: a two storied baroque-style building constructed by brick and wood. In the late 19th century it was occupied by the
Empress Dowager Cixi
(1835-1908), ruler of the Qing court between 1861 and 1908. Sun Yat-sen (1866-1925), the founder of the Kuomintang, is also said to have lived in the hall.
With the support of the Chinese government and having undergone continual development throughout its 90-year history, Beijing Zoo has become one of the largest in China. It provides thousands with the opportunity to witness strange and exotic species at firsthand, and also allows visitors to learn more about the lives of the animals that inhabit the world alongside us.
How to get to Beijing Zoo

By Subway:
Take
Subway Line 4
and get off at Dongwuyuan (Beijing Zoo) Station. Get out from Exit B and you can see the south gate of the zoo.

By Bus:
1. Take bus 27, 87, 105, 107, 111, 332, 347, 360, 362, 534, 563, 632, Special Line 4 or 19, Yuntong 104, Yuntong 105 or Yuntong 106 and get off at Dongwuyuan Station.
2. Take bus 7, 15, 16, 19, 45, 65, 102, 103, 334, 360, or 695 and get off at Dongwuyuan Hub Station.
Bus / Subway Search

By Boat:
There are boats cruising between Beijing Exhibition Center and Summer Palace, known as
Imperial Waterway Cruise
or Empress Dowager Cixi Watercourse. The zoo is one of the stops. Usually, it takes about 5 to 10 minutes from Exhibition Center and 45 minutes from Summer Palace. After visiting the zoo, one can embark and continue to take ferry to visit the
Purple Bamboo Garden
and
Summer Palace
.
Schedule
10:00 to 16:00 with the interval of 60 minutes from Emperor's Boat Pier in Beijing Exhibition Hall and South Ruyi Gate Pier in the Summer Palace;
10:30 to 16:30 from

Ziyuwan Pier in Purple Bamboo Garden also with the interval of 60 minutes

Cruise duration
One hour
Ticket
CNY 50 for a single trip
CNY 80 for a round trip
Free for children under 3.9 feet (1.2 meters).
Beijing Zoo Ticket Price
Type
Apr. to Oct.
Nov. to next Mar.
Zoo Entrance Fee
CNY 15
CNY 10
Combo Ticket (Zoo + Panda Hall)
CNY 19
CNY 14
Beijing Aquarium
CNY 175
Sightseeing Car
CNY 10 per person

Note:
1. The Zoo, the Panda Hall and the Aquarium are free for children under 3.9 feet (1.2 meters).
2. Visitors for the Aquarium need to buy the Zoo tickets as well.
Beijing Zoo Opening Hours
| Place | Apr. to Oct. | Nov. to next Mar. |
| --- | --- | --- |
| Zoo | 07:30 - 18:00 | 07:30 - 17:00 |
| Aquarium | 09:00 - 17:30 | 10:00 - 16:30 |

Top 10 Places to Visit in Beijing

10 Fun Things to Do in Beijing with Family

Travel to Beijing with Kids - 11 Things to Do
Print
Neighboring Attractions:

Beijing Planetarium

Paleozoological Museum of China
- Last updated on May. 18, 2023 by Brenda Lian -
Questions & Answers on Beijing Zoo
Asked by Pierre from SINGAPORE | May. 18, 2023 06:20

Reply
Why is the pandas so popular
Answers (1)
Answered by Nina | May. 18, 2023 20:00

0

0

Reply
Because they are cute, mild and rare only inhabitated in China.
Asked by Ben Dover from AUSTRALIA | Mar. 10, 2023 18:57

Reply
is there any events?
Answers (1)
Answered by Olivia | Mar. 12, 2023 20:05

0

0

Reply
Recently, there isn't any celebrations and actitivites in Beijing Zoo.
Asked by Catalina from COLOMBIA | Jan. 19, 2020 23:29

Reply
Is opened Beijing Zoo in holidays for Chinese new year?
Answers (1)
Answered by Nina from AUSTRALIA | Jan. 20, 2020 17:28

0

0

Reply
Yes, it will be open as usual.
Asked by Chhun Virakpagna from CAMBODIA | Jan. 14, 2020 09:32

Reply
Is there luggage storage at Beijing zoo?
Answers (1)
Answered by Kate from SINGAPORE | Jan. 15, 2020 19:32

0

0

Reply
Yes, you can ask for help from staff.
Asked by Catarina from PORTUGAL | Jan. 01, 2020 01:10

Reply
Is the Beijing zoo covered? I'm going in winter to visit there.
I'm going to visit there in a couple of weeks but I'm afraid that the zoo is not covered since now is winter and is very cold outside. If it's not covered what's the best time to go and visit the zoo?
Answers (1)
Answered by Cathy from THAILAND | Jan. 01, 2020 20:00

0

0

Reply
It will not be covered. Well, you can go there in three other seasons since you are afraid of cold.