Ming Tombs (Thirteen Tombs of Ming Dynasty)
50 kilometers (31 miles) northwest from Beijing City, at the foot of Tianshou Mountain, is the Ming Tombs Scenic Area, aka Thirteen Tombs of Ming Dynasty, where lie the mausoleums of thirteen emperors of the
Ming Dynasty
(1368 - 1644). Since 1409 when Zhu Di, the first emperor of the Ming Dynasty, built his Changling Tomb here, the succeeding twelve emperors had their resting places built around Changling during the next 230 years, covering a total area of over 120 square kilometers (46.3 square miles). This is the best preserved mausoleum area with the most emperors buried. Every year millions of tourists come to the site to appreciate its long history and palatial architecture.
In the Ming Dynasty Tombs scenic area, each mausoleum has its own independent unit. The layout and arrangement of all the thirteen mausoleums are very similar, but they vary in size as well as in the complexity of their structures. Each was built in an area at the foot of the mountain, with distances ranging from half a kilometer (547 yards) to eight kilometers (5 miles) between them. The tombs stretch out on the two sides of Changling Tomb in a fan shape, except for the Siling Tomb, which sits separately in the southwest corner. From site selection to design, great attention was paid to the harmony and unity with nature, pursuing a perfect situation of 'made by God' and reflecting the philosophy 'the unity of heaven and humanity'. As outstanding representatives of the ancient Chinese mausoleum, the Ming Tomb China demonstrate the richness of traditional Chinese culture.
At present, only Changling Tomb, Dingling Tomb, Zhaoling Tomb and the Sacred Way are open to the public.
| | |
| --- | --- |
| Dingling Mausoleum of Emperor Zhu Yijun | Changling Mausoleum of Emperor Zhu Di |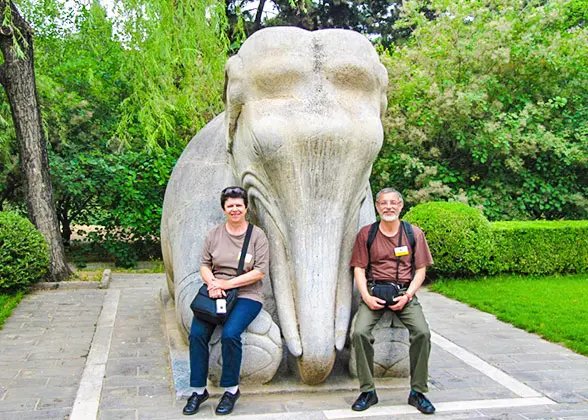 Visitors at the Sacred Way
Built from 1584 to 1590, it is the mausoleum of Emperor Zhu Yijun, the thirteenth emperor of the Ming Dynasty and his two empresses. The highlight part is the stone Underground Palace, which was discovered between 1956 and 1958, and had a great deal of precious relics unearthed.
Besides the three tombs above, other ten in Ming Tombs not open to the public are as follows:
| | |
| --- | --- |
| Tombs | Buriers |
| Yongling | the 11th emperor of the Ming Dynasty Zhu Houcong and his three empresses |
| Xianling | the 4th emperor Zhu Gaochi and Empress Zhang |
| Qingling | the 14th emperor Zhu Changluo and his three empresses |
| Maoling | the 8th emperor Zhu Jianshen and his three empresses |
| Kangling | the 10th emperor Zhu Houzhao and Empress Xia |
| Jingling | the 5th emperor Zhu Zhanji and Empress Sun |
| Tailing | the 9th emperor Zhu Youtang and Empress Zhang |
| Deling | the 15th emperor Zhu Youxiao and Empress Zhang |
| Yuling | the 6th emperor Zhu Qizhen and his two empresses |
| Siling | The 16th and last Ming emperor - Zhu Youjian and his Empress Zhou and Concubine Tian |
| | |
| --- | --- |
| The Crown of Empress | Gold Wine Pot |
How to get to Ming Tomb From Beijing
By Bus:
Take bus 872 from
Deshengmen Bus Station
to Dagongmen stop; the bus is available from 7:00 to 20:10.
By Subway:
Take
subway Changping Line
to Changping Dongguan Station, then walk westward for 750 meters (820 yards) to transfer to bus 314 and get offf at Dagongmen stop.
Or walk westward for 500 meters (547 yards) to take Chang 67 to Dagongmen. At Dagongmen bus stop, walk for 300 meters (328 yards) to Ming Tombs.
Notice that don't get off at Ming Tombs Subway Station, since it is still 4 kilometers (2.5 miles) from the scenic area and you can only hire a local car and may be overcharged.
Beijing Bus / Subway Search
Ming Tombs Entrance Fee & Opening Hours
Entrance Fee
Opening Hours
Apr. - Oct.
Nov. - Mar.
Apr. - Oct.
Nov. - Mar.
Combo Ticket
CNY 130
CNY 100
-
-
Dingling
CNY 60
CNY 40
08:00 - 17:30
08:30 - 17:00
Changling
CNY 45
CNY 30
08:00 - 17:00
08:30 - 16:30
Zhaoling
CNY 30
CNY 20
08:30 - 17:00
08:30 - 16:30
Sacred Way
CNY 30
CNY 20
08:00 - 17:30
08:30 - 17:00
Note: Free for children under 1.2m (3.9 ft).
Recommended Ming Tombs Tour Routes
A popular itinerary for touring the Ming Tombs and the nearby attractions is recommended: Badaling Great Wall → Ming Emperors Wax Museum → Sacred Way → Dingling → Changling → Zhaoling
If you have only one day, you can omit some sites and go like this: Badaling Great Wall → Ming Tombs

Bus 877 can take you from Deshengmen Bus Station to Badaling Great Wall. After touring the wall, you can take Bus No. 919 to Dengzhuang stop, and transfer to Bus No.879 to Dagongmen stop to visit Ming Tombs.
Print

Further Reading:
Top 10 Things to Do in Beijing
Top 10 Beijing Historical Sites You Should Not Miss
12 Best Places to Visit near Beijing
- Last updated on Jul. 12, 2023 by Catherine He -
Questions & Answers on Ming Tombs
Asked by Jordan Henry from CANADA | Feb. 10, 2020 08:41

Reply
Badaling to Ming Tombs and back to Beijing
Hello, I understand from the info above that I can take bus 879 from Badaling Great Wall to the Ming Tombs. Where exactly does the bus leave guests at the Ming Tombs area, and what time does the bus run from Badaling Great Wall? I'm thinking of leaving for the tombs around noon. Also, once you get to the Ming Tombs area, what is the easiest way to get around? I'm hoping to visit Dingling and Changling Tombs?
And also, curious about getting back to Beijing after visiting?
Thanks in advance for any help!
Answers (1)
Answered by Ray from AUSTRALIA | Feb. 12, 2020 17:19

0

0

Reply
The bus operates from 09:30 to 17:30.
At the scenic area, there are many detailed English signs that you can easily find the direct. Don't worry.
After touring around, you can take a taxi to Changping Metro Station. Then take metro Changping Line and then transfer to other metro lines to back to downtown area.
Asked by yey from SINGAPORE | Jan. 07, 2020 04:20

Reply
travel time between badaling to ming tombs
hi, may i know the answer to a few questions:
1. what's the travelling time for bus 879 to reach the ming tombs from the badaling great wall of china?
2. what bus to take to go back to beijing?
3. what is the last bus timing?

thank you for taking the time off to answer my questions!
Answers (1)
Answered by Sally from USA | Jan. 08, 2020 17:36

0

0

Reply
1. It takes around 80 mins.
2. Where exactly will you go? You can take bus 872 from Nancincun station to Deshengmen station, then transfer to other line to your destination.
3. Bus 872 operates till 19:00.
Asked by Jeremy from AUSTRALIA | Oct. 22, 2019 22:49

Reply
How long would it take to drive from Huang Hua Cheng to Ming Tombs?
Would it be better to do the Wall first, or the tombs first?
Answers (1)
Answered by Peter from USA | Oct. 27, 2019 20:39

0

0

Reply
If you take bus, you need to transfer several times and it takes around 3.3 hours. If you take taxi, it takes about 1 hour. You can visit the Wall first or tomb, it depends on your arrangement.
Asked by SHHH | Jul. 17, 2019 01:07

Reply
Getting to Mings tombs
Hi, I prefer to visit mutianyu, how would u advise me to get there?

How much time does it take?
Answers (3)
Answered by Read from CANADA | Jul. 17, 2019 02:23

0

0

Reply
Do you want to go to Mutianyu from Ming tombs? If so, you can take bus No.314 from Dagongmen Station to Changping Xiguan Station, then transfer to bus No.h54 to Yujiayuan Station, and transfer to bus No.h35/h07/h23 to Xinying Station, finally walk east of 200m to it. It takes around 3 hours with CNY16.
Answered by SHHH | Oct. 06, 2019 23:27

0

0

Reply
Hi ,

I want to go to Ming's Tomb from Mutianyu

advise if sufficient time for these 2 places in 1day during end of Nov?
Answered by Liz from SINGAPORE | Oct. 07, 2019 18:33

0

0

Reply
I think the time is tight. Because these two attractions both are suggested to play at least 3 hours.
Asked by Mark from CANADA | May. 29, 2019 22:18

Reply
Are Ming Tombs Open on Mondays?
Many museums are closed on mondays... are the tombs open on mondays?

Thx
Answers (1)
Answered by Jackson from NEW ZEALAND | May. 30, 2019 18:47

0

0

Reply
Yes, it is open to the public all year around.