Beijing Subway Changping Line

Xierqi ↔ Changping Xishankou
(Identification Color: pink
)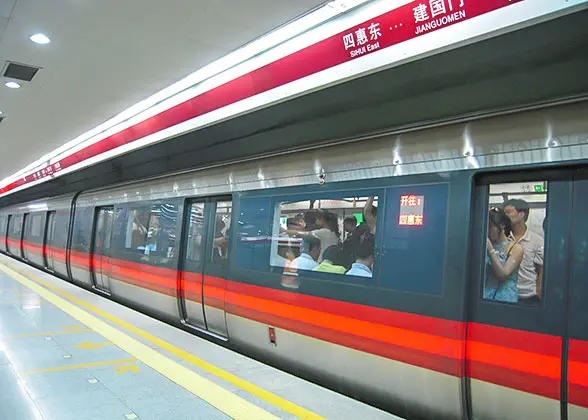 Opened in 2010, Beijing Subway Changping Line is an express rail transit route connecting Changping New Town and the downtown area. Covering a distance of about 32 kilometers (20 miles), the operating part from Xierqi to Changping Xishankou passes 12 stations, which includes the famous Ming Tombs scenic area. The metro line operates from 05:45 to 23:05 and it takes around 40 minutes for the whole journey.

In order to ease the transfer pressure between the west extension of subway line 13 and Xierqi Station, the Changping Line shall extend further south to National Library Station in the near future. It will also bring great convenience for passengers who want to transfer to line 4, line 9, line 10, line 12 and line 15.
See subway maps for reference.
Timetable
Station
First Train
Last Train
(whole trip)

Last Train
(half trip)

To Xierqi
To Changping Xishankou
To Xierqi
To Changping Xishankou
To Zhuxinzhuang
Changping Xishankou
05:45
--
22:20
--
23:05
Ming Tombs
05:47
06:07
22:22
23:42
23:07
Changping
05:51
06:03
22:26
23:38
23:11
Changping Dongguan
05:54
06:00
22:29
23:35
23:14
Beishaowa
05:57
05:58
22:32
23:32
23:17
Nanshao
06:00
05:55
22:35
23:29
23:20
Shahe University Park
06:05
05:50
22:40
23:24
23:25
Shahe
06:08
05:47
22:43
23:21
23:28
Gonghua Cheng
06:11
05:44
22:46
23:18
23:31
Zhuxinzhuang
05:37
05:40
22:51
23:14
--
Life Science Park
05:40
05:55
22:54
23:10
--
Xierqi
--
05:50
--
23:05
--
Frequency
| | | |
| --- | --- | --- |
| 07:00 – 09:00 | 17:00 – 19:00 | Other Time |
| 4min.45sec. | 4 minutes | 6 minutes |
Transfers

Xierqi: Transfer with
Line 13

Zhuxinzhuang: Transfer with
Line 8
Surroundings and Bus Routes near All Stations
('

' Subway Transfer Stations)

Xierqi
Surroundings: one P+R car park
Nearby Bus Stops: Xierqi
Bus Exchangeable: 333, 362, 392, 448, 544, 636, Yuntong 114

Life Science Park
Surroundings: Beijing University of Agriculture; a 15,000-square-meter P+R car park in the north side of the subway station
Nearby Bus Stops: Life Science Park (Sheng Ming Ke Xue Yuan), Shigezhuang
Bus Exchangeable: 560, 919 Branch Line 8, Yungtong 112, Yungtong 205

Zhuxinzhuang
Surroundings: a 12,000-square-meter P+R car park
Nearby Bus Stops: Zhuxinzhuang
Bus Exchangeable: 543, 560, Changping Bus Nos.20, 21 and 58

Gonghua Cheng
Surroundings: one P+R car park
Nearby Bus Stops: Dongyicun, Gonghua Cheng Subway Station
Bus Exchangeable: Changping Bus No.50

Shahe
Surroundings: China Foreign Affairs University Shahe Campus, Beijing Science Technology and Management College
Nearby Bus Stops: Science Technology and Management College (Ke Ji Jing Ying Guan Li Xue Yuan)
Bus Exchangeable: 670, Changping Bus No.52 (Through)

Shanhe University Park
Surroundings: Central University of Finance and Economics, Beihang University, bus terminus, 10,000-square-meter P+R car park
Nearby Bus Stops: Dawa Cun, Shanhe University Park Subway Station
Bus Exchangeable: 643, Changping Bus 52 (Through)

Nanshao
Surroundings: Nanshao Town Government, Nanshao Central Primary School, Nanshao Middle School, one P+R car park
Nearby Bus Stops: Nanshao, Nanshao Subway Station
Bus Exchangeable: 643, 947, Changping Bus Nos.9, 30, 51 and 59



Beishaowa
Surroundings: Changcui Road, West Inner Ring Road, Yongheng Guowentang Drugstore, China Telecom, Lanzhou Beef Noodles Halal Restaurant
Bus Routes: 885, 889, 962, H54, Chang 11, Chang 21, Chang 31, Chang 32, Chang 51, Chang 59, Chang 67



Changping Dongguan
Surroundings:
Exit A: Longshui Road, Fuxue Road, Jian'anli Community, Hangzhou Bank, Agricultural Bank of China, Postal Savings Bank, Dantong Fitness Club, Tangren Century Huakun Hotel
Exit B: Changcui Road, Green Town Holiday Plaza, Holiland, Green Town Community, Minsheng Bank, Merchants Bank, Postal Savings Bank, Tianyuntong Mansion, Walmart, Zhonglian Drugstore, Tongrentang TCM Drugstore
Exit C & D: Bureau of Quality and Technical Supervision, Jinyu Jiaheyuan Community, Dongguan Christian Fellowship, Jiuzhou Hospital, Ningxinyuan Community, Fudi Jiayuan Community, Jihongtang Drugstore, Beijing University of Chemical Technology, Industrial & Commercial Bank
Bus Routes: 493, 889, 925, Chang 1, Chang 2



Changping
Surroundings:
Exit A: Zhengfu Street, Dongbuhu Street, Changping Commercial Building, Fengmao International Office Building, Changping District Government, Samsung Store, Randiankeng Hutong, Industrial & Commercial Bank, Jinshui Furong Hotel, Pizza Hut, Guoshou Hotel
Exit B: South Gulou Street, China Unicom, China Telecom, Apple Store, Home Inn, 99 Inn, Big Pizza, Changping District People's Procuratorate, Datiantan Shoes City, Sihai Jinlong Food City, Postal Savings Bank
Exit C: Agricultural Bureau of Changping District, Apple Store, MacDonald, Changping Park
Bus Routes: 357, 655, 870, 884, H54, Chang 11, Chang 16, Chang 21, Chang 28, Chang 31, Chang 32, Chang 33, Chang 36, Chang 51, Chang 52, Chang 56, Chang 66



Ming Tombs
Surroundings: Jingyin Road, Changchi Road, Beijing-Baotou Expressway, Changping Campus of Union University, Honggaoliang Village Tourist Area
Bus Routes: 949, Chang 53



Changping Xishankou
Surroundings:
Exit A & B: Wanxi Road, Nanjian Road, Changping Campus of Peking University, Songrentang Drugstore, Crouching Tiger Mountain, Aolin Manor
Exit C&D: Jiuxi Road, Ming Tombs Primary School, Changping Jiantou Kindergarten
Bus Routes: 949, Chang 53
-
- Last modified on Jun. 02, 2019 -