Beijing Subway Daxing Line

Gongyixiqiao ↔ Tiangongyuan
(Identification Color: steel blue
)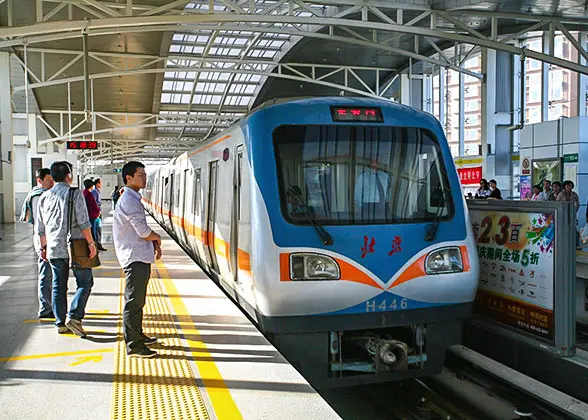 Beijing Subway Daxing Line, a part of Subway Line 4, starts from Gongyixiqiao Station on the 4th Ring Road, South and ends in Tiangongyuan Station in the south of Daxing New Town. This whole line is about 22.5 kilometers long (about 14 miles), with 12 stations, passing through Fengtai District, the downtown of Daxing District and the Biopharmaceutical Industrial Base.

Some Line 4 trains run the full route between Anheqiao North (the northern end of Line 4) and Tiangongyuan (the southern end of this Line) at an interval of about five minutes. The whole journey takes 81 minutes. Some trains only run the partial route between Anheqiao North and Xingong at an interval of 2.5 minutes. The partial journey takes 53 minutes.
See subway maps for reference.


Timetable
Station
To Tiangongyuan
To Gongyixiqiao
First Train
Last Train
First Train
Last Train
Gongyixiqiao
05:50
23:10
--
--
Xingong
05:54
23:14
05:57
23:05
Xihongmen
06:00
23:19
05:51
22:59
Gaomidian North
06:02
23:22
05:48
22:56
Gaomidian South
06:04
23:24
05:46
22:54
Zaoyuan
06:06
23:26
05:44
22:52
Qingyuanlu
06:08
23:28
05:42
22:50
Huangcun Xidajije
06:10
23:30
05:40
22:48
Huangcun Railway Station
06:12
23:32
05:38
22:46
Yihezhuang
06:15
23:35
05:35
22:43
Biomedical Base
06:19
23:38
05:32
22:40
Tiangongyuan
--
--
05:30
22:38
Surroundings and Bus Exchangeable near All Stations

Gongyixiqiao
Surroundings: Attached Primary School of Fengtai Normal College, Taian Hospital, Aibo Zhengyang Restaurant, Mingliu Weilai Mansion, Hualian Commercial Center
Bus Exchangeable: 646, 48, 54, 377, 556, 825, 990

Xingong
Surroundings: Xingong Market, Xingong Primary School, Huaifang West Road, Academy of State of Administration of Grain
Bus Exchangeable: Yuntong115, 353, 556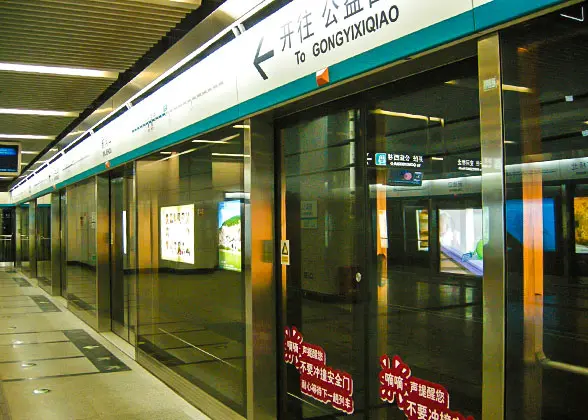 Xihongmen
Surroundings: Xinning Street, Hairui Community, Xinghai Park
Bus Exchangeable: Special Line 23, 646

Gaomidian North
Surroundings: Xinghua Street, Yuhuayuan Community, Xiangyuan Road
Bus Exchangeable: 631, Xing 1

Gaomidian South
Surroundings: Postal Saving Bank of China, Beijing Procuratorate of this District, Jinxing Road
Bus Exchangeable: Xing36, Xing42, Special Line 24

Zaoyuan
Surroundings: Xinghua High School, Xinghua Street, Rose City Shopping Center
Bus Exchangeable: 610, 631, 829, 841, 842, 937, 940, 954, 968

Qingyuanlu
Surroundings: Beijing Institute of Graphic Communication, Aijia Pet Hospital, Qingyuanli Community, Huangcun Park
Bus Exchangeable: 410, 610, 631, BRT631, 829, 841, 940, 954, 968, Xing (28, 26, 23, 24, 27, 30)

Huangcun Xidajie
Surroundings: West Huangcun Street, Jiama Hotel, Xinghua Street, Daxing No.4 High School, Daxing Hospital, Yixing Community
Bus Exchangeable: Xing (17, 19, 14, 22, 31, 35), Xing28 (Interval), 410, 456, 610, 631, 829, 840, 940, 954, 968, BRT631

Huangcun Railway Station
Surroundings:
Exit A: Xinghua Street (West), Xingzheng Street, Dazhong Electronics
Exit B: Honglou West Lane, Industrial and Commercial Bank of China, Agricultural Bank, Daxing No. 5 High School, Wu-mart
Exit C: North Linxiao Road, Daxing Traffic Management Bureau, Daxing Health Bureau
Exit D: Huangcun Railway Station, China Mobile, Police Office of Linxiao Road
Bus Exchangeable: Xing (25, 36, 18, 21, 22), 829, 968, 366, BRT631, BRT366

Yihezhuang
Surroundings: Daxing Capital Golf Club, East Heping Valley, Yihezhuang Primary School, Binhe Forest Park
Bus Exchangeable: Xing48

Biomedical Base
Surroundings: Yongda Road, Tianhua Street, Cofco TTC (Beijing) Foods Co. Ltd, Hanyuanzi Village, Xinyuan Street, Zhongrong Baiming Technology Co. Ltd, Yongxing Road
Bus Exchangeable: Xing (21, 28, 30, 48)

Tiangongyuan
Surroundings: Tiangong Road, Xinyuan Street, Tiantanghe Farm, Daxing No. 6 High School, Tianfu Road, Tiantanghe Hospital, Yongwei Road, Tianhua Street
Bus Exchangeable: Xing (21, 27, 28, 30, 44, 48), 829, 844
-