Beijing Subway Fangshan Line

Dongguantounan ↔ Yancundong
(Identification Color: orange
)
The first phase of Beijing Subway Fangshan Line was opened in 2010, and has been extended several times to form the current line by the end of 2020. The Fangshan Line is 32 km (20 mi) long with 16 stations. It is a northeast-southwest line starting from Dongguantounan Station in Fengtai District in the northeast and ending at Yancundong Station in Fangshan District in the southwest, connecting downtown Beijing with Changyang, Liangxiang and other places in Fangshan District. People living in Fangshan, southwestern suburb of the city, can reach the downtown in half an hour.

In addition, the southwest terminal of the Fangshan Line, Yancundong Station, connects with the Yanfang Line, where passengers can make a convenient transfer to reach the farther suburbs.

See subway maps for reference.

Timetable
Station
To Dongguantounan
To Yancundong
First Train
Last Train
First Train
Last Train
Dongguantounan
--
--
5:47
23:14
Shoujingmao (Capital Univ. of Economics & Business)
5:39
23:02
5:49
23:16
Huaxiang Dongqiao
5:37
23:00
5:52
23:19
Baipenyao
5:35
22:57
5:54
23:21
Guogongzhuang
5:32
22:55
5:57
23:24
Dabaotai
5:30
22:52
6:00
23:27
Daotian
5:23
22:46
6:06
23:33
Changyang
5:18
22:41
6:11
23:38
Libafang
5:15
22:38
6:14
23:41
Guangyangcheng
5:13
22:35
6:16
23:43
Liangxiang Daxuechengbei
5:10
22:32
6:19
23:46
Liangxiang Daxuecheng
5:07
22:30
6:22
23:49
Liangxiang Daxuechengxi
5:05
22:27
6:24
23:51
Liangxiang Nanguan
5:02
22:25
6:27
23:54
Suzhuang
5:00
22:22
6:29
23:56
Yancundong
5:03
22:19
--
--
Frequency
About 4 minutes at rush hours and 8 minutes during other time.
Transfers

Shoujingmao (Capital Univ. of Economics & Business): Transfer with
Line 10

Guogongzhuang: Transfer with
Line 9

Yancundong: Transfer with
Yanfang Line
Surroundings and Bus Exchangeable near Subway Stations
('

' Subway Transfer Stations)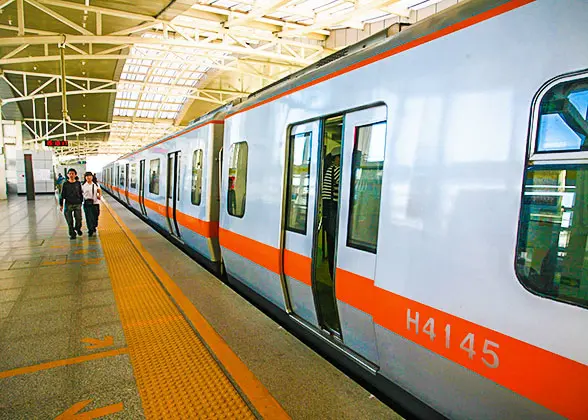 Dongguantounan
Surroundings: South Beijing Xizhan Road, Dongguantou Street, Fengcao River, Wanquan Shengjingyuan Residential Area, Lize Business District City Sports Leisure Park, Hanting Hotel, Fengyi Park, Jijiamiao Primary School, Minsheng Bank
Bus Routes: 49, 845

Shoujingmao (Capital Univ. of Economics & Business)
Surroundings: North Shoujingmao Road, Fangfei Road, Capital University of Economics and Business, Huangxiang Campus of Capital Medical University, Wannian Huacheng Wanfangyuan Residential Area, Yufeiyuan Dongli Community, Construction Bank, Agricultural Bank of China, Home Inn, 7 Days Inn
Bus Routes: 67, 692, 912

Huaxiang Dongqiao
Surroundings: West Section of South 4th Ring Road, South Fengtai Road, Huaxiang Outlets Village, National Judges College, Beijing Tiantan Hospital of Capital Medical University, Sihezhuang Primary School, Yurenli Community, TUNGHSU International Center, Huaxiang Auto Park, Jingming Office Building, Yunling Office Building
Bus Routes: 90, 354, 400, 602, 685, 81, Zhuan 209

Baipenyao
Surroundings: Fanyang Road, Macao River, Liuquan Road, Baipenyao New Village, Guogongzhuang Xingfujiayuan Community, Fengtai Science Park, Construction Bank, Beijing Rural Commercial Bank, Baipenyao Park
Bus Routes: 497, 160, Zhuan 190, 627, 845, 81, Zhuan 180

Guogongzhuang
Surroundings: Beijing World Park
Bus Routes: 81

Dabaotai
Surroundings: World Park, Dabaotai Western Han Dynasty Tomb Museum, China Central Art Research Institute of Painting and Calligraphy
Bus Routes: 480, 840, 912, 967

Daotian
Surroundings: Breeding Center, Institute of Zoology, Chinese Academy of Sciences
Bus Routes: F53



Changyang
Surroundings: People's Government of Changyang, Changyang Sports Park, Xiying New District
Bus Routes: F51, F81



Libafang
Surroundings: Mengniuhe, Junliuzhuang New District
Bus Routes: F51, F92, 24



Guangyangcheng
Surroundings: Kaiyuelai Hotspring Convention Center, Xinguadi Cherry Garden, Bixi Hotspring Resort
Bus Routes: 832, F2, F81



Liangxiang Daxuechengbei
Surroundings: Liangxiang Campus of Beijing Institute of Technology
Bus Routes: 832, F1, F2, F46, F81



Liangxiang Daxuecheng
Surroundings: Liangxiang University Town, Beijing Institute of Technology (south campus), Kede College of Capital Normal University, Technology and Business University, Professional Business Institute
Bus Routes: 832, 896, 934, F1, F34, F81



Liangxiang Daxuechengxi
Surroundings: Home Inn, Chengdong Trade Market of Liangxiang
Bus Routes: F1, F34



Liangxiang Nanguan
Surroundings: Liangxiang Middle School, Changhong Community
Bus Routes: F39, F68, 177



Suzhuang
Surroundings: Liangxiang Primary School, Liangxiang 3rd Middle School
Bus Routes: 833, 903, F13, F1, F37, F41, F46, F68, F69, F70, F76, F85, 177



YancundongSurroundings: Dajian Road, West 6th Ring Road, North Zicaowu Bridge, Dongyan Village, Houyan Village, Wanquan Primary School
Bus Routes: F50
- Last updated on Apr. 14, 2023 by Gabby Li -
Questions & Answers on Beijing Subway Fangshan Line
Asked by Shoud from CHINA | Oct. 31, 2016 02:54

Reply
How can I go to workers stadium in Beijing from no- 7 meihua street, liangxiang?
Answers (1)
Answered by Maya from RUSSIA | Oct. 31, 2016 21:40

0

0

Reply
Well, there is no direct public transportation between these two places. You need to transfer several times. Thus, if you have enough budget, you are suggested to take a taxi to the stadium directly. The cab fare is about CNY 150 for the single trip.
Asked by Sujata from INDIA | Mar. 02, 2016 09:10

Reply
Are subway station names written in English or only mandarin in Beijing?
Answers (2)
Answered by Ali from GERMANY | Mar. 02, 2016 21:18

0

0

Reply
The metro stations are written in both mandarin and English. Don't worry! :)
Answered by Sujata from INDIA | Mar. 03, 2016 00:33

0

0

Reply
Thank u Ali 😊. Great to know that
Asked by Esther from MALAYSIA | May. 18, 2013 12:22

Reply
Closer subway station to Yunju Temple & Stone flower Cave in Beijing
Hi, which subway station is closer to Yunju Temple & Stone flower Cave? Which exit gate from the station? Please furnish the station name in Mandarin. From the exit gate, how far is the walking distance? Or I shall going there by cab from the exit gate? Thanks.
Answers (1)
Answered by Beth from UAE | May. 18, 2013 21:51

1

1

Reply
The closest station to the two places are Suzhuang (苏庄) Station of Fang shan Line.
You can get out of Suzhuang from any exist and then you need to take a taxi to reach Yunju Temple or Stone Flower Cave.
If you want to travel the two places in one day, it is suggested to hire a taxi.
Asked by Laurentia Wijaya from INDONESIA | May. 06, 2013 09:04

Reply
Beijing World Park Travel and the transportation
Hi, wanna going to that park from Wang FUjing Subway , is it operating in Augst 2013? What should I exit gate from Dabaotai Station? Which one more easier way ? if wanna going by bus, what a name of station should I get off , Plz written down the park's name in Mandarin and station must get off, even by bus or subway to show it to local people. It hard to find a taxi in this city, the price is always over prices, big problem for me, can't speak Chinese. Thanks
Answers (1)
Answered by Emily from CANADA | May. 07, 2013 02:41

1

1

Reply
Yes, it is still in operation in August. Exit A or Exit B is OK.
The parks Chinese name is 北京世界公园. There is no direct buses to reach that park and I think the buses transfering is complex for you. It is suggested to take the subway.
If you find it hard to take a taxi, the local subway is the best choice.